In Vitro
study
Yan
and associated response from the original authors
Xu
, collectively showing that quercetin and echinatin had weak SARS-CoV-2 protease inhibition in SDS-PAGE assays
Xu
, despite false positive FRET results from MCA-AVLQ quenching
Xu, Yan
. Authors note that the compounds may act via other targets to achieve reported anti-COVID-19 effects
Xu
, and underscore the importance of meticulous validation with multiple assays when identifying SARS-CoV-2 protease inhibitors
Xu, Yan
.
23 preclinical studies support the efficacy of quercetin for COVID-19:
14 In Silico studies
Alavi, Azmi, Chellasamy, Corbo, Ibeh, Kandeil, Mandal, Nguyen, Sai Ramesh, Sekiou, Thapa, Wang, Yang, Şimşek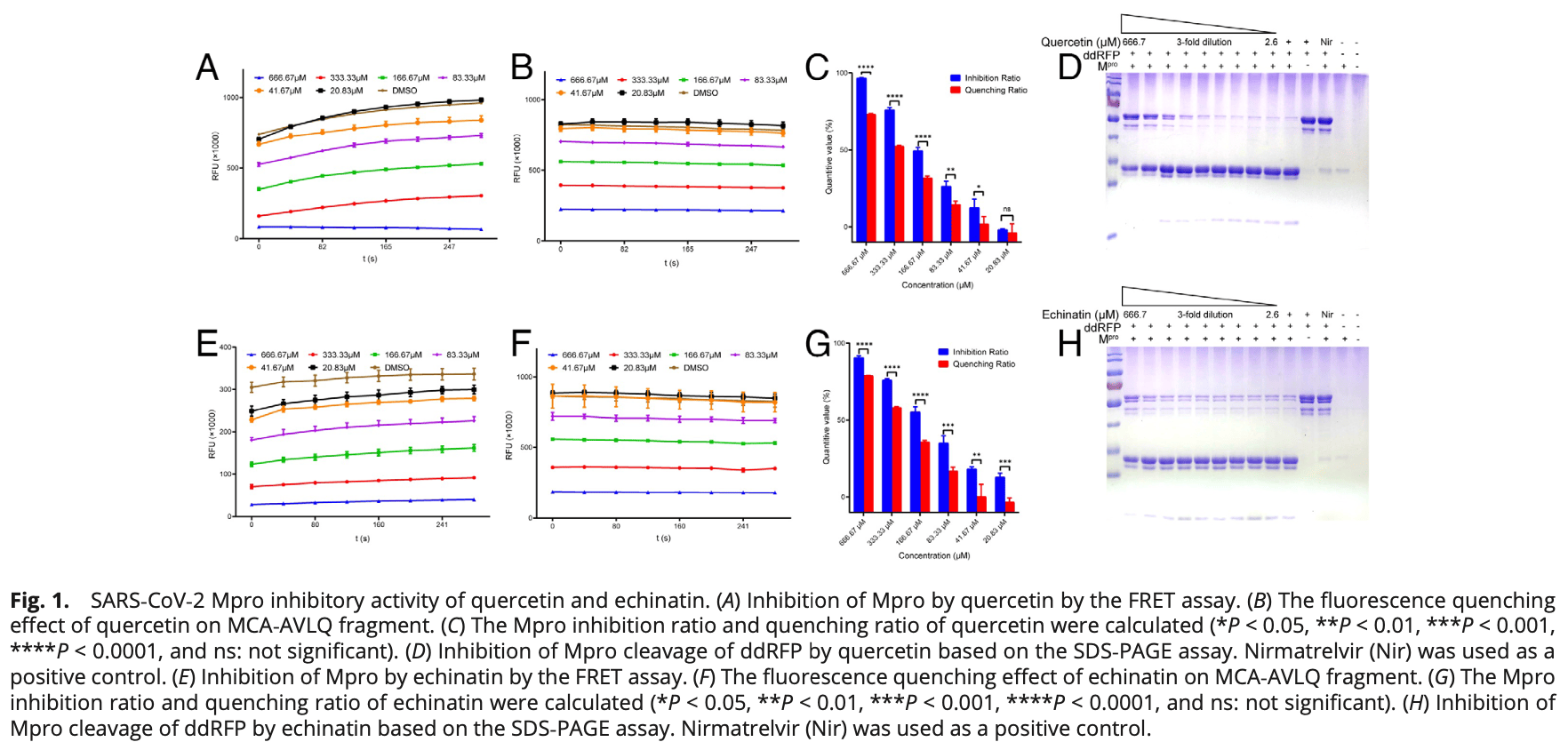 Xu et al., 5 Sep 2023, peer-reviewed, 7 authors.
Contact: huangluqi01@126.com.
In Vitro studies are an important part of preclinical research, however results may be very different in vivo.
Reply to Yan et al.: Quercetin possesses a fluorescence quenching effect but is a weak inhibitor against SARS-CoV-2 main protease
Proceedings of the National Academy of Sciences, doi:10.1073/pnas.2309870120
Recently, we published an article (1) showing that several bioactive compounds were identified from Huashi Baidu decoction (Q-14) that showed both antiviral activity and antiinflammatory effects against COVID-19. The main protease (M pro ) of SARS-CoV-2 is an attractive target for the development of antiviral drugs. Our results showed that quercetin and echinatin from Q-14 displayed moderate inhibition activities against SARS-CoV-2 M pro at submicromolar levels by the fluorescence resonance energy transfer (FRET)-based protease activity assay. However, Yan et al. suggested that quercetin is a promiscuous M pro inhibitor because of its fluorescence quenching effect (2). We took this suspicion very seriously. Therefore, we repeated the FRET-based protease activity assay and tested the fluorescence quenching effects with the MCA-AVLQ-Lys (Dnp)-Lys-NH2 (MCA-AVLQ) fragment. The FRET assay results showed that both quercetin and echinatin have M pro inhibition activity (Fig. 1 A and E ), but both quercetin and echinatin displayed a fluorescence quenching effect on MCA-AVLQ fragment (Fig. 1 B and F ). The inhibition ratio and quenching ratio were further calculated (Fig. 1 C and G). We found that the inhibition ratio is significantly greater than the quenching rate, especially at low concentrations, which indicates that quercetin and echinatin should possess certain M pro inhibition activity. To further validate the M pro inhibition activity of
References
Xu, Bioactive compounds from Huashi Baidu decoction possess both antiviral and anti-inflammatory effects against COVID-19, Proc. Natl. Acad. Sci. U.S.A
Yan, Production of a versatile SARS-CoV-2 main protease biosensor based on a dimerization-dependent red fluorescent protein, J. Med. Virol
Yan, Zhang, Liu, Wang, Chen, Reframing quercetin as a promiscuous inhibitor against SARS-CoV-2 main protease, Proc. Natl. Acad. Sci. U.S.A