In Silico analysis of phytoconstituents of Kabasura Kudineer against SARS-CoV-2 spike protein and Mpro, showing that quercetin (Mpro) and gallic acid (spike) had the highest binding affinity and stability.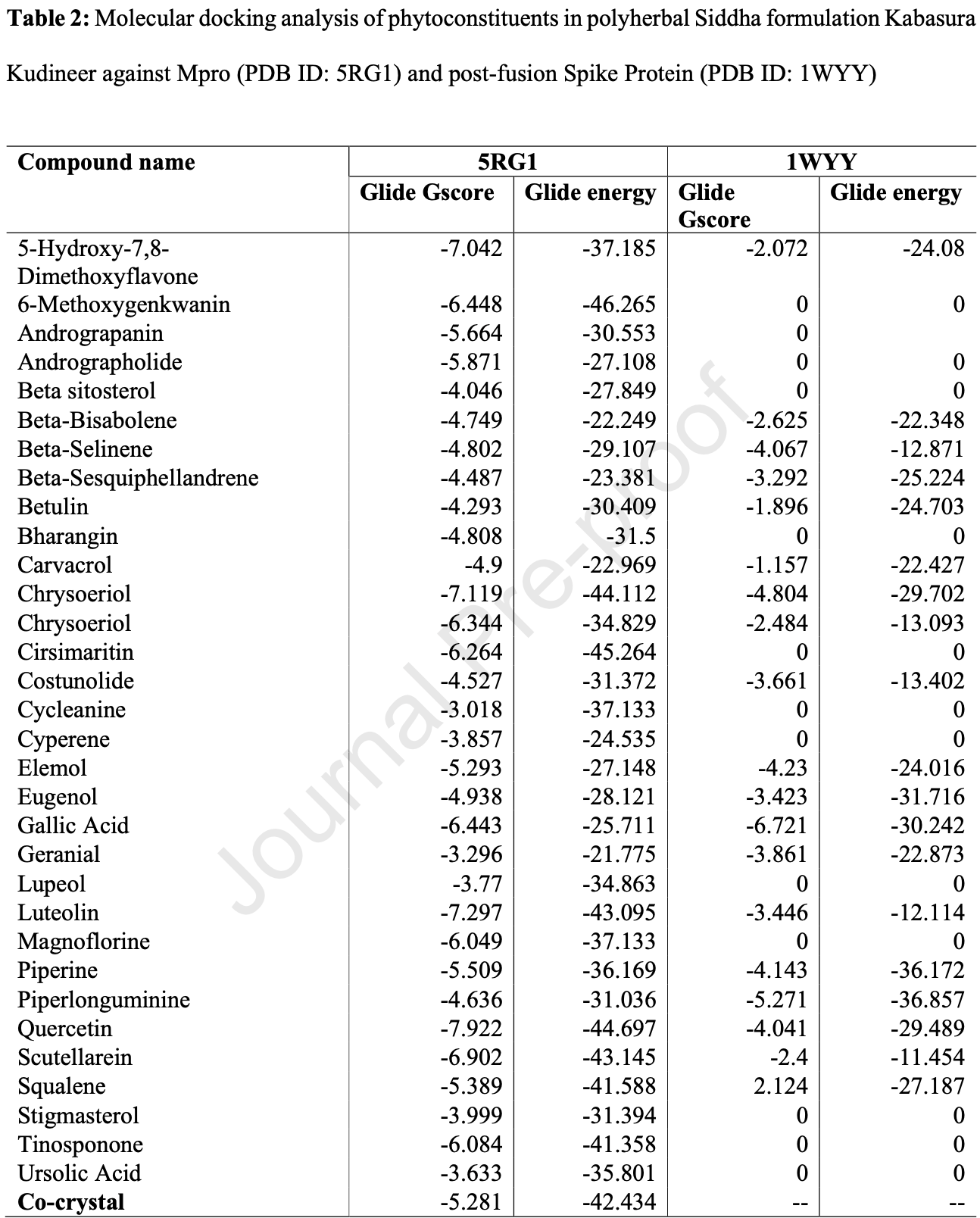 Mandal et al., 13 Jul 2023, India, peer-reviewed, 8 authors.
Contact: deepa@pilani.bits-pilani.ac.in, p20190001@pilani.bits-pilani.ac.in, p20210457@pilani.bits-pilani.ac.in, p20170101@pilani.bits-pilani.ac.in, f2016188@pilani.bits-pilani.ac.in, manoj.kannan@plaksha.edu.in, mohit.garg@pilani.bits-pilani.ac.in, murugesan@pilani.bits-pilani.ac.in.
In Silico studies are an important part of preclinical research, however results may be very different in vivo.
In silico anti-viral assessment of phytoconstituents in a traditional (Siddha Medicine) polyherbal formulation – Targeting Mpro and pan-coronavirus post-fusion Spike protein
Journal of Traditional and Complementary Medicine, doi:10.1016/j.jtcme.2023.07.004
This is a PDF file of an article that has undergone enhancements after acceptance, such as the addition of a cover page and metadata, and formatting for readability, but it is not yet the definitive version of record. This version will undergo additional copyediting, typesetting and review before it is published in its final form, but we are providing this version to give early visibility of the article. Please note that, during the production process, errors may be discovered which could affect the content, and all legal disclaimers that apply to the journal pertain.
Conflict of Interest The authors declare no conflict of interest J o u r n a l P r e -p r o o f
References
Banks, Beard, Cao, Integrated modeling program, applied chemical theory J o u r n a l P r e -p r o o f (IMPACT), J Comput Chem
Duan, Zheng, Zhang, Niu, Lou et al., The SARS-CoV-2 Spike Glycoprotein J
Kumar, Rai, Khan, Role of herbal medicines in the management of patients with COVID-19: A systematic review and meta-analysis of randomized controlled trials, J Tradit Complement Med
Malik, Phanus-Umporn, Schaduangrat, Shoombuatong, Isarankura-Na-Ayudhya, None
Siddha, SYSTEM OF MEDICINE SIDDHA SYSTEM OF MEDICINE SIDDHA SYSTEM OF MEDICINE SIDDHA SYSTEM OF MEDICINE The Science of Holistic Health
Wang, Xia, Zhu, Lu, Jiang, Pan-coronavirus fusion inhibitors as the hope for today and tomorrow, Protein Cell
Zysk, Some Reflections on Siddha Medicine in Tamilnadu, Indian J Hist Sci