Vero E6 In Vitro study showing curcumin, hesperidin, and quercetin significantly inhibited SARS-CoV-2 replication, and In Silico analysis with promising Mpro and spike docking results.
This study includes
curcumin
and quercetin.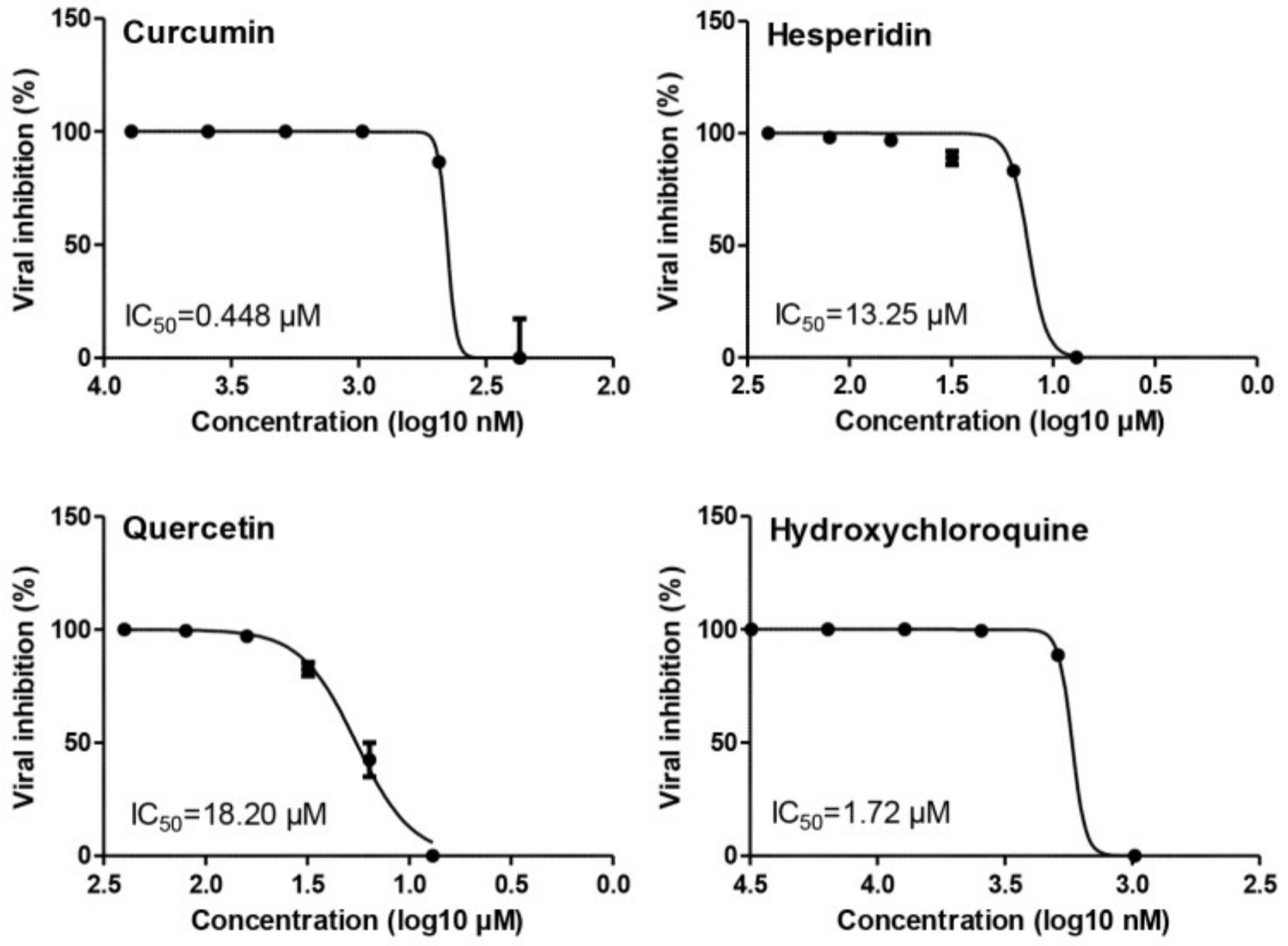 Kandeil et al., 15 Jun 2021, peer-reviewed, 11 authors.
In Vitro studies are an important part of preclinical research, however results may be very different in vivo.
Bioactive Polyphenolic Compounds Showing Strong Antiviral Activities against Severe Acute Respiratory Syndrome Coronavirus 2
Pathogens, doi:10.3390/pathogens10060758
Until now, there has been no direct evidence of the effectiveness of repurposed FDAapproved drugs against Severe Acute Respiratory Syndrome Coronavirus 2 (SARS-CoV-2) infections. Although curcumin, hesperidin, and quercetin have broad spectra of pharmacological properties, their antiviral activities against SARS-CoV-2 remain unclear. Our study aimed to assess the in vitro antiviral activities of curcumin, hesperidin, and quercetin against SARS-CoV-2 compared to hydroxychloroquine and determine their mode of action. In Vero E6 cells, these compounds significantly inhibited virus replication, mainly as virucidal agents primarily indicating their potential activity at the early stage of viral infection. To investigate the mechanism of action of the tested compounds, molecular docking studies were carried out against both SARS-CoV-2 spike (S) and main protease (Mpro) receptors. Collectively, the obtained in silico and in vitro findings suggest that the compounds could be promising SARS-CoV-2 Mpro inhibitors. We recommend further preclinical and clinical studies on the studied compounds to find a potential therapeutic targeting COVID-19 in the near future.
Data Availability Statement: The data presented in this study are available within the article and Supplementary Materials. Conflicts of Interest: The authors declare no conflict of interest.
References
Colpitts, Schang, Rachmawati, Frentzen, Pfaender et al., Turmeric curcumin inhibits entry of all hepatitis C virus genotypes into human liver cells, Gut
Zaki, Ashour, Elhady, Darwish, Al-Karmalawy, Calendulaglycoside A Showing Potential Activity Against SARS-CoV-2 Main Protease: Molecular Docking, Molecular Dynamics, and SAR Studies, J. Tradit. Complement. Med
Zhang, Zhan, Yao, Gao, Shong, Antiviral activity of tannin from the pericarp of Punica granatum L. against genital Herpes virus in vitro, China J. Chin. Mater. Med