In Silico study identifying quercetin, luteolin and kaempferol as potentially protective for COVID-19 acute kidney injury.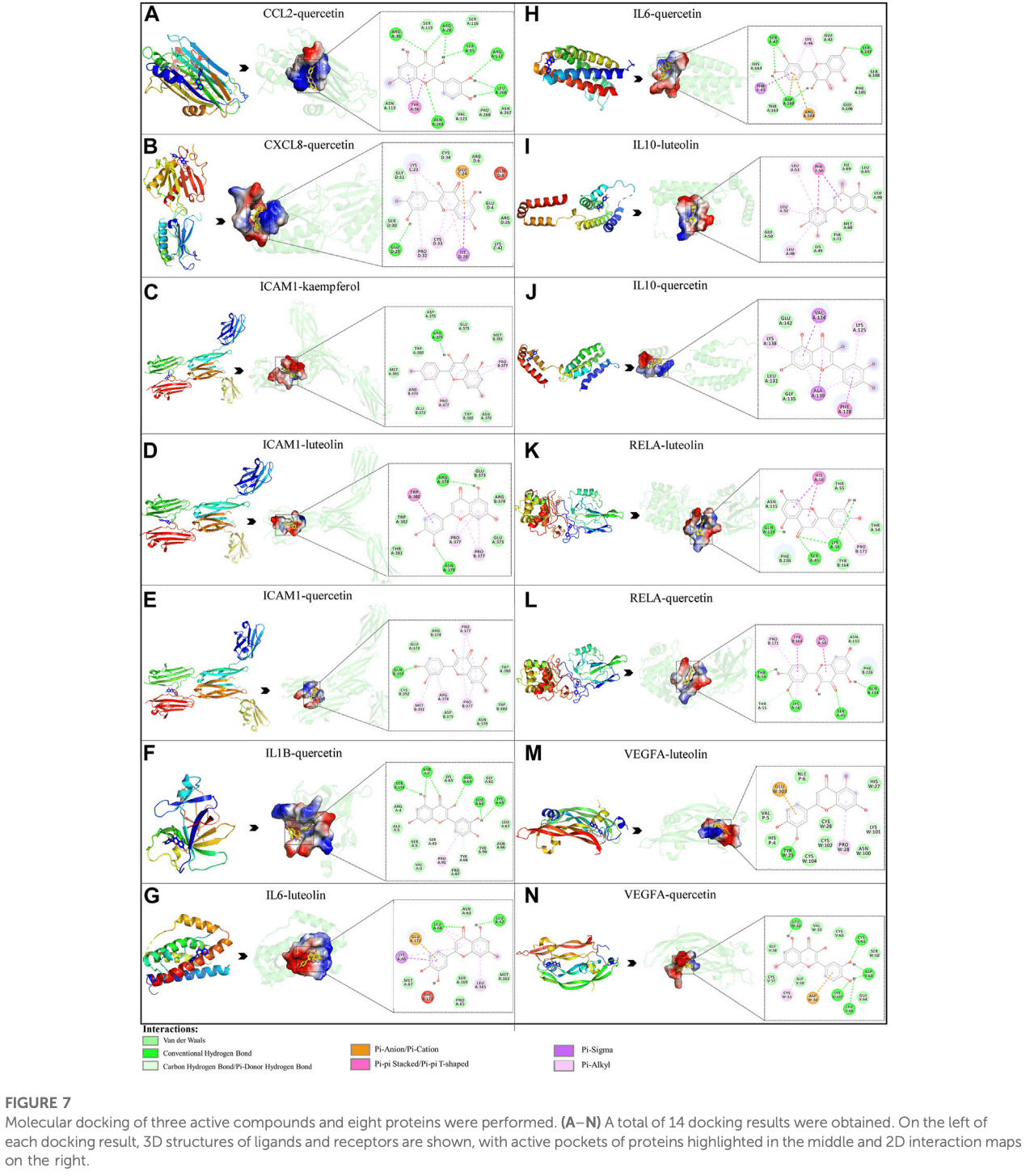 Yang et al., 18 May 2023, China, peer-reviewed, 7 authors.
Contact: ke.li@mail.xjtu.edu.cn, yjr923@163.com.
In Silico studies are an important part of preclinical research, however results may be very different in vivo.
In silico evidence implicating novel mechanisms of Prunella vulgaris L. as a potential botanical drug against COVID-19-associated acute kidney injury
Frontiers in Pharmacology, doi:10.3389/fphar.2023.1188086
COVID-19-associated acute kidney injury (COVID-19 AKI) is an independent risk factor for in-hospital mortality and has the potential to progress to chronic kidney disease. Prunella vulgaris L., a traditional Chinese herb that has been used for the treatment of a variety of kidney diseases for centuries, could have the potential to treat this complication. In this study, we studied the potential protective role of Prunella vulgaris in COVID-19 AKI and explored its specific mechanisms applied by network pharmacology and bioinformatics methods. The combination of the protein-protein interaction network and Gene Ontology and Kyoto Encyclopedia of Genes and Genomes enrichment -target gene network revealed eight key target genes (VEGFA, ICAM1, IL6, CXCL8, IL1B, CCL2, IL10 and RELA). Molecular docking showed that all these eight gene-encoded proteins could be effectively bound to three major active compounds (quercetin, luteolin and kaempferol), thus becoming potential therapeutic targets. Molecular dynamics simulation also supports the binding stability of RELA-encoded protein with quercetin and luteolin. Together, our data suggest that IL6, VEGFA, and RELA could be the potential drug targets by inhibiting the NF-κB signaling pathway. Our in silico studies shed new insights into P. vulgaris and its ingredients, e.g., quercetin, as potential botanical drugs against COVID-19 AKI, and warrant further studies on efficacy and mechanisms.
Author contributions J-RY and KL designed the study; X-LY, C-XW, J-XW, S-MW, QY performed the experiments and collected and analyzed the data; J-RY, KL and X-LY wrote and revised the manuscript. All authors listed have made a substantial, direct, and intellectual contribution to the work and approved it for publication. Conflict of interest The authors declare that the research was conducted in the absence of any commercial or financial relationships that could be construed as a potential conflict of interest. Publisher's note All claims expressed in this article are solely those of the authors and do not necessarily represent those of their affiliated organizations, or those of the publisher, the editors and the reviewers. Any product that may be evaluated in this article, or claim that may be made by its manufacturer, is not guaranteed or endorsed by the publisher. Supplementary material The Supplementary Material for this article can be found online at: https://www.frontiersin.org/articles/10.3389/fphar.2023.1188086/ full#supplementary-material
References
Amberger, Bocchini, Schiettecatte, Scott, Hamosh, None
Case, Duke, Walker, Skrynnikov, Cheatham Iii et al., AMBER 22 reference manual
Hayden, Ghosh, NF-κB in immunobiology, Frontiers in Pharmacology frontiersin.org
Morris, Huey, Lindstrom, Sanner, Belew et al., None
Xia, Xun, Lu, Lu, Yang et al., Network pharmacology and molecular docking analyses on Lianhua Qingwen capsule indicate Akt1 is a potential target to treat and prevent COVID-19, Frontiers in Pharmacology frontiersin