Summary of epidemiological and intervention studies for vitamin D supplementation. Author concludes that despite limitations, evidence strongly supports widespread supplementation, in particular for high-risk populations, as well as high-dose supplementation for those infected.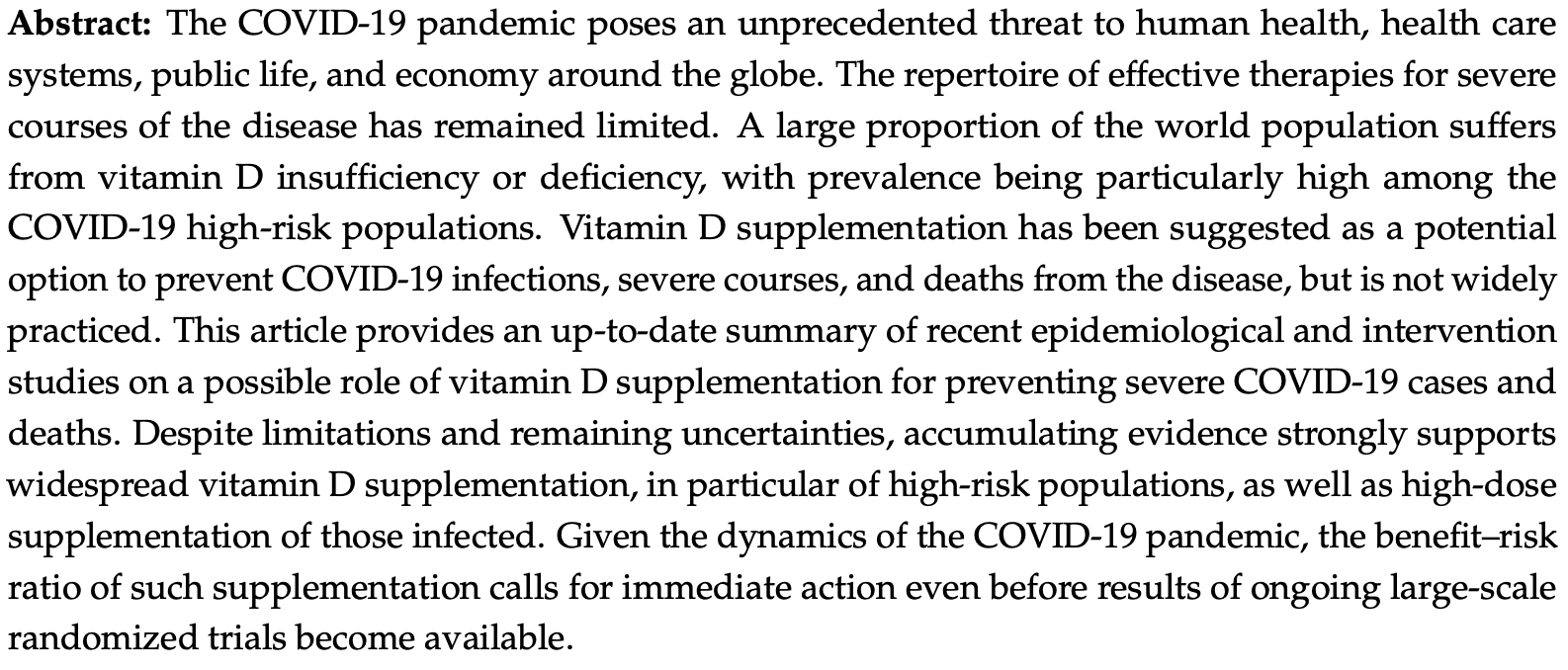 Brenner et al., 28 Jan 2021, peer-reviewed, 1 author.
Vitamin D Supplementation to Prevent COVID-19 Infections and Deaths—Accumulating Evidence from Epidemiological and Intervention Studies Calls for Immediate Action
Nutrients, doi:10.3390/nu13020411
The COVID-19 pandemic poses an unprecedented threat to human health, health care systems, public life, and economy around the globe. The repertoire of effective therapies for severe courses of the disease has remained limited. A large proportion of the world population suffers from vitamin D insufficiency or deficiency, with prevalence being particularly high among the COVID-19 high-risk populations. Vitamin D supplementation has been suggested as a potential option to prevent COVID-19 infections, severe courses, and deaths from the disease, but is not widely practiced. This article provides an up-to-date summary of recent epidemiological and intervention studies on a possible role of vitamin D supplementation for preventing severe COVID-19 cases and deaths. Despite limitations and remaining uncertainties, accumulating evidence strongly supports widespread vitamin D supplementation, in particular of high-risk populations, as well as high-dose supplementation of those infected. Given the dynamics of the COVID-19 pandemic, the benefit-risk ratio of such supplementation calls for immediate action even before results of ongoing large-scale randomized trials become available.
References
Cangiano, Fatti, Danesi, Gazzano, Croci et al., Mortality in an Italian nursing home during COVID-19 pandemic: Correlation with gender, age, ADL, vitamin D supplementation, and limitations of the diagnostic tests, Aging
Cantorna, Mechanisms underlying the e_ect of vitamin D on the immune system, Proc. Nutr. Soc
Covid, 19 and Vitamin D Supplementation: A Multicenter Randomized Controlled Trial of High Dose Versus Standard Dose Vitamin
Faniyi, Lugg, Faustini, Webster, Duffy et al., Vitamin D status and seroconversion for COVID-19 in UK healthcare workers, Eur. Respir. J
Lemire, Adams, Kermani-Arab, Bakke, Sakai et al., 1,25-Dihydroxyvitamin D3 suppresses human T helper/inducer lymphocyte activity in vitro, J. Immunol