Review of the use of calcifediol for COVID-19. Authors note several advantages of calcifediol vs. cholecalciferol: calcifediol induces a more rapid increase in circulating 250HD; calcifediol is more potent than cholecalciferol; calcifediol has a higher rate of intestinal absorption; and calcifediol has a linear dose-response curve, independent of initial serum levels.Authors note that the available data strongly and consistently suggest that treatment with calcifediol can reduce the severity of COVID-19; and that calcifediol is cost-effective and widely available, without significant adverse effects. Authors propose to use calcifediol for the rapid correction of vitamin D deficiency in all patients in the early stages of COVID-19.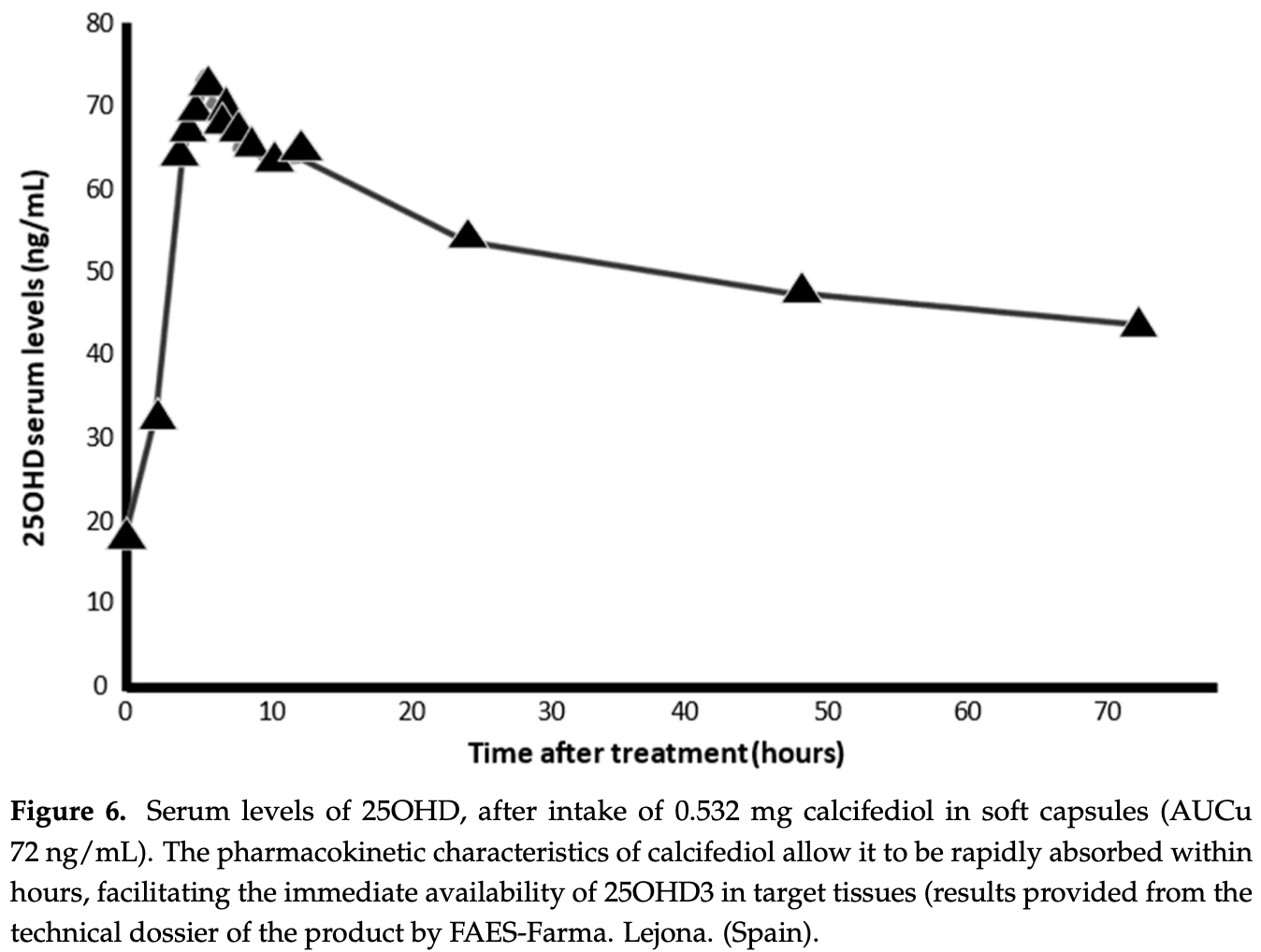 Quesada-Gomez et al., 29 Jun 2022, peer-reviewed, 7 authors.
Contact: jmquesada@uco.es (corresponding author), md1lomij@uco.es, bb1cadia@uco.es, xnogues@psmar.cat, marenca@gmail.com, joseluismansur@yahoo.com.ar, roger.bouillon@kuleuven.be.
Vitamin D Endocrine System and COVID-19: Treatment with Calcifediol
Nutrients, doi:10.3390/nu14132716
The COVID-19 pandemic is the greatest challenge facing modern medicine and public health systems. The viral evolution of SARS-CoV-2, with the emergence of new variants with in-creased infectious potential, is a cause for concern. In addition, vaccination coverage remains in-sufficient worldwide. Therefore, there is a need to develop new therapeutic options, and/or to optimize the repositioning of drugs approved for other indications for COVID-19. This may include the use of calcifediol, the prohormone of the vitamin D endocrine system (VDES) as it may have potential useful effects for the treatment of COVID-19. We review the aspects associating COVID-19 with VDES and the potential use of calcifediol in COVID-19. VDES/VDR stimulation may enhance innate antiviral effector mechanisms, facilitating the induction of antimicrobial peptides/autophagy, with a critical modulatory role in the subsequent host reactive hyperinflammatory phase during COVID-19: By decreasing the cytokine/chemokine storm, regulating the renin-angiotensin-bradykinin system (RAAS), modulating neutrophil activity and maintaining the integrity of the pulmonary epithelial barrier, stimulating epithelial repair, and directly and indirectly decreasing the increased coagulability and prothrombotic tendency associated with severe COVID-19 and its complications. Available evidence suggests that VDES/VDR stimulation, while maintaining optimal serum 25OHD status, in patients with SARS-CoV-2 infection may significantly reduce the risk of acute respiratory distress syndrome (ARDS) and severe COVID-19, with possible beneficial effects on the need for mechanical ventilation and/or intensive care unit (ICU) admission, as well as deaths in the course of the disease. The pharmacokinetic and functional characteristics of calcifediol give it superiority in rapidly optimizing 25OHD levels in COVID-19. A pilot study and several observational intervention studies using high doses of calcifediol (0.532 mg on day 1 and 0.266 mg on days 3, 7, 14, 21, and 28) dramatically decreased the need for ICU admission and the mortality rate. We, therefore, propose to use calcifediol at the doses described for the rapid correction of 25OHD deficiency in all patients in the early stages of COVID-19, in association, if necessary, with the new oral antiviral agents.
Funding: From the Fundación para la investigación biomédica de Córdoba (FIBICO) and FAES Farma, Bilbao, Spain. Institutional Review Board Statement: Not applicable. Informed Consent Statement: Not applicable.
References
Aihara, Azuma, Akaike, Ikeda, Yamashita et al., Disruption of nuclear vitamin D receptor gene causes enhanced thrombogenicity in mice, J. Biol. Chem
Anonim, COVID Live-Coronavirus Statistics-Worldometer
Bikle, Vitamin, Production, Metabolism and Mechanisms of Action
Bilezikian, Bikle, Hewison, Lazaretti-Castro, Formenti et al., MECHANISMS in ENDOCRINOLOGY Vitamin D and COVID-19, Eur. J. Endocrinol
Cantorna, Snyder, Lin, Yang, Vitamin D and 1,25(OH)2D regulation of T cells, Nutrients
Charoenngam, Holick, Immunologic effects of vitamin d on human health and disease, Nutrients
Chiodini, Gatti, Soranna, Merlotti, Mingiano et al., Vitamin D Status and SARS-CoV-2 Infection and COVID-19 Clinical Outcomes, Front. Public Health
Zhou, Yu, Du, Fan, Liu et al., Clinical course and risk factors for mortality of adult inpatients with COVID-19 in Wuhan, China: A retrospective cohort study, Lancet