When Mendelian randomisation fails
et al., BMJ Nutrition, Prevention & Health,
Analysis of why Mendelian randomization may fail in vitamin D studies. Authors suggest that it may come down to the use of 25(OH)D concentration in serum as a less than ideal proxy for vitamin D status of cells involved in the immune response. For most other purposes, it may not matter much that unbound (free) 25(OH)D is the better predictor of vitamin D deficiency and the resulting unfavourable outcomes. But for the MR analysis, the genetic instrument is strongly dominated by variation in the GC gene which modulates the concentration of vitamin D-binding protein (VDBP) in blood and thereby indirectly the concentrations of 25(OH)D and 1,25-dihydroxy vitamin D. Thus, the common GC alleles rs4588A and rs7041T are both associated with much lower than average vitamin D concentrations. In contrast, directly measured unbound (free) vitamin D concentrations are minimally affected by these alleles, if at all.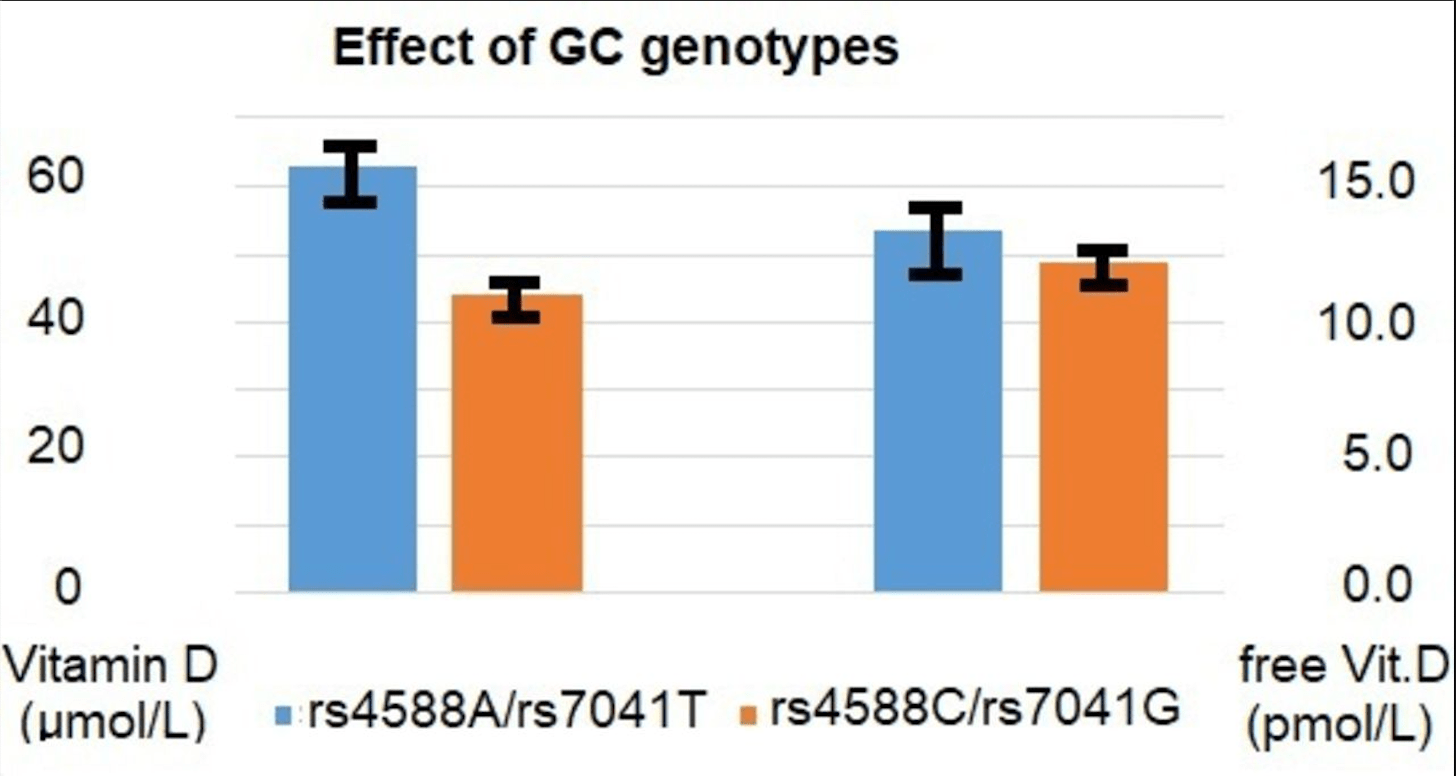 Kohlmeier et al., 22 Mar 2021, peer-reviewed, 2 authors.
Abstract: Open access Editorial Martin Kohlmeier ‍ ‍, Emmanuel Baah ‍ ‍ Mendelian randomisation (MR) is the ingenious approach of using the consistent long-­term modulation of interesting exposure variables by inborn genetic differences to mimic the effect of different levels on outcomes of interest. This type of analysis is particularly important for evaluating the causal impact of nutritional exposures on long-­ term health outcomes. The MR approach is predicated on equivalent effects of exposure and genetic proxy on the outcome. But what happens when the proxy is not a good predictor of the outcome of interest? MR analysis of the hypothesised role of vitamin D in the pathology related to SARS-­CoV-2 infection illustrates this conundrum. Up to this point, a growing number of observational studies appeared to link low 25-­hydroxy vitamin D (25-­ OHD) concentrations to higher risk of infection and worsening COVID-19 outcomes.1 For instance, the analysis of 25-­OHD measurements in more than 190 000 clinical samples from across the USA found that the likelihood to test positive for SARS-­CoV-2 was more than twice as high for samples with low 25-­OHD concentration (<20 ng/mL) than for samples with high concentration (>55 ng/mL).2 The findings based on UK Biobank data which include clinical outcomes are possibly different because the observed 61% higher mortality risk for the univariate association with low vitamin D concentration disappeared after adjustments.3 An argument can be made that adjustments for age, sex, ethnicity and body mass index were inappropriate because it is exactly these variables that are well-­known causes of low vitamin D concentrations. No Nutrition Research Institute, University of North Carolina at Chapel Hill, Kannapolis, North Carolina, USA Correspondence to Dr Martin Kohlmeier, Nutrition Research Institute, University of North Carolina at Chapel Hill, Kannapolis, NC 28081, USA; ​mkohlmeier@​unc.​edu plausible rationale was offered that they actually confound the association, that is, that ethnicity is the cause for higher risk and not lower capacity for producing vitamin D in people with darker coloured skin. Vitamin D concentrations tend to be low in patients with COVID-19. Thus, the majority of patients with COVID-19 in a Belgian hospital was found to be vitamin D-­deficient, and the ones most severely affected by the illness had the lowest levels.4 This is apparently not just an acute response to the infection and due to pathological changes occurring with COVID-19. Individuals with low 25-­OHD concentrations measured long before infection were over-­represented among patients hospitalised because they needed treatment for COVID-19.5 Risk of infection and severity of illness also appear to be related to vitamin D intake. Based on data from the UK Biobank, habitual users of vitamin D-­containing supplements had a 34% lower risk of infection.6 Another large study of dietary supplement use assessed with a widely distributed app also found slightly lower risk of infection in people using vitamin D supplements.7 As described below, a randomised controlled trial (RCT) found high-­dose vitamin D to be highly effective in ameliorating COVID-19 in hospitalised patients.8 Finally, ecological studies demonstrate a strong latitudinal gradient of high to low COVID-19 mortality from North to South.9 10 This has been attributed to the diminished ability of people living at higher latitudes, such as in the UK, Central and..
Please send us corrections, updates, or comments. Vaccines and treatments are complementary. All practical, effective, and safe means should be used based on risk/benefit analysis. No treatment, vaccine, or intervention is 100% available and effective for all current and future variants. We do not provide medical advice. Before taking any medication, consult a qualified physician who can provide personalized advice and details of risks and benefits based on your medical history and situation.
FLCCC
and
WCH
provide treatment protocols.
Submit