Observational study 185 patients in Germany shows an association between vitamin D status and severity and mortality. Adjusted hazard ratio of vitamin D sufficiency for combined mechanical ventilation and death was HR 0.16,
p
< 0.001, and for death HR 0.068,
p
< 0.001.This is the
13th of 184 COVID-19 sufficiency studies
for vitamin D, which collectively show higher levels reduce risk with
p<0.0000000001 (1 in 712 vigintillion)
.
risk of death,

93.2% lower

, HR 0.07, p = 0.001
, high D levels 144, low D levels 12, >30nmol/L.
risk of death/intubation,

84.0% lower

, HR 0.16, p < 0.001
, high D levels 144, low D levels 12, >30nmol/L.
Effect extraction follows pre-specified rules prioritizing more serious outcomes. Submit updates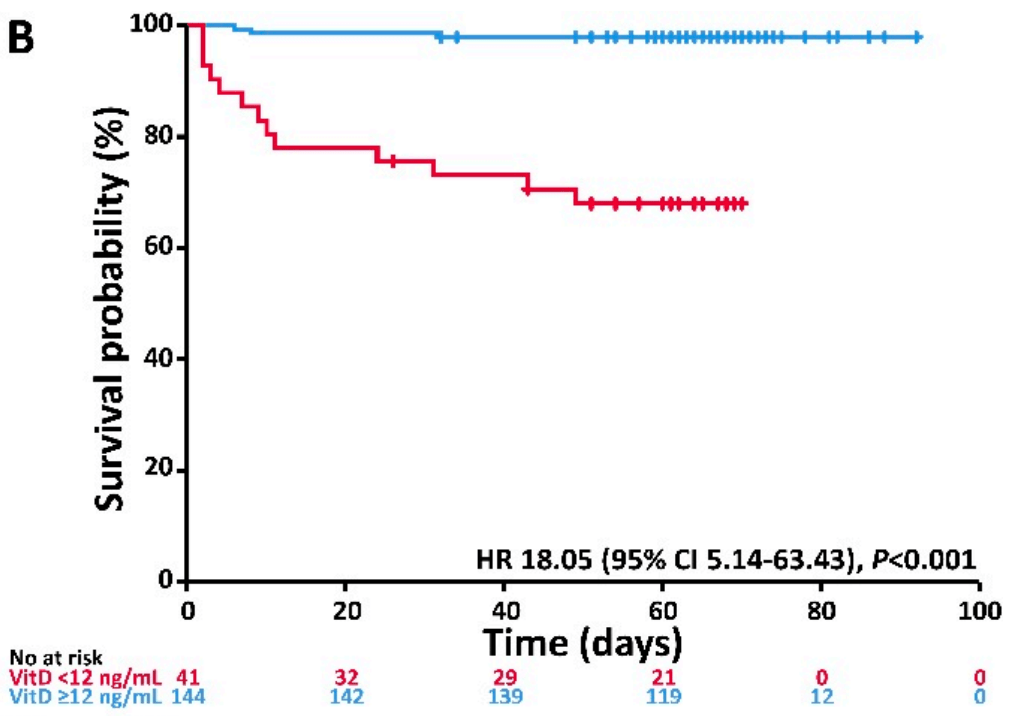 Radujkovic et al., 10 Sep 2020, prospective, Germany, peer-reviewed, 6 authors.
Vitamin D Deficiency and Outcome of COVID-19 Patients
Nutrients, doi:10.3390/nu12092757
Infection with the severe acute respiratory syndrome coronavirus-2 (SARS-CoV-2) poses an enormous challenge to health care systems throughout the world. Without causal treatment, identification of modifiable prognostic factors may help to improve outcomes. To explore possible associations of vitamin D (VitD) status with disease severity and survival, we studied 185 patients diagnosed with coronavirus disease 2019 (COVID-19) and treated at our center. VitD status at first presentation was assessed retrospectively using accredited laboratory methods. VitD deficiency was defined as serum total 25-hydroxyvitamin D level < 12 ng/mL (<30 nM). Primary endpoint was severe course of disease (i.e., need for invasive mechanical ventilation and/or death, IMV/D). Within a median observation period of 66 days (range 2-92), 23 patients required IMV. A total of 28 patients had IMV/D, including 16 deaths. Ninety-three (50%) patients required hospitalization (inpatient subgroup). A total of 41 (22%) patients were VitD deficient. When adjusted for age, gender, and comorbidities, VitD deficiency was associated with higher risk of IMV/D and death (HR 6.12, 95% CI 2.79-13.42, p < 0.001 and HR 14.73, 95% CI 4.16-52.19, p < 0.001, respectively). Similar correlations were observed in the inpatient subgroup. Our study demonstrates an association between VitD deficiency and severity/mortality of COVID-19, highlighting the need for interventional studies on VitD supplementation in SARS-CoV-2 infected individuals.
Conflicts of Interest: The authors declare no competing financial interest. Appendix A
References
Faul, Kerley, Love, O'neill, Cody et al., Vitamin D Deficiency and ARDS after SARS-CoV-2 Infection, Ir. Med. J