Retrospective study finding that regular bolus vitamin D supplementation was associated with less severe COVID-19 and better survival in frail elderly.For those receiving regular supplementation:Adjusted mortality hazard ratio with supplementation HR 0.07,
p
= 0.017.
Risk of severe COVID-19 with supplementation OR 0.08,
p
= 0.033.For supplementation started after COVID-19 diagnosis:Adjusted mortality hazard ratio HR 0.37,
p
= 0.28.
Risk of severe COVID-19 with supplementation OR 0.46,
p
= 0.4.This is the
8th of 116 COVID-19 controlled studies
for vitamin D, which collectively show efficacy with
p<0.0000000001 (1 in 38 sextillion)
.
28 studies are RCTs
, which show efficacy with
p=0.0000081
.
risk of death,

93.0% lower

, RR 0.07, p = 0.02
, treatment 2 of 29 (6.9%), control 10 of 32 (31.2%), NNT 4.1, adjusted per study, regular bolus supplementation.
Effect extraction follows pre-specified rules prioritizing more serious outcomes. Submit updates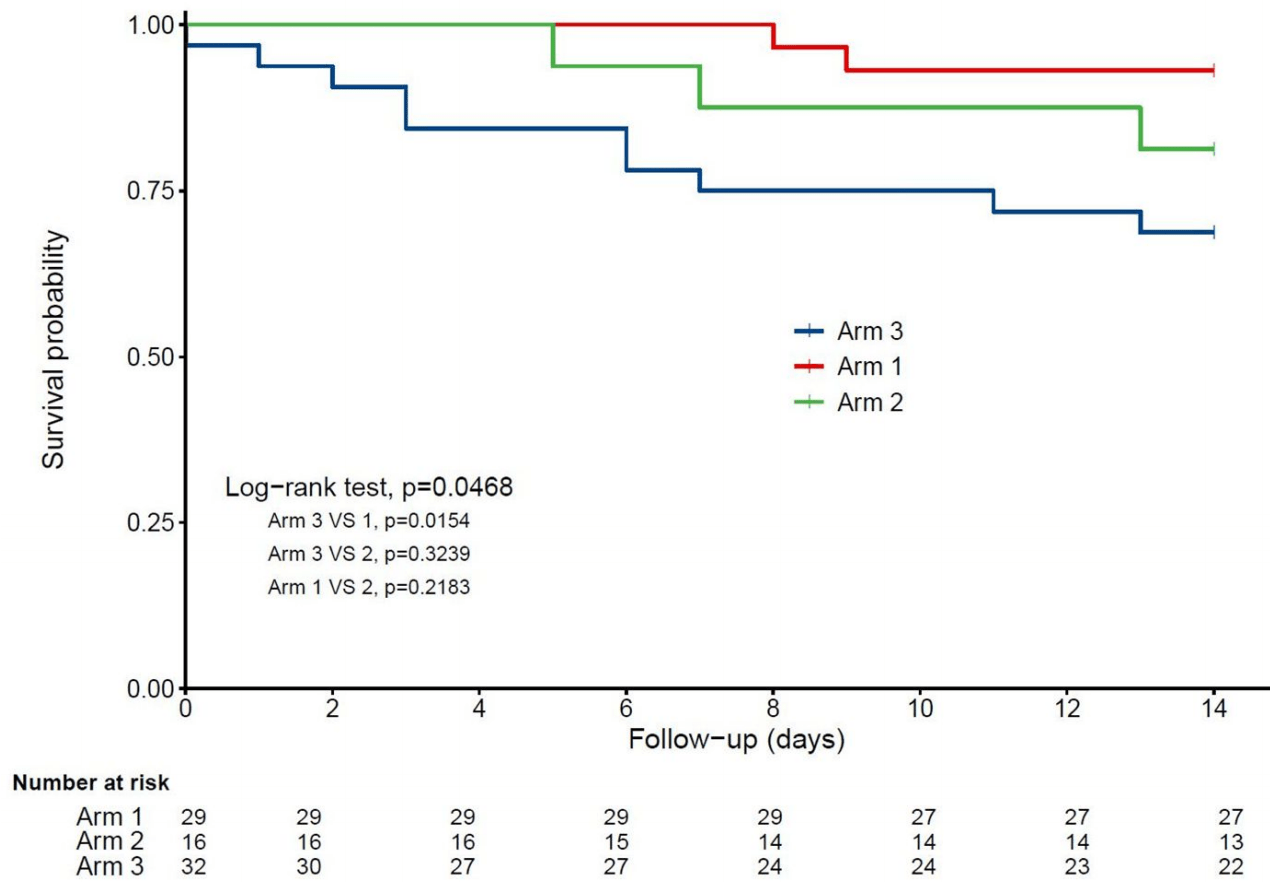 Annweiler et al., 2 Nov 2020, retrospective, France, peer-reviewed, mean age 88.0, 7 authors, dosage 50,000IU monthly, dose varies - 50,000 IU/month, or 80,000IU/100,000IU every 2–3 months.
Vitamin D Supplementation Associated to Better Survival in Hospitalized Frail Elderly COVID-19 Patients: The GERIA-COVID Quasi-Experimental Study
Nutrients, doi:10.3390/nu12113377
Background. The objective of this quasi-experimental study was to determine whether bolus vitamin D supplementation taken either regularly over the preceding year or after the diagnosis of COVID-19 was effective in improving survival among hospitalized frail elderly COVID-19 patients. Methods. Seventy-seven patients consecutively hospitalized for COVID-19 in a geriatric unit were included. Intervention groups were participants regularly supplemented with vitamin D over the preceding year (Group 1), and those supplemented with vitamin D after COVID-19 diagnosis (Group 2). The comparator group involved participants having received no vitamin D supplements (Group 3). Outcomes were 14-day mortality and highest (worst) score on the ordinal scale for clinical improvement (OSCI) measured during COVID-19 acute phase. Potential confounders were age, gender, functional abilities, undernutrition, cancer, hypertension, cardiomyopathy, glycated hemoglobin, number of acute health issues at admission, hospital use of antibiotics, corticosteroids, and pharmacological treatments of respiratory disorders. Results. The three groups (n = 77; mean ± SD, 88 ± 5 years; 49% women) were similar at baseline (except for woman proportion, p = 0.02), as were the treatments used for COVID-19. In Group 1 (n = 29), 93.1% of COVID-19 participants survived at day 14, compared to 81.2% survivors in Group 2 (n = 16) (p = 0.33) and 68.7% survivors in Group 3 (n = 32) (p = 0.02). While considering Group 3 as reference (hazard ratio (HR) = 1), the fully-adjusted HR for 14-day mortality was HR = 0.07 (p = 0.017) for Group 1 and HR = 0.37 (p = 0.28) for Group 2. Group 1 had longer survival time than Group 3 (log-rank p = 0.015), although there was no difference between Groups 2 and 3 (log-rank p = 0.32). Group 1, but not Group 2 (p = 0.40), was associated with lower risk of OSCI score ≥5 compared to Group 3 (odds ratio = 0.08, p = 0.03). Conclusions. Regular bolus vitamin D supplementation was associated with less severe COVID-19 and better survival in frail elderly.
Conflicts of Interest: C.A. serves as an editor for Nutrients. All authors declare that they do not have any other financial and personal conflicts of interest with this manuscript.
References
Ahn, Shin, Kim, Lee, Kim et al., Current Status of Epidemiology, Diagnosis, Therapeutics, and Vaccines for Novel Coronavirus Disease
Benhamou, Souberbielle, Cortret, Fardellone, Gauvain et al., Vitamin D in adults: GRIO guidelines, La Presse Médicale
Chhetri, International Association for Gerontology and Geriatrics-Asia/Oceania Region
Fabbri, Infante, Ricordi, Editorial-Vitamin D status: A key modulator of innate immunity and natural defense from acute viral respiratory infections, Eur. Rev. Med. Pharmacol. Sci
Martineau, Jolliffe, Hooper, Greenberg, Aloia et al., Vitamin D supplementation to prevent acute respiratory tract infections: Systematic review and meta-analysis of individual participant data, BMJ
Vetel, Leroux, Ducoudray, Aggir, Practical use. Geriatric Autonomy Group Resources Needs
Who, Coronavirus Disease (COVID
Yang, Zhang, Xu, Effect of Vitamin D on ACE2 and Vitamin D receptor expression in rats with LPS-induced acute lung injury, Chin. J. Emerg. Med