In Vitro
study showing a strong synergistic effect of ivermectin and favipiravir. Combining multiple antiviral drugs with different mechanisms of action helps to minimize drug resistance and toxicity.For ivermectin alone, IC
50
for Calu-3 was 0.2µM, supporting
in vivo
efficacy at 0.6 mg/kg.
16 In Vitro studies
support the efficacy of ivermectin
[Boschi, Caly, Croci, De Forni, Delandre, Jeffreys, Jitobaom, Jitobaom (B), Li, Liu, Mody, Mountain Valley MD, Munson, Segatori, Surnar, Yesilbag]
.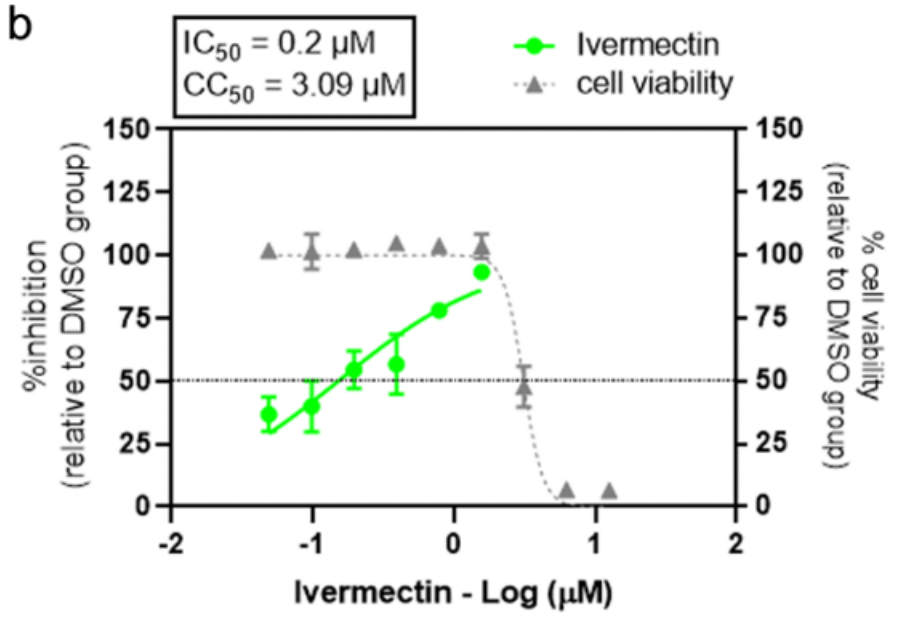 Jitobaom et al., 14 Oct 2021, preprint, 8 authors.
In Vitro studies are an important part of preclinical research, however results may be very different in vivo.
Favipiravir and Ivermectin Showed in Vitro Synergistic Antiviral Activity against SARS-CoV-2
doi:10.21203/rs.3.rs-941811/v1
Despite the urgent need for effective antivirals against SARS-CoV-2 to mitigate the catastrophic impact of the COVID-19 pandemic, there are still no proven effective and widely available antivirals for COVID-19 treatment. Favipiravir and Ivermectin are among common repurposed drugs, which have been provisionally used in some countries. There have been clinical trials with mixed results, and therefore, it is still inconclusive whether they are effective or should be dismissed. It is plausible that the lack of clearcut clinical bene ts was due to the nding of only marginal levels of in vivo antiviral activity. An obvious way to improve the activity of antivirals is to use them in synergistic combinations. Here we show that Favipiravir and Ivermectin had the synergistic effects against SARS-CoV-2 in Vero cells. The combination may provide better e cacy in COVID-19 treatment. In addition, we found that Favipiravir had an additive effect with Niclosamide, another repurposed anti-parasitic drug with anti-SARS-CoV-2 activity. However, the anti-SARS-CoV-2 activity of Favipiravir was drastically reduced when tested in Calu-3 cells. This suggested that this cell type might not be able to metabolize Favipiravir into its active form, and that this de ciency in some cell types may affect in vivo e cacy of this drug.
Vero E6 cells were seeded in 12-well plates at a density of 2.2×10 5 cells/well, which allowed 100% con uence to be reached within 18 hr. The culture medium was removed, and the cells were inoculated with 100µl of 10-fold serial dilutions of virus supernatants for 1 hr. at 37 o C with 5%CO 2 . After that, the virus supernatants were removed, and the cells were overlaid with 1.56% microcrystalline cellulose (Avicel, RC-591) in 2%FBS-MEM. The cells were further incubated in the standard condition for three days. The overlaid medium was removed, and the cells were xed with 10% (v/v) formalin in phosphatebuffered saline (PBS) for 2 hr. The xed infected cells were washed in tap water, stained with 1% (w/v) crystal violet in 20% (v/v) ethanol for 5 min and washed to remove the excess dyes. The plaques were counted, and the viral titers were calculated in plaque forming units per ml (pfu/ml). 50% cell culture infectious dose (TCID 50 ) endpoint dilution assay Vero E6 cells were seeded in 96-well plates at a density of 3×10 4 cells/well. The culture medium was removed, and the cells were incubated with half-log10 serial dilution of the virus stock for 48 hr. at 37 o C with 5%CO 2 . After that, the cells were xed with 1:1 methanol/acetone for 30 min at 4 o C and the infectivity was detected with an antibody against the SARS-CoV-2 nucleocapsid protein (40143-R001, Sino Biological). The viral TCID 50 titers were calculated using the Reed and Muench method 73 . One-step qRT-PCR for..
References
Aasld, HCV Guidance: Recommendations for testing, managing, and treating Hepatitis C Virus infection
Agrawal, Raju, Udwadia, Favipiravir: A new and emerging antiviral option in COVID-19
Hurt, Wheatley, Neutralizing Antibody Therapeutics for COVID-19, Viruses13
Who, -line antiretroviral regimens and postexposure prophylaxis and recommendations on early infant diagnosis of HIV