Experimental Treatment with Favipiravir for COVID-19: An Open-Label Control Study
Comparison of 35 FPV patients and 35 LPV/RTV patients, showing significant improvements in chest CT and faster viral clearance with FPV.
risk of no improvement in CT,

68.7% lower

, OR 0.31, p = 0.04
, treatment 35, control 45, inverted to make OR<1 favor treatment, multivariate, RR approximated with OR.
risk of no viral clearance,

70.9% lower

, HR 0.29, p = 0.03
, treatment 35, control 45, inverted to make HR<1 favor treatment, multivariate.
Effect extraction follows pre-specified rules prioritizing more serious outcomes. Submit updates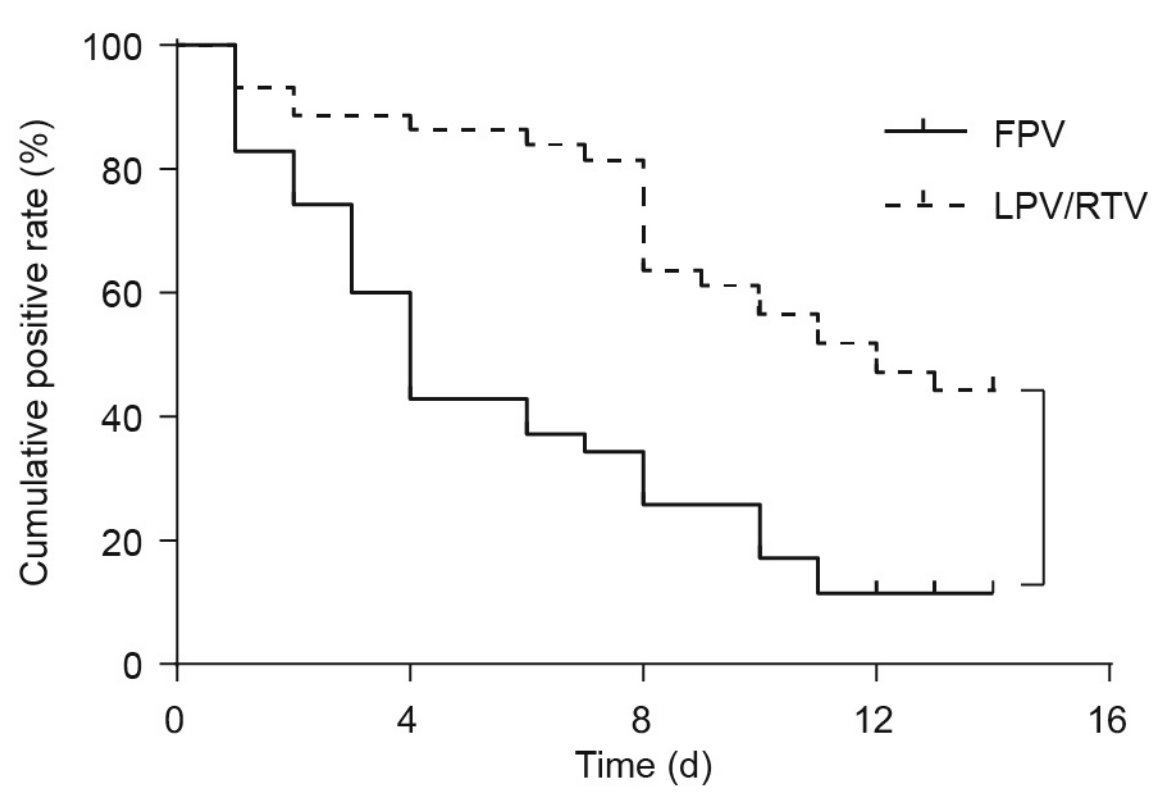 Cai et al., 18 Mar 2020, retrospective, China, peer-reviewed, 26 authors.
Abstract: Engineering 6 (2020) 1192–1198 Contents lists available at ScienceDirect Engineering journal homepage: www.elsevier.com/locate/eng Research Coronavirus Disease 2019—Article Experimental Treatment with Favipiravir for COVID-19: An Open-Label Control Study q Qingxian Cai a,#, Minghui Yang a,#, Dongjing Liu a,#, Jun Chen a,#, Dan Shu a, Junxia Xia a, Xuejiao Liao a, Yuanbo Gu a, Qiue Cai a, Yang Yang a, Chenguang Shen a, Xiaohe Li a, Ling Peng a, Deliang Huang a, Jing Zhang a, Shurong Zhang a, Fuxiang Wang a, Jiaye Liu a, Li Chen a, Shuyan Chen a, Zhaoqin Wang a, Zheng Zhang a, Ruiyuan Cao b, Wu Zhong b,⇑, Yingxia Liu a,⇑, Lei Liu a,⇑ a National Clinical Research Center for Infectious Diseases, The Third People's Hospital of Shenzhen, The Second Affiliated Hospital of Southern University of Science and Technology, Shenzhen 518100, China b National Engineering Research Center for the Emergence Drugs, Beijing Institute of Pharmacology and Toxicology, Beijing 100850, China a r t i c l e i n f o Article history: Received 7 March 2020 Revised 11 March 2020 Accepted 12 March 2020 Available online 18 March 2020 Keywords: Favipiravir COVID-19 SARS-CoV-2 Antiviral therapy Open-label nonrandomized control study q a b s t r a c t There is currently an outbreak of respiratory disease caused by a novel coronavirus. The virus has been named severe acute respiratory syndrome coronavirus 2 (SARS-CoV-2) and the disease it causes has been named coronavirus disease 2019 (COVID-19). More than 16% of patients developed acute respiratory distress syndrome, and the fatality ratio was 1%–2%. No specific treatment has been reported. Herein, we examined the effects of favipiravir (FPV) versus lopinavir (LPV)/ritonavir (RTV) for the treatment of COVID-19. Patients with laboratory-confirmed COVID-19 who received oral FPV (Day 1: 1600 mg twice daily; Days 2–14: 600 mg twice daily) plus interferon (IFN)-a by aerosol inhalation (5 million international unit (IU) twice daily) were included in the FPV arm of this study, whereas patients who were treated with LPV/RTV (Days 1–14: 400 mg/100 mg twice daily) plus IFN-a by aerosol inhalation (5 million IU twice daily) were included in the control arm. Changes in chest computed tomography (CT), viral clearance, and drug safety were compared between the two groups. For the 35 patients enrolled in the FPV arm and the 45 patients in the control arm, all baseline characteristics were comparable between the two arms. A shorter viral clearance median time was found for the FPV arm versus the control arm (4 d (interquartile range (IQR): 2.5–9) versus 11 d (IQR: 8–13), P < 0.001). The FPV arm also showed significant improvement in chest CT compared with the control arm, with an improvement rate of 91.43% versus 62.22% (P = 0.004). After adjustment for potential confounders, the FPV arm also showed a significantly higher improvement rate in chest CT. Multivariable Cox regression showed that FPV was independently associated with faster viral clearance. In addition, fewer adverse events were found in the FPV arm than in the control arm. In this open-label before-after controlled study, FPV showed better therapeutic responses on COVID-19 in terms of disease progression and viral clearance. These preliminary clinical results provide useful information of treatments for SARS-CoV-2 infection. Ó 2020 THE AUTHORS. Published by Elsevier LTD on behalf of Chinese Academy of Engineering and Higher Education Press Limited Company. This is..
Please send us corrections, updates, or comments. Vaccines and treatments are complementary. All practical, effective, and safe means should be used based on risk/benefit analysis. No treatment, vaccine, or intervention is 100% available and effective for all current and future variants. We do not provide medical advice. Before taking any medication, consult a qualified physician who can provide personalized advice and details of risks and benefits based on your medical history and situation.
FLCCC
and
WCH
provide treatment protocols.
Submit