Review of the mutagenic effect of favipiravir and associated concerns.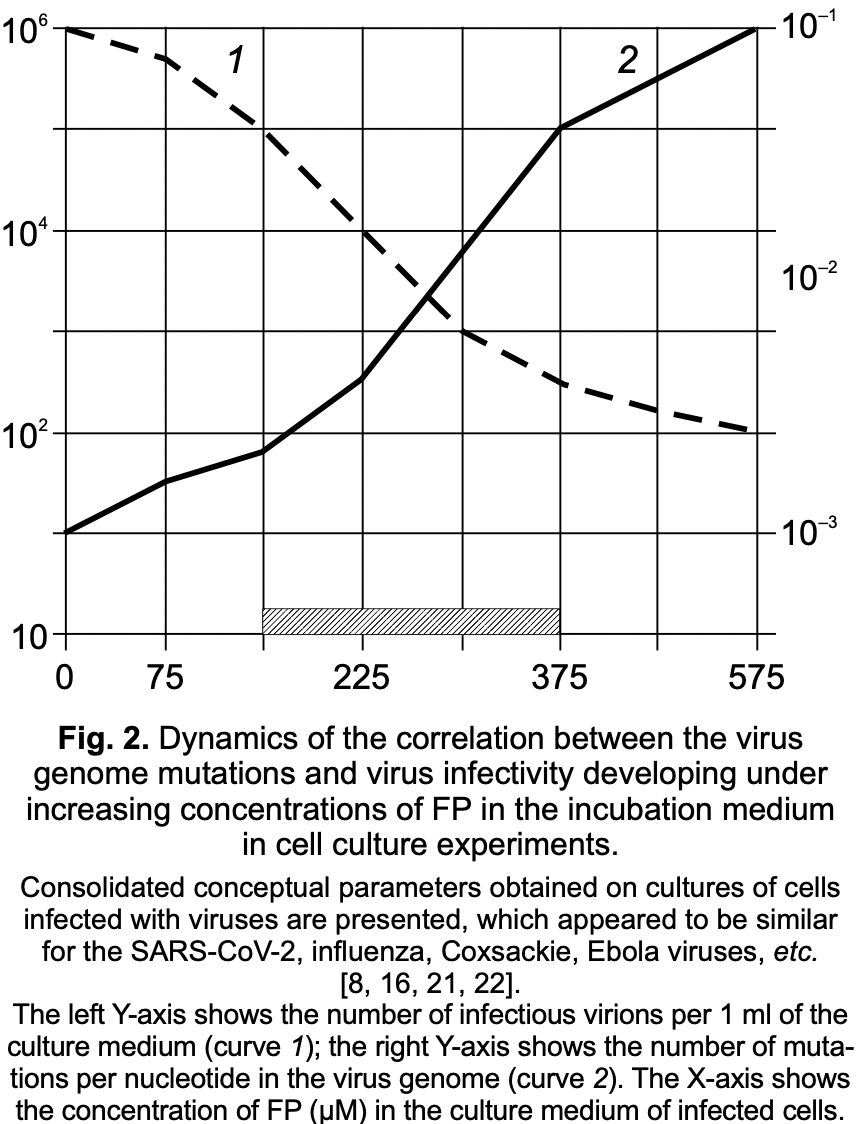 Zhirnov et al., 5 May 2021, Russia, peer-reviewed, 2 authors.
Favipiravir: the hidden threat of mutagenic action
Journal of microbiology, epidemiology and immunobiology, doi:10.36233/0372-9311-114
The antiviral drug favipiravir (FPV), which is a structural analogue of guanosine, undergoes chemical transformation in infected cells by cellular enzymes into a nucleotide form -favipiravir ribose triphosphate (FPV-RTP). FPV-RTP is able to bind to viral RNA-dependent RNA polymerase and integrate into the viral RNA chain, causing a significant mutagenic effect through G→A and G→U transitions in the viral RNA genome. Besides the virus inhibiting effect, the increased synthesis of mutant virions under the action of FP possess a threat of the emergence of novel threatening viral strains with high pathogenicity for humans and animals and acquired resistance to chemotherapeutic compound. There are three ways to minimize this mutagenic effect of FP. (1) Synthesis of new FPV modifications lacking the ability to integrate into the synthesized viral RNA molecule. (2) The combined use of FPV with antiviral chemotherapeutic drugs of a different mechanism of action directed at various viral and/or host cell targets. (3) Permanent application of high therapeutic doses of FPV under the strict medical control to enhance the lethal mutagenic effect on an infectious virus in the recipient organism to prevent the multiplication of its mutant forms.
Author contribution. Аll authors made a substantial contribution to the conception of the work, acquisition, analysis, interpretation of data for the work, drafting and revising the work, final approval of the version to be published.
References
Alyona, Chernyshova -Junior, Researcher, None
Furuta, Egawa, Nitrogenous heterocyclic carboxamide derivatives or salts thereof and antiviral agents containing both, European Patent Office WO
Shannon, Selisko, Le, Huchting, Touret et al., Rapid incorporation of Favipiravir by the fast and permissive viral RNA polymerase complex results in ЖУРНАЛ МИКРОБИОЛОГИИ
Zhirnov -D. Sci ; Prof, Corr, Information about the authors Oleg
Авторов, Все авторы внесли существенный вклад в проведение поисково-аналитической работы и подготовку статьи, прочли и одобрили финальную версию до публикации, Статья поступила в редакцию
Алёна Игоревна -М, Русско-немецкой академии медико-социальных и биотехнологических наук