In Vitro
study showing curcumin neutralizes SARS-CoV2
in vitro
with low subtoxic concentrations. Authors note that the clinical use of curcumin is hindered by poor bioavailability, and recommend using methods to increase bioavailability such as nanoparticles, liposomes, micelles, or adjuvants (e.g., piperine).
9 In Vitro studies
support the efficacy of curcumin
[Bahun, Bormann, Goc, Goc (B), Guijarro-Real, Kandeil, Leka, Teshima, Wu]
.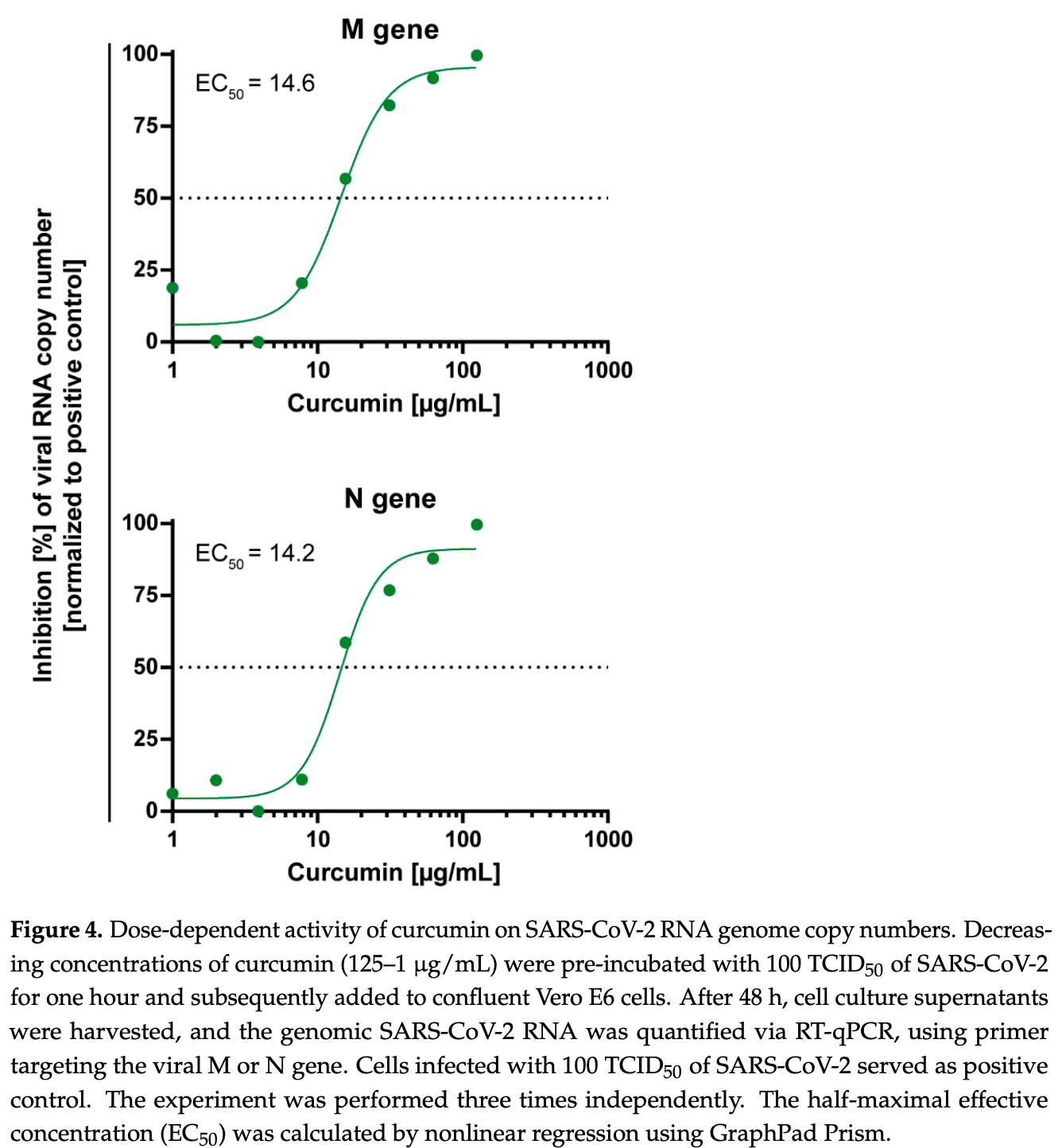 Bormann et al., 23 Sep 2021, peer-reviewed, 18 authors.
In Vitro studies are an important part of preclinical research, however results may be very different in vivo.
Turmeric Root and Its Bioactive Ingredient Curcumin Effectively Neutralize SARS-CoV-2 In Vitro
Viruses, doi:10.3390/v13101914
Severe Acute Respiratory Syndrome Coronavirus Type 2 (SARS-CoV-2) is the causative agent of the coronavirus disease 2019 . The availability of effective and well-tolerated antiviral drugs for the treatment of COVID-19 patients is still very limited. Traditional herbal medicines elicit antiviral activity against various viruses and might therefore represent a promising option for the complementary treatment of COVID-19 patients. The application of turmeric root in herbal medicine has a very long history. Its bioactive ingredient curcumin shows a broad-spectrum antimicrobial activity. In the present study, we investigated the antiviral activity of aqueous turmeric root extract, the dissolved content of a curcumin-containing nutritional supplement capsule, and pure curcumin against SARS-CoV-2. Turmeric root extract, dissolved turmeric capsule content, and pure curcumin effectively neutralized SARS-CoV-2 at subtoxic concentrations in Vero E6 and human Calu-3 cells. Furthermore, curcumin treatment significantly reduced SARS-CoV-2 RNA levels in cell culture supernatants. Our data uncover curcumin as a promising compound for complementary COVID-19 treatment. Curcumin concentrations contained in turmeric root or capsules used as nutritional supplements completely neutralized SARS-CoV-2 in vitro. Our data argue in favor of appropriate and carefully monitored clinical studies that vigorously test the effectiveness of complementary treatment of COVID-19 patients with curcumin-containing products.
References
Cheng, Hsu, Lin, Hsu, Ho et al., Phase I clinical trial of curcumin, a chemopreventive agent, in patients with high-risk or pre-malignant lesions, Anticancer Res
Horby, Lim, Emberson, Mafham, Bell et al., Dexamethasone in Hospitalized Patients with Covid-19, N. Engl. J. Med
Ireson, Orr, Jones, Verschoyle, Lim et al., Characterization of metabolites of the chemopreventive agent curcumin in human and rat hepatocytes and in the rat in vivo, and evaluation of their ability to inhibit phorbol ester-induced prostaglandin E2 production, Cancer Res
Krah, A simplified multiwell plate assay for the measurement of hepatitis A virus infectivity, Biologicals
Moghadamtousi, Kadir, Hassandarvish, Tajik, Abubakar et al., A review on antibacterial, antiviral, and antifungal activity of curcumin, BioMed Res. Int
Pan, Huang, Lin, Biotransformation of curcumin through reduction and glucuronidation in mice, Drug Metab. Dispos
Prasad, Aggarwal, Turmeric, the Golden Spice: From Traditional Medicine to Modern Medicine
Van De Sand, Bormann, Alt, Schipper, Heilingloh et al., Glycyrrhizin Effectively Inhibits SARS-CoV-2 Replication by Inhibiting the Viral Main Protease, Viruses