In Silico
and
In Vitro
study of plant polyphenols identifying quercetin, curcumin, ellagic acid, epigallocatechin gallate, and resveratrol as SARS-CoV-2 3CL
pro
inhibitors with IC
50
between 11.8µM and 23.4µM. Real-time binding was analyzed with surface plasmon resonance spectroscopy.
23 preclinical studies support the efficacy of curcumin for COVID-19:
11 In Silico studies
Kandeil, Moschovou, Nag, Rampogu, Sekiou, Singh, Singh (B), Srivastava, Suravajhala, Thapa, Winih Kinasih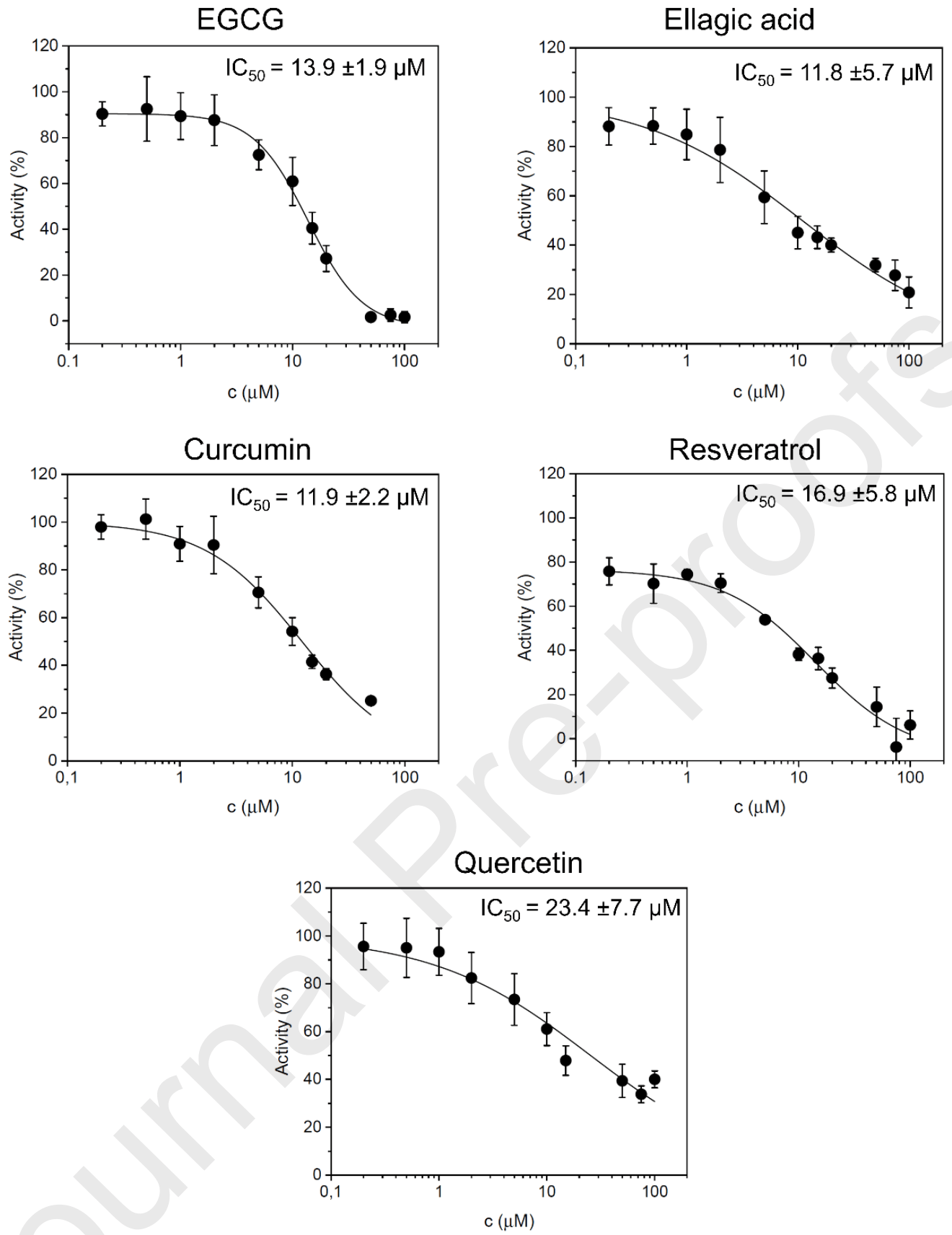 Bahun et al., 14 Nov 2021, peer-reviewed, 10 authors.
In Vitro studies are an important part of preclinical research, however results may be very different in vivo.
Inhibition of the SARS-CoV-2 3CLpro main protease by plant polyphenols
Food Chemistry, doi:10.1016/j.foodchem.2021.131594
This is a PDF file of an article that has undergone enhancements after acceptance, such as the addition of a cover page and metadata, and formatting for readability, but it is not yet the definitive version of record. This version will undergo additional copyediting, typesetting and review before it is published in its final form, but we are providing this version to give early visibility of the article. Please note that, during the production process, errors may be discovered which could affect the content, and all legal disclaimers that apply to the journal pertain.
Conflicts of interest: The authors declare that they have no conflicts of interest. Appendix A. Supplementary material
References
Kahn, Mcintosh, History and recent advances in coronavirus discovery, The Pediatric Infectious Disease Journal