Curcumin inhibits spike protein of new SARS-CoV-2 variant of concern (VOC) Omicron, an in silico study
In Silico study showing showing significant inhibitory potential of curcumin for omicron.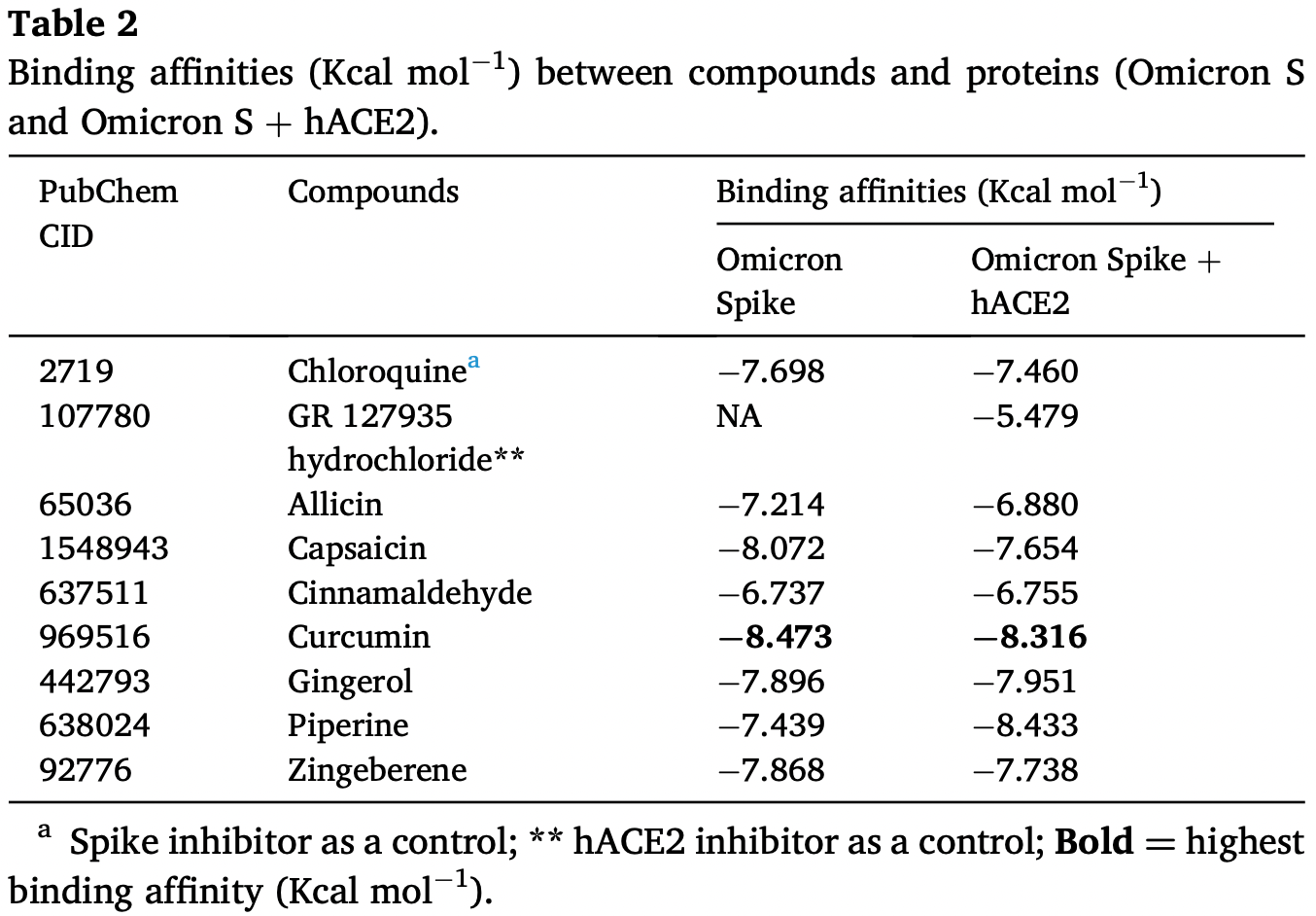 Nag et al., 1 May 2022, India, peer-reviewed, 4 authors.
Contact: anish.nag@christuniversity.in.
In Silico studies are an important part of preclinical research, however results may be very different in vivo.
Abstract: Computers in Biology and Medicine 146 (2022) 105552 Contents lists available at ScienceDirect Computers in Biology and Medicine journal homepage: www.elsevier.com/locate/compbiomed Curcumin inhibits spike protein of new SARS-CoV-2 variant of concern (VOC) Omicron, an in silico study Anish Nag a, *, Ritesh Banerjee b, Subhabrata Paul c, Rita Kundu d a Department of Life Sciences, CHRIST (Deemed to be University), Bangalore, Karnataka, 560029, India School of Biological and Environmental Sciences, Shoolini University, Solan, Himachal Pradesh, 173229, India c School of Biotechnology, Presidency University, Canal Bank Rd, DG Block, Action Area 1D, New Town, West Bengal, 700156, India d Department of Botany, University of Calcutta, Kolkata, West Bengal, 700019, India b A R T I C L E I N F O A B S T R A C T Keywords: COVID-19 Coronavirus Spike-RBD Omicron In silico study Background: Omicron (B.1.1.529), a variant of SARS-CoV-2 is currently spreading globally as a dominant strain. Due to multiple mutations at its Spike protein, including 15 amino acid substitutions at the receptor binding domain (RBD), Omicron is a variant of concern (VOC) and capable of escaping vaccine generated immunity. So far, no specific treatment regime is suggested for this VOC. Methods: The three-dimensional structure of the Spike RBD domain of Omicron variant was constructed by incorporating 15 amino acid substitutions to the Native Spike (S) structure and structural changes were compared that of the Native S. Seven phytochemicals namely Allicin, Capsaicin, Cinnamaldehyde, Curcumin, Gingerol, Piperine, and Zingeberene were docked with Omicron S protein and Omicron S-hACE2 complex. Further, molecular dynamic simulation was performed between Crcumin and Omicron S protein to evaluate the structural stability of the complex in the physiological environment and compared with that of the control drug Chloroquine. Results: Curcumin, among seven phytochemicals, was found to have the most substantial inhibitory potential with Omicron S protein. Further, it was found that curcumin could disrupt the Omicron S-hACE2 complex. The molecular dynamic simulation demonstrated that Curcumin could form a stable structure with Omicron S in the physiological environment. Conclusion: To conclude, Curcumin can be considered as a potential therapeutic agent against the highly in­ fectious Omicron variant of SARS-CoV-2.
Please send us corrections, updates, or comments. Vaccines and treatments are complementary. All practical, effective, and safe means should be used based on risk/benefit analysis. No treatment, vaccine, or intervention is 100% available and effective for all current and future variants. We do not provide medical advice. Before taking any medication, consult a qualified physician who can provide personalized advice and details of risks and benefits based on your medical history and situation.
FLCCC
and
WCH
provide treatment protocols.
Submit