In Silico
study showing showing significant inhibitory potential of curcumin for omicron.
18 preclinical studies support the efficacy of curcumin for COVID-19: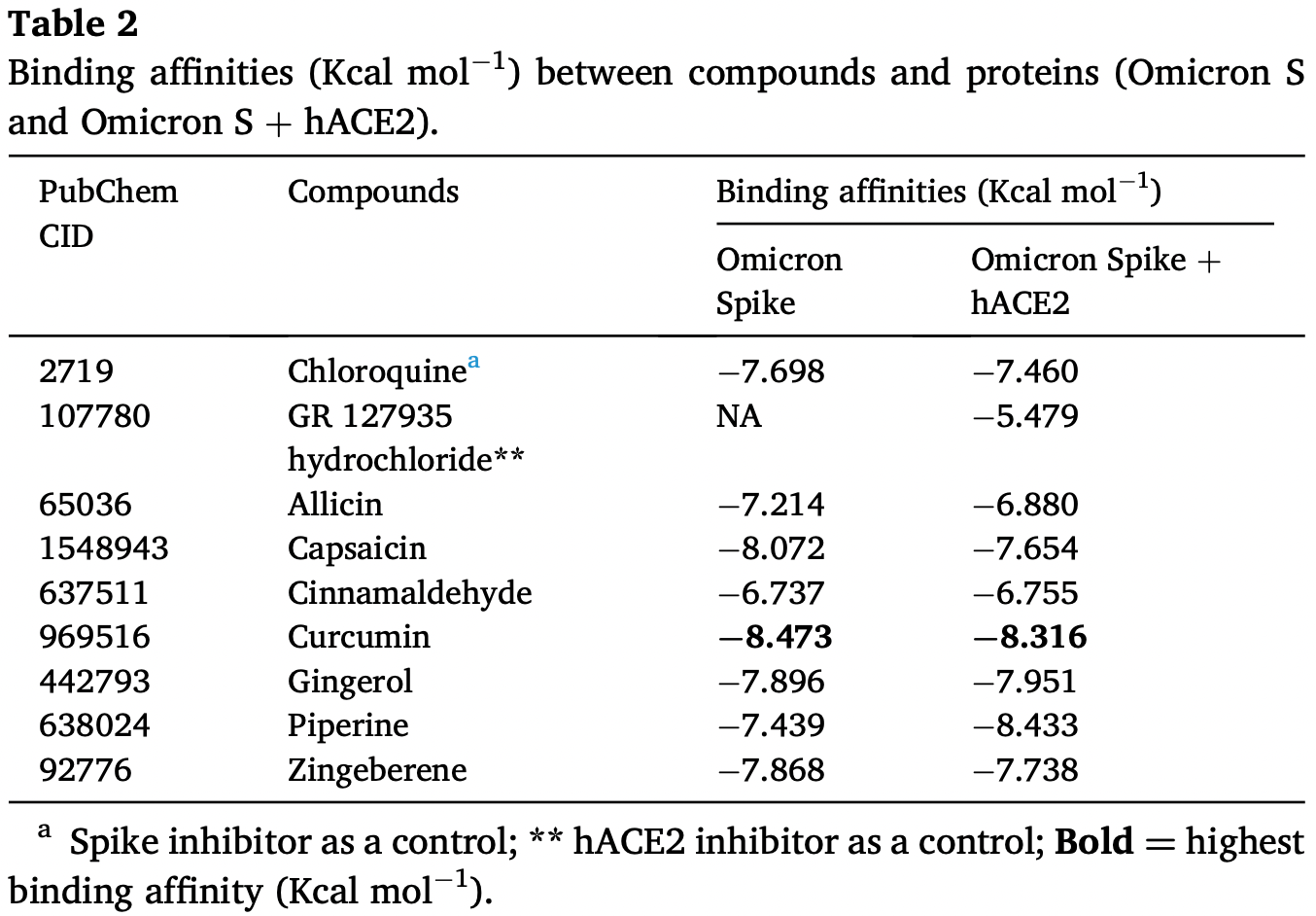 Nag et al., 1 May 2022, India, peer-reviewed, 4 authors.
Contact: anish.nag@christuniversity.in.
In Silico studies are an important part of preclinical research, however results may be very different in vivo.
Curcumin inhibits spike protein of new SARS-CoV-2 variant of concern (VOC) Omicron, an in silico study
Computers in Biology and Medicine, doi:10.1016/j.compbiomed.2022.105552
Background: Omicron (B.1.1.529), a variant of SARS-CoV-2 is currently spreading globally as a dominant strain. Due to multiple mutations at its Spike protein, including 15 amino acid substitutions at the receptor binding domain (RBD), Omicron is a variant of concern (VOC) and capable of escaping vaccine generated immunity. So far, no specific treatment regime is suggested for this VOC. Methods: The three-dimensional structure of the Spike RBD domain of Omicron variant was constructed by incorporating 15 amino acid substitutions to the Native Spike (S) structure and structural changes were compared that of the Native S. Seven phytochemicals namely Allicin, Capsaicin, Cinnamaldehyde, Curcumin, Gingerol, Piperine, and Zingeberene were docked with Omicron S protein and Omicron S-hACE2 complex. Further, molecular dynamic simulation was performed between Crcumin and Omicron S protein to evaluate the structural stability of the complex in the physiological environment and compared with that of the control drug Chloroquine. Results: Curcumin, among seven phytochemicals, was found to have the most substantial inhibitory potential with Omicron S protein. Further, it was found that curcumin could disrupt the Omicron S-hACE2 complex. The molecular dynamic simulation demonstrated that Curcumin could form a stable structure with Omicron S in the physiological environment. Conclusion: To conclude, Curcumin can be considered as a potential therapeutic agent against the highly infectious Omicron variant of SARS-CoV-2.
Author contributions A.N. conceived, designed the study & performed the experimentations; Primary data analysis & manuscript draft preparation were done by S.P. Secondary data analysis was done by RB and proof reading & manuscript finalisation was done by R.K. All authors read and approved the final manuscript. Declaration of competing interest Authors declare that there is no conflict of interest. Appendix A. Supplementary data Supplementary data to this article can be found online at https://doi. org/10.1016/j.compbiomed.2022.105552.
References
Choudhary, Malik, Tomar, Identification of SARS-CoV-2 cell entry inhibitors by drug repurposing using in silico structure-based virtual screening approach, Front. Immunol
Dolgin, Omicron thwarts some of the world's most-used COVID vaccines, Nature
Du, Qian, Xue, Molecular simulation of oncostatin M and receptor (OSM-OSMR) interaction as a potential therapeutic target for inflammatory bowel disease, Front. Mol. Biosci