In Vitro
study of several plant extracts, showing strong inhibition of SARS-CoV-2 3CL
pro
activity by turmeric rhizomes. Commercial curcumin also inhibited 3CL
pro
activity, but did not fully account for the inhibitory effect of turmeric rhizomes extracts, suggesting that other components of the turmeric extract also play a main role in inhibiting 3CL
pro
activity.
18 preclinical studies support the efficacy of curcumin for COVID-19: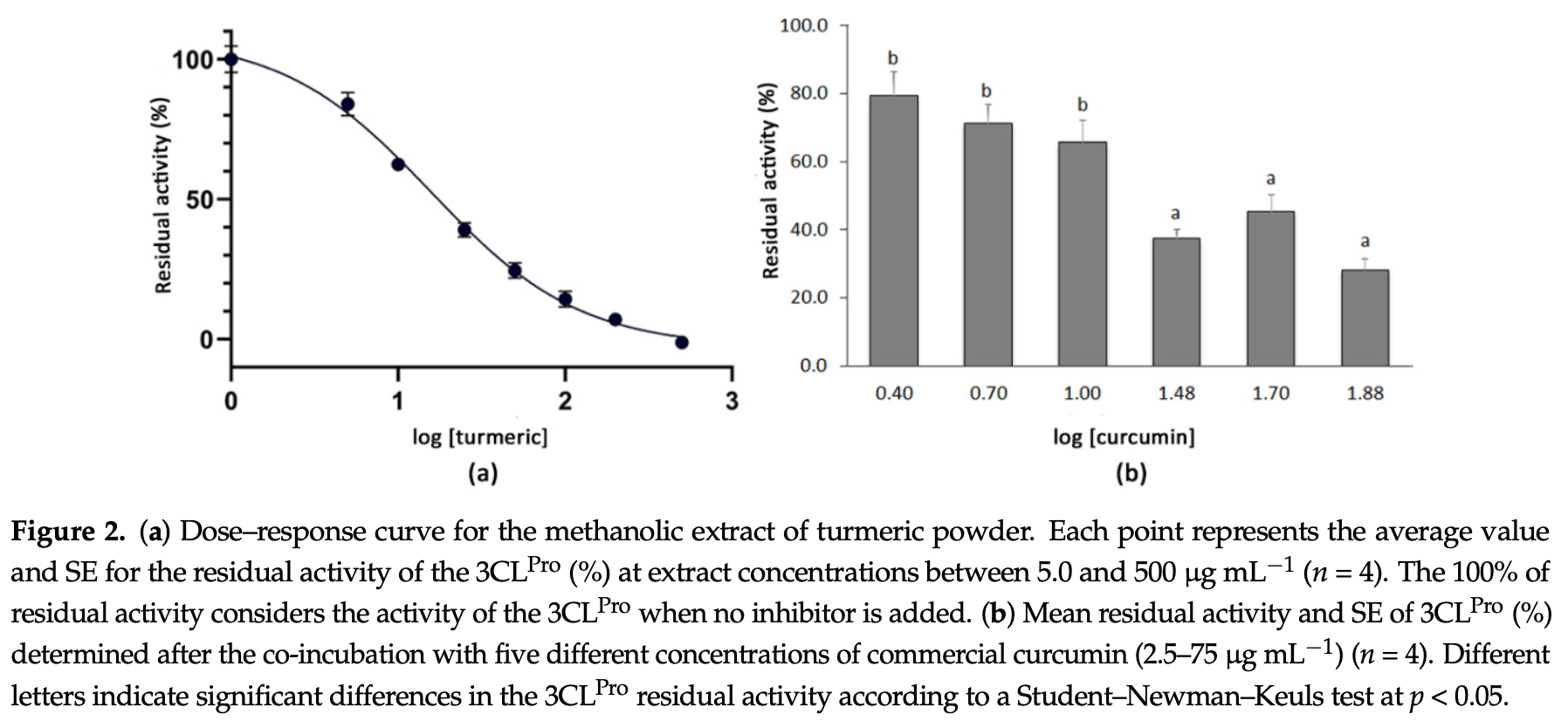 Guijarro-Real et al., 29 Jun 2021, peer-reviewed, 5 authors.
In Vitro studies are an important part of preclinical research, however results may be very different in vivo.
Potential In Vitro Inhibition of Selected Plant Extracts against SARS-CoV-2 Chymotripsin-Like Protease (3CLPro) Activity
Foods, doi:10.3390/foods10071503
Antiviral treatments inhibiting Severe acute respiratory syndrome coronavirus 2 (SARS-CoV-2) replication may represent a strategy complementary to vaccination to fight the ongoing Coronavirus disease 19 (COVID-19) pandemic. Molecules or extracts inhibiting the SARS-CoV-2 chymotripsin-like protease (3CL Pro ) could contribute to reducing or suppressing SARS-CoV-2 replication. Using a targeted approach, we identified 17 plant products that are included in current and traditional cuisines as promising inhibitors of SARS-CoV-2 3CL Pro activity. Methanolic extracts were evaluated in vitro for inhibition of SARS-CoV-2 3CL Pro activity using a quenched fluorescence resonance energy transfer (FRET) assay. Extracts from turmeric (Curcuma longa) rhizomes, mustard (Brassica nigra) seeds, and wall rocket (Diplotaxis erucoides subsp. erucoides) at 500 µg mL −1 displayed significant inhibition of the 3CL Pro activity, resulting in residual protease activities of 0.0%, 9.4%, and 14.9%, respectively. Using different extract concentrations, an IC 50 value of 15.74 µg mL −1 was calculated for turmeric extract. Commercial curcumin inhibited the 3CL Pro activity, but did not fully account for the inhibitory effect of turmeric rhizomes extracts, suggesting that other components of the turmeric extract must also play a main role in inhibiting the 3CL Pro activity. Sinigrin, a major glucosinolate present in mustard seeds and wall rocket, did not have relevant 3CL Pro inhibitory activity; however, its hydrolysis product allyl isothiocyanate had an IC 50 value of 41.43 µg mL −1 . The current study identifies plant extracts and molecules that can be of interest in the search for treatments against COVID-19, acting as a basis for future chemical, in vivo, and clinical trials.
This work is a first targeted approach for the evaluation of plant extracts and containing natural compounds for the development of prophylaxis, adjuvant therapies, and drug treatments aimed at inhibiting the activity of SARS-CoV-2 3CL Pro . Extracts of turmeric have been identified as a candidate plant extract for reducing SARS-CoV-2 3CL Pro activity, which could eventually affect the viral replication. In addition, other plant extracts, such as those of cruciferous plants containing sinigrin, which, after consumption, is degraded to allyl isothiocyanate, might be considered as well for their inhibition of SARS-CoV-2 3CL Pro activity. The current study provides information that can help in the search for treatments against COVID-19, acting as a basis for future chemical, in vivo, and clinical trials. Thus, further studies following the results of this work should be addressed: (1) to chemically characterize the plant extracts with high potential inhibitory activity and to re-evaluate this capacity after the fractionation of the extracts, thus allowing the identification of the biomolecules responsible of such activity and possible synergistic effects; and (2) to evaluate this potential inhibition in cell-based studies where the virus, host cell, and plant extract interact, also determining the toxicity limit prior to conducting other pre-clinical and clinical trials. Supplementary Materials: The following are available online at https://www.mdpi.com/article/..
References
Martins, Barros, Santos-Buelga, Henriques, Silva et al., infusion and hydroalcoholic extract of Origanum vulgare L.: Different performances regarding bioactivity and phenolic compounds, Food Chem
Rangkadilok, Nicolas, Bennett, Premier, Eagling et al., Developmental changes of sinigrin and glucoraphanin in three Brassica species (Brassica nigra, Brassica juncea and Brassica oleracea var. italica), Sci. Hortic