In Silico study showing high binding affinity for the SARS-CoV-2 nucleocapsid and nsp10 proteins with curcumin. Authors propose curcumin for COVID-19 drug development.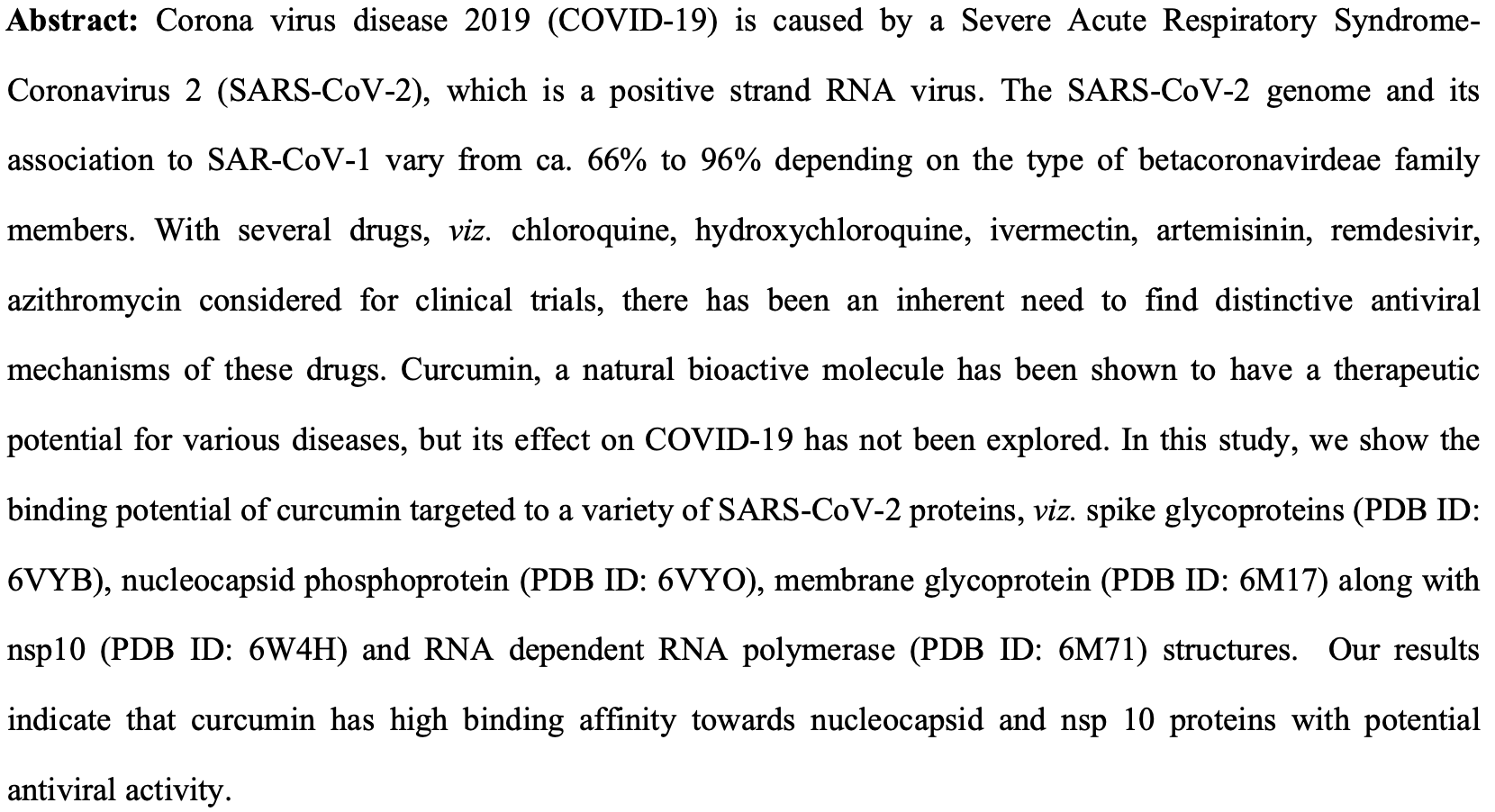 Suravajhala et al., 7 Jun 2020, preprint, 8 authors.
Contact: giri@genomixbiotech.com (corresponding author), prash@bisr.res.in.
In Silico studies are an important part of preclinical research, however results may be very different in vivo.
Comparative Docking Studies on Curcumin with COVID-19 Proteins
doi:10.20944/preprints202005.0439.v3
Highlights 1. Our findings confirm the role of Q163 aminoacid site for potential tethered site or target which is in agreement with ivermectin, the best possible and known drug. 2. We have employed a rigorous strategy in screening the docking complexes from a majority of hypothetical genes or orphan open reading frames, structural and non-structural proteins. 3. We believe that the findings presented in our paper will appeal to researchers working on COVID-19, particularly those interested to characteristically screen docking complexes.
Author contributions: GP, PBK and RP ideated the project. RS and AP jointly analysed the structures and modelled the docking complexes. PS performeddid the protein interaction analyses. AP and RS wrote the first draft with PS, PBK, BM and RP. GP, PBK, PS, VAN and RP proofread the manuscript. Competing interests: None
References
Delano, The PyMOL Molecular Graphics System; DeLano Scientific
Kang, Yang, Hong, Crystal structure of SARS-CoV-2 nucleocapsid protein RNA binding domain reveals potential unique drug targeting sites
Pettersen, Goddard, Huang, Couch, Greenblatt et al., UCSF Chimera -A Visualization System for Exploratory Research and Analysis, J. Comput. Chem
Sampangi-Ramaiah, Vishwakarma, Shaanker, Molecular docking analysis of selected natural products from plants for inhibition of SARS-CoV-2 main protease, Current Science