Meta analysis of 19 studies showing metformin use associated with lower COVID-19 mortality and hospitalization.Currently there are
65 metformin studies
and meta analysis shows:
risk of death,

34.0% lower

, OR 0.66, p < 0.001
, RR approximated with OR.
Effect extraction follows pre-specified rules prioritizing more serious outcomes. Submit updates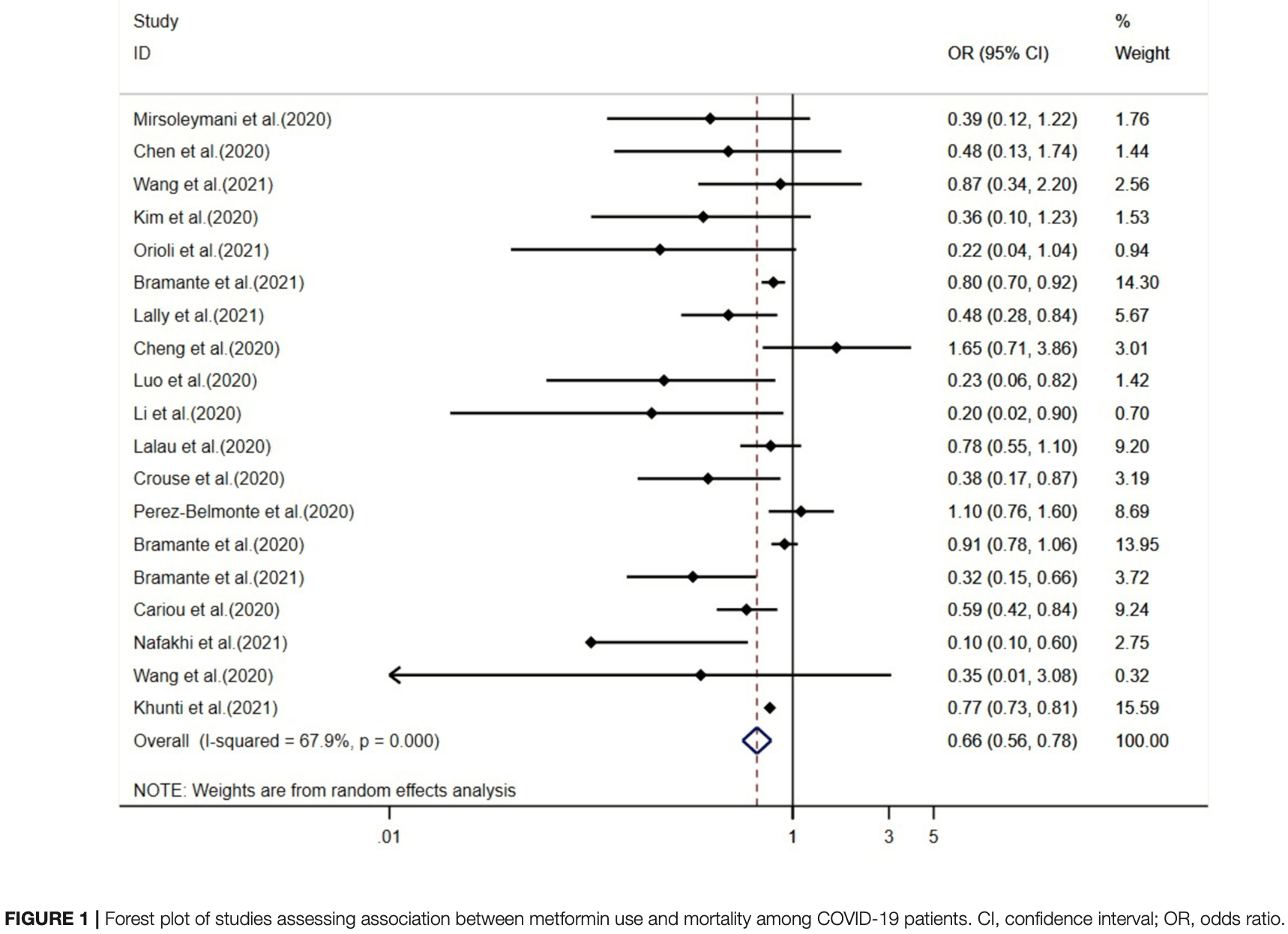 Li et al., 19 Aug 2021, peer-reviewed, 6 authors.
Contact: zhizeng_scu@yeaah.net, lisheyu@gmail.com.
Metformin in Patients With COVID-19: A Systematic Review and Meta-Analysis
Frontiers in Medicine, doi:10.3389/fmed.2021.704666
Importance/Background: The coronavirus disease (COVID-19) pandemic is a critical public health issue. Evidence has shown that metformin favorably influences COVID-19 outcomes. This study aimed to assess the benefits and risks of metformin in COVID-19 patients. Methods: We searched the PubMed, Embase, Cochrane Library, and Chinese Biomedical Literature Database from inception to February 18, 2021. Observational studies assessing the association between metformin use and the outcomes of COVID-19 patients were included. The primary outcome was mortality, and the secondary outcomes included intubation, deterioration, and hospitalization. Random-effects weighted models were used to pool the specific effect sizes. Subgroup analyses were conducted by stratifying the meta-analysis by region, diabetic status, the adoption of multivariate model, age, risk of bias, and timing for adding metformin. Results: We identified 28 studies with 2,910,462 participants. Meta-analysis of 19 studies showed that metformin is associated with 34% lower COVID-19 mortality [odds ratio (OR), 0.66; 95% confidence interval (CI), 0.56-0.78; I 2 = 67.9%] and 27% lower hospitalization rate (pooled OR, 0.73; 95% CI, 0.53-1.00; I 2 = 16.8%). However, we did not identify any subgroup effects. The meta-analysis did not identify statistically significant association between metformin and intubation and deterioration of COVID-19 (OR, 0.94; 95% CI, 0.77-1.16; I 2 = 0.0% for intubation and OR, 2.04; 95% CI, 0.65-6.34; I 2 = 79.4% for deterioration of COVID-19), respectively. Conclusions: Metformin use among COVID-19 patients was associated with a reduced risk of mortality and hospitalization. Our findings suggest a relative benefit for metformin use in nursing home and hospitalized COVID-19 patients. However, randomized controlled trials are warranted to confirm the association between metformin use and COVID-19 outcomes.
AUTHOR CONTRIBUTIONS YL, ZZ, and SL: conception or design. YL, XY, PY, and TS: acquisition, analysis, or interpretation. YL, XY, PY, TS, ZZ, and SL: drafting the work or revision and final approval of the manuscript. All authors contributed to the article and approved the submitted version. SUPPLEMENTARY MATERIAL The Supplementary Material for this article can be found online at: https://www.frontiersin.org/articles/10.3389/fmed. 2021.704666/full#supplementary-material Conflict of Interest: The authors declare that the research was conducted in the absence of any commercial or financial relationships that could be construed as a potential conflict of interest. Publisher's Note: All claims expressed in this article are solely those of the authors and do not necessarily represent those of their affiliated organizations, or those of the publisher, the editors and the reviewers. Any product that may be evaluated in this article, or claim that may be made by its manufacturer, is not guaranteed or endorsed by the publisher.
References