Systematic review and meta analysis of 36 studies showing significantly lower COVID-19 mortality and severity with metformin use.
12 meta analyses show significant improvements with metformin for mortality
Hariyanto, Kan, Kow, Li, Lukito, Ma, Oscanoa, Parveen, Petrelli, Schlesinger, Yang
, hospitalization
Li
, progression
Yang
, and severity
Petrelli, Schlesinger
.
Currently there are
75 metformin for COVID-19 studies
, showing 32% lower mortality
[28‑37%]
, 27% lower ventilation
[9‑42%]
, 16% lower ICU admission
[5‑25%]
, 18% lower hospitalization
[11‑24%]
, and 4% fewer cases
[-6‑13%]
.
risk of death,

31.0% lower

, OR 0.69, p < 0.001
, RR approximated with OR.
risk of severe case,

20.0% lower

, OR 0.80, p = 0.03
, RR approximated with OR.
Effect extraction follows pre-specified rules prioritizing more serious outcomes. Submit updates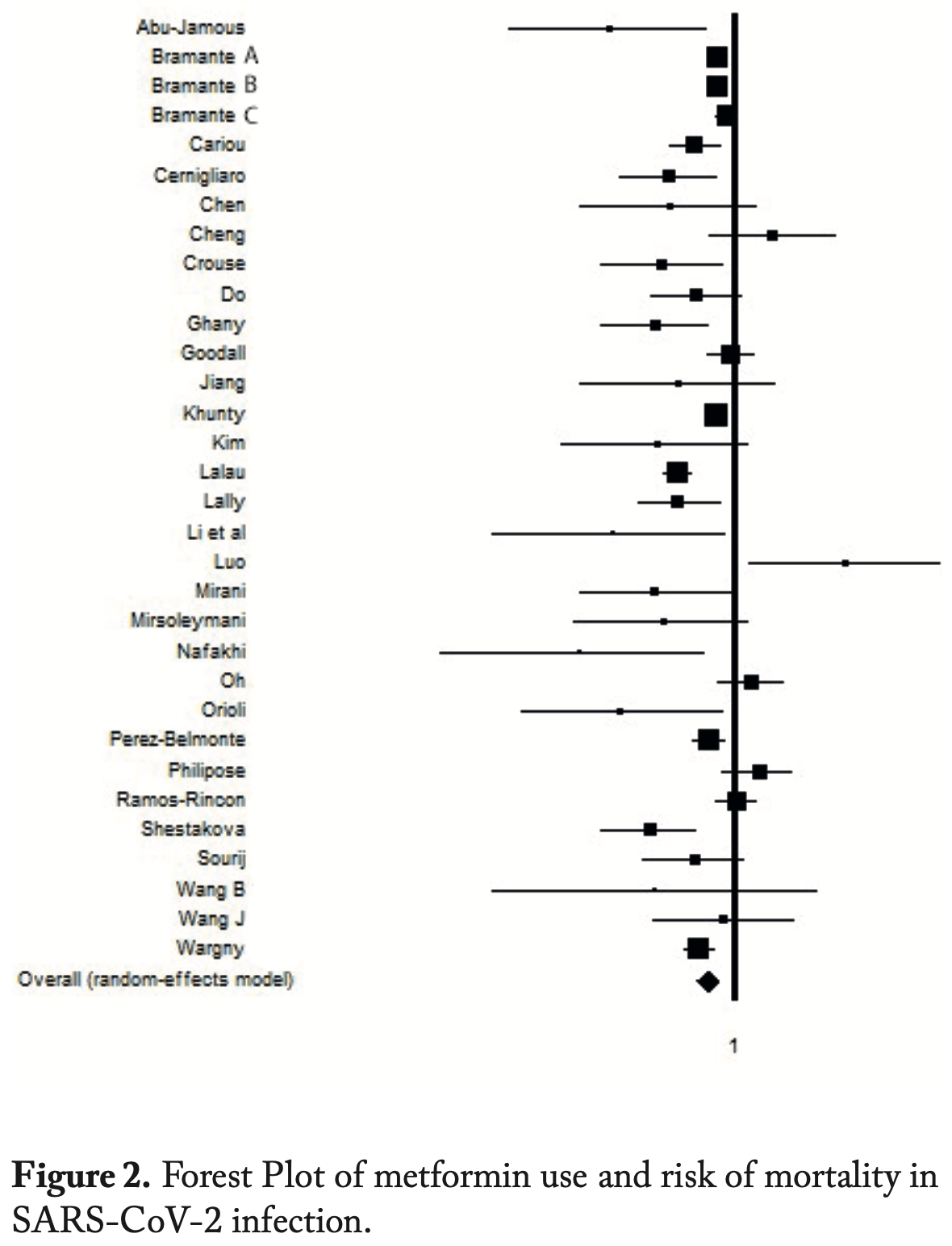 Petrelli et al., 30 Aug 2023, retrospective, USA, peer-reviewed, 7 authors.
Metformin and Covid-19: a systematic review of systematic reviews with meta-analysis
doi:10.23750/abm.v94iS3.14405
Introduction: the COVID-19 infection, caused by severe Coronavirus 2 syndrome (Sars-Cov-2), immediately appeared to be the most tragic global pandemic event of the twentieth century. Right from the start of the pandemic, diabetic patients treated with metformin experienced a reduction in mortality and complications from COVID-19 compared to those with different treatments or no treatment. Objective: The main objective of the study was to observe the effects of metformin in diabetic hospitalized subjects infected with COVID-19. Specifically, the outcomes of hospitalization in Intensive Care Units or death were examined. Materials and Methods: A specific research PICOS was developed and the Pubmed, Embase and Scopus databases were consulted down to April 30, 2022. To estimate the extent of the metformin effect and risk of severity in SARS-CoV-2 infection, the Odd Ratio (OR) with 95% Confidence Interval (CI) published by the authors of the selected systematic reviews was used. Results: from five systematic reviews 36 studies were selected. The final meta-analysis showed that thanks to treatment with metformin, Type II Diabetes (DM2) patients affected by COVID-19 had protection against risk of disease severity, complications (SE 0.80; CI 95%: 0.61 -0.78; I 2 : 70.5%) and mortality (SE 0.69; CI 95%: 0.65 -0.98; I 2 : 53,6%). Conclusions: More indepth studies on the use of metformin, compared to other molecules, may be required to understand the real protective potential of the drug against negative outcomes caused by
Conflict of Interest statement: Each author declares that he or she has no commercial associations (e.g. consultancies, stock ownership, equity interest, patent/licensing arrangement etc.) that might pose a conflict of interest in connection with the submitted article. Ethics approval and consent to participate: Not applicable Consent for publication: All the authors have read the paper and agreed to submit the paper. Competing interests: The authors declare no competing interests. Funding: Not applicable Authors' contributions : FP and GC designed and conducted research, analyzed data and wrote the paper. All authors approved the final manuscript.
References
Do, Kim, Park, Is there an association between metform-in use and clinical outcomes in diabetes patients with COVID-19?, Diabetes Metab
Li, Yang, Yan, Metformin in Patients With COVID-19: A Systematic Review and Meta-Analysis
Mirani, Favacchio, Carrone, Impact of comorbidities and glycemia at admission and dipeptidyl peptidase 4 inhibitors in patients with type 2 diabetes with COVID-19: a Case series from an Academic Hospital in 53. Oh TK, Song IA. Metformin use and risk of COV-ID-19 among patients with type II diabetes mellitus: an NHIS-COVID-19 database cohort study, Acta Diabetol