Meta analysis of 32 studies showing significantly lower COVID-19 mortality with metformin use.
12 meta analyses show significant improvements with metformin for mortality
Hariyanto, Kan, Kow, Li, Lukito, Ma, Oscanoa, Parveen, Petrelli, Schlesinger, Yang
, hospitalization
Li
, progression
Yang
, and severity
Petrelli, Schlesinger
.
Currently there are
75 metformin for COVID-19 studies
, showing 32% lower mortality
[28‑37%]
, 27% lower ventilation
[9‑42%]
, 16% lower ICU admission
[5‑25%]
, 18% lower hospitalization
[11‑24%]
, and 4% fewer cases
[-6‑13%]
.
risk of death,

44.0% lower

, OR 0.56, p < 0.001
, RR approximated with OR.
risk of severe case,

15.0% lower

, OR 0.85, p = 0.08
, RR approximated with OR.
Effect extraction follows pre-specified rules prioritizing more serious outcomes. Submit updates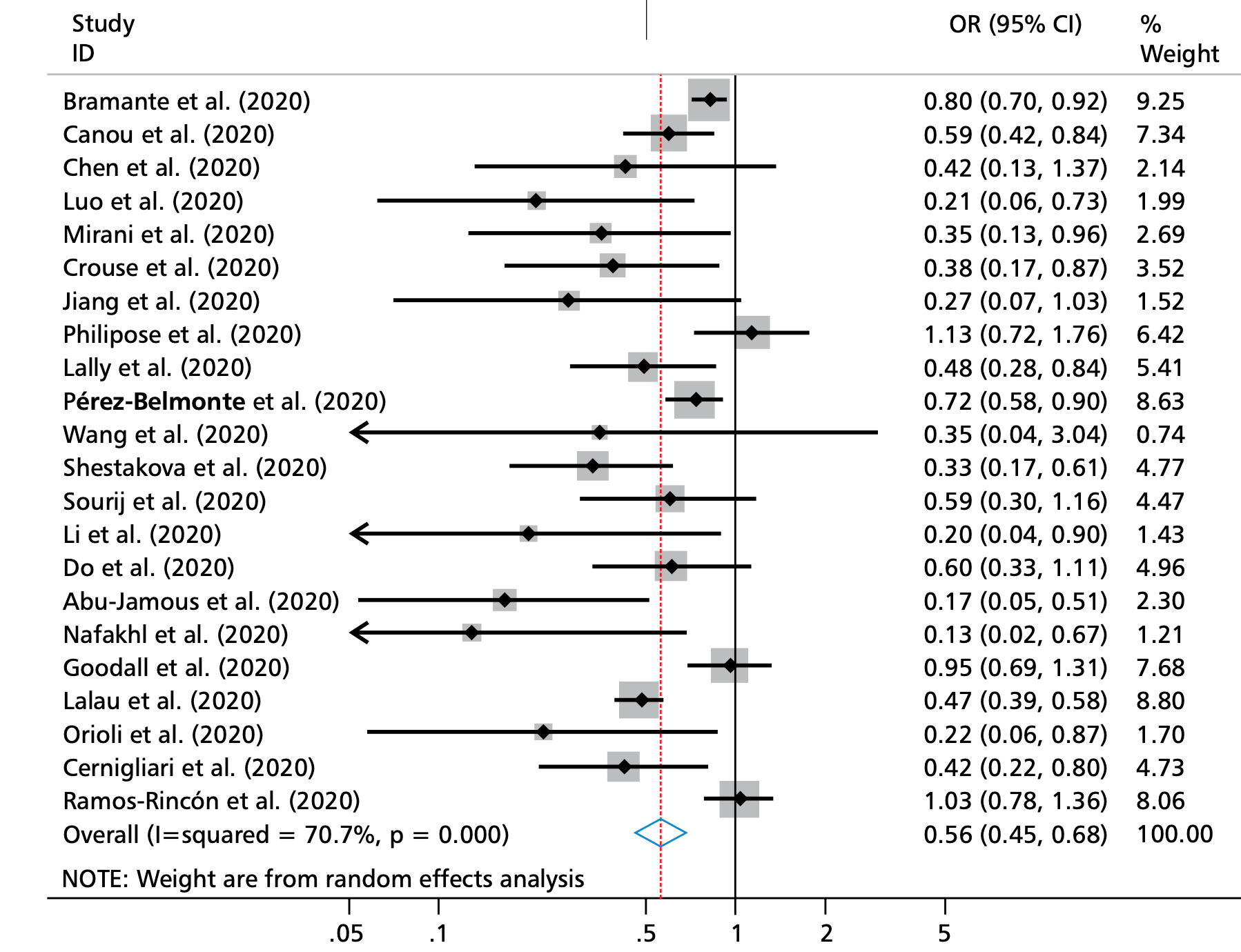 Oscanoa et al., 24 May 2021, peer-reviewed, 5 authors.
Contact: tjoscanoae@gmail.com, toscanoae@usmp.pe.
Metformin therapy and severity and mortality of SARS-CoV-2 infection: a meta-analysis
Clinical Diabetology, doi:10.5603/dk.a2021.0035
background. It has been postulated that metformin could have anti-SARS-CoV-2 action. This raises the hypothesis that people who take metformin may have lower SARS-CoV-2 severity and/or mortality. Objectives. To conduct a meta-analysis of the association between the use of Metformin and risk of severity and mortality in SARS-CoV-2 infection. Methods. we searched PubMed, EMbASE, google scholar, the Cochrane Database of Systematic Reviews and preprint servers (medRxiv and Research Square) for studies published between December 2019 and January 2021. Data was extracted on study location, year of publication, design, number of participants, sex, age at baseline, body mass index, and exposure and outcome definition. Effect statistics were pooled using random effects models with 95% confidence intervals (CI). The quality of included studies was assessed with the newcastle-Ottawa Scale (nOS). Results. Thirty-two observational studies were included, combining to a total sample of 44306 participants. The mean nOS score of included studies was 7.9. Results suggested that metformin use was associated with a reduced risk of SARS-CoV-2 mortality (OR = 0.56, 95% CI: 0.46-0.68, P < 0.001; 22 studies) but not with disease severity (OR = 0.85, 95% CI: 0.71-1.02, P = 0.077; 15 studies). In the subgroup analysis, metformin reduces the risk of mortality (OR = 0.69, 95% CI: 0.55-0.88; P = 0.002) and severity (OR = 0.83, 95% CI: 0.70-0.97, P = 0.023) in patients aged 70 and above. Conclusions. The use of metformin was associated to lower risk of mortality from SARS-CoV-2 infection. This association does not imply causation and further research is required to clarify potential mechanisms.
Conflict of interest None. Appendix 1 MEDlInE search strategy We searched the NCBI and Medline databases for potentially eligible records. The search terms were as follows:
References