Metformin Use in Diabetes Prior to Hospitalization: Effects on Mortality in Covid-19
Metformin Use in Diabetes Prior to Hospitalization: Effects on Mortality in Covid-19
,
Endocrine Practice, doi:10.4158/EP-2020-0466
,
Retrospective 131 type II diabetes patients with COVID pneumonia, showing lower mortality with existing metformin use. Acarbose (commonly used in China as an initial therapy for diabetes) did not have a similar association with mortality, suggesting that the result may not be explained by metformin being used early in type II diabetes.
risk of death,

77.7% lower

, HR 0.22, p = 0.02
, treatment 2 of 37 (5.4%), control 21 of 94 (22.3%), NNT 5.9, adjusted per study, multivariable.
risk of mechanical ventilation,

27.0% higher

, RR 1.27, p = 1.00
, treatment 1 of 37 (2.7%), control 2 of 94 (2.1%).
Effect extraction follows pre-specified rules prioritizing more serious outcomes. Submit updates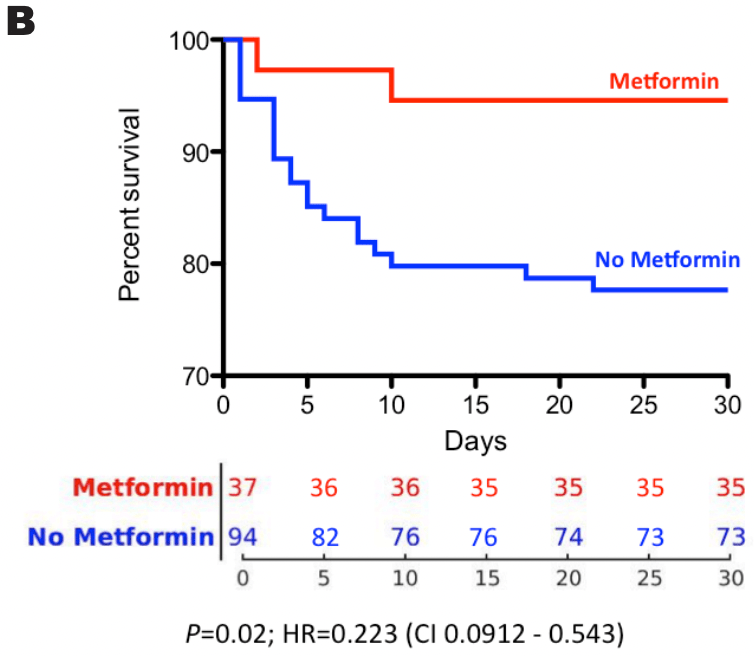 Li et al., 1 Oct 2020, retrospective, China, peer-reviewed, 16 authors, study period 23 January, 2020 - 19 March, 2020.
Abstract: Original Article METFORMIN USE IN DIABETES PRIOR TO HOSPITALIZATION: EFFECTS ON MORTALITY IN COVID-19 Jinghong Li, MD, PhD*1; Qi Wei, MD*2; Willis X. Li, PhD1; Karen C. McCowen, MD1; Wei Xiong, MD2; Jiao Liu, MD2; Wenlijun Jiang, MD2; Traci Marin, PhD3; Robert L. Thomas, MD1; Ming He, MD, PhD1; Brendan Gongol, PhD1; Mark Hepokoski, MD1; Jason X.-J. Yuan, MD, PhD1; John Y.-J. Shyy, PhD1; Nian Xiong, MD2,4; Atul Malhotra, MD1 ABSTRACT Objective: Although type 2 diabetes mellitus (T2DM) has been reported as a risk factor for coronavirus disease 2019 (COVID-19), the effect of pharmacologic agents used to treat T2DM, such as metformin, on COVID-19 outcomes remains unclear. Metformin increases the expression of angiotensin converting enzyme 2, a known receptor for severe acute respiratory syndrome coronavirus 2. Data from people with T2DM hospitalized for COVID-19 were used to test the hypothesis that metformin use is associated with improved survival in this population. Methods: Retrospective analyses were performed on de-identified clinical data from a major hospital in Wuhan, China, that included patients with T2DM hospitalized for COVID-19 during the recent epidemic. One hundred and thirty-one patients diagnosed with COVID-19 and T2DM Submitted for publication July 11, 2020 Accepted for publication September 15, 2020 From the 1Department of Medicine, University of California, San Diego, La Jolla, California, the 2Department of Endocrinology, Wuhan Red Cross Hospital, Wuhan, Hubei, China, the 3Department of Health Sciences, Victor Valley College, Victorville, California, and the 4Department of Neurology, Union Hospital, Tongji Medical College, Huazhong University of Science and Technology, Wuhan, Hubei, China. *Dr. Li and Dr. Wei contributed equally to this manuscript. Address correspondence to Dr. Nian Xiong, 392 Hongkong Road, Wuhan, 430015, Hubei, China. E-mail : nianxiong@hust.edu.cn or Dr. John Y.-J. Shyy, 9500 Gilman Drive, MC 0613K, La Jolla, CA 92093. E-mail: jshyy@health.ucsd.edu. Published as a Rapid Electronic Article in Press at http://www.endocrine practice.org. DOI: 10.4158/EP-2020-0466 To purchase reprints of this article, please visit: https://www.aace.com/ publications/journal-reprints-copyrights-permissions. Copyright © 2020 AACE. 1166 ENDOCRINE PRACTICE Vol 26 No. 10 October 2020 were used in this study. The primary outcome was mortality. Demographic, clinical characteristics, laboratory data, diabetes medications, and respiratory therapy data were also included in the analysis. Results: Of these 131 patients, 37 used metformin with or without other antidiabetes medications. Among the 37 metformin-taking patients, 35 (94.6%) survived and 2 (5.4%) did not survive. The mortality rates in the metformin-taking group versus the non-metformin group were 5.4% (2/37) versus 22.3% (21/94). Using multivariate analysis, metformin was found to be an independent predictor of survival in this cohort (P = .02). Conclusion: This study reveals a significant association between metformin use and survival in people with T2DM diagnosed with COVID-19. These clinical data are consistent with potential benefits of the use of metformin for COVID-19 patients with T2DM. (Endocr Pract. 2020;26:1166-1172) Abbreviations: ACE2 = angiotensin-converting enzyme 2; AMPK = AMP-activated protein kinase; BMI = body mass index; COVID-19 = coronavirus disease 2019; SARSCoV-2 = severe acute respiratory syndrome coronavirus 2; T2DM = type 2 diabetes..
Please send us corrections, updates, or comments. Vaccines and treatments are complementary. All practical, effective, and safe means should be used based on risk/benefit analysis. No treatment, vaccine, or intervention is 100% available and effective for all current and future variants. We do not provide medical advice. Before taking any medication, consult a qualified physician who can provide personalized advice and details of risks and benefits based on your medical history and situation.
FLCCC
and
WCH
provide treatment protocols.
Submit