Meta analysis of 9 studies showing lower mortality with metformin use.
12 meta analyses show significant improvements with metformin for mortality
Hariyanto, Kan, Kow, Li, Lukito, Ma, Oscanoa, Parveen, Petrelli, Schlesinger, Yang
, hospitalization
Li
, progression
Yang
, and severity
Petrelli, Schlesinger
.
Currently there are
75 metformin for COVID-19 studies
, showing 32% lower mortality
[28‑37%]
, 27% lower ventilation
[9‑42%]
, 16% lower ICU admission
[5‑25%]
, 18% lower hospitalization
[11‑24%]
, and 4% fewer cases
[-6‑13%]
.
risk of death,

36.0% lower

, OR 0.64, p = 0.03
, RR approximated with OR.
Effect extraction follows pre-specified rules prioritizing more serious outcomes. Submit updates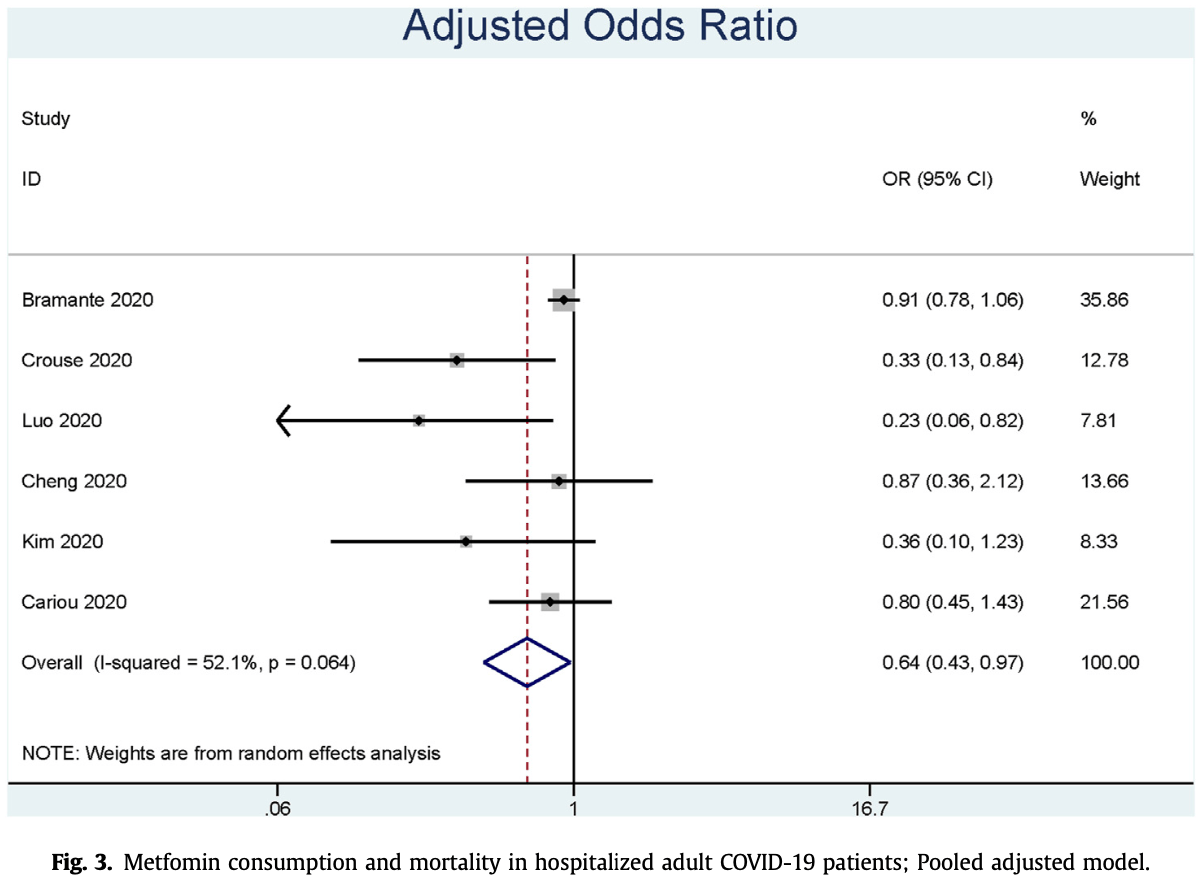 Lukito et al., 11 Nov 2020, peer-reviewed, 6 authors.
The Effect of Metformin Consumption on Mortality in Hospitalized COVID-19 patients: a systematic review and meta-analysis
Diabetes & Metabolic Syndrome: Clinical Research & Reviews, doi:10.1016/j.dsx.2020.11.006
Background and aims: Diabetes is one of the most common comorbidities, and it is associated with poorer outcomes in patients with coronavirus disease 2019 . Preliminary findings showed that mortality was reduced in those who consume metformin compared to those who did not, and given its low cost and widespread availability; metformin is an attractive and potential agent to mitigate excessive risk in diabetic populations. Methods: Several medical databases (Pubmed, EuropePMC, EBSCOhost, Proquest, Cochrane library) and two health-science preprint servers (preprint.org and Medrxiv) were systematically searched for relevant literature. Results: Nine studies with 10,233 subjects were included in the qualitative and quantitative synthesis. Meta-analysis showed that metformin is associated with lower mortality in pooled non-adjusted model (OR 0.45 [0.25, 0.81], p ¼ 0.008; I 2: 63.9%, p ¼ 0.026) and pooled adjusted model (OR 0.64 [0.43, 0.97], p ¼ 0.035; I 2 : 52.1%, p ¼ 0.064). Conclusion: The analysis showed that metformin consumption was associated with lower mortality. Randomized controlled trials are needed to confirm this finding.
Ethics approval and consent to participate Not Applicable. Consent for publication Not Applicable. Conflicts of interest The authors declare that they have no competing interests. Abbreviations ACE2 Angiotensin
References
Cheng, Liu, Li, Zhang, Lei et al., Metformin is associated with higher incidence of acidosis, but not mortality, in individuals with COVID-19 and pre-existing type 2 diabetes, Cell Metab
Cochrance, Review manager (RevMan