Meta analysis of 14 studies showing significantly lower COVID-19 mortality with metformin use.
12 meta analyses show significant improvements with metformin for mortality
Hariyanto, Kan, Kow, Li, Lukito, Ma, Oscanoa, Parveen, Petrelli, Schlesinger, Yang
, hospitalization
Li
, progression
Yang
, and severity
Petrelli, Schlesinger
.
Currently there are
75 metformin for COVID-19 studies
, showing 32% lower mortality
[28‑37%]
, 27% lower ventilation
[9‑42%]
, 16% lower ICU admission
[5‑25%]
, 18% lower hospitalization
[11‑24%]
, and 4% fewer cases
[-6‑13%]
.
risk of death,

31.0% lower

, OR 0.69, p = 0.001
, RR approximated with OR.
Effect extraction follows pre-specified rules prioritizing more serious outcomes. Submit updates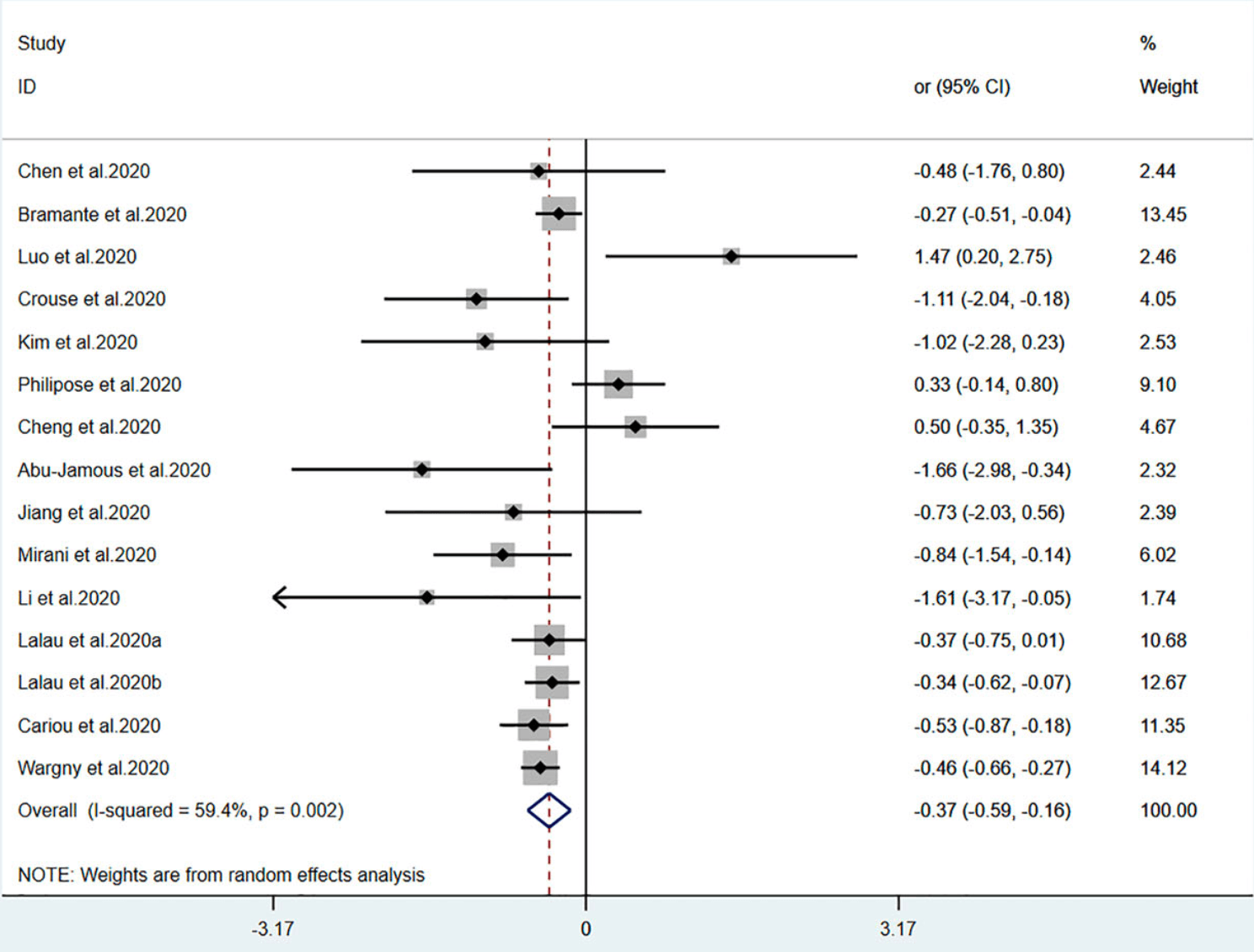 Kan et al., 16 Sep 2021, peer-reviewed, 7 authors, trial PROSPERO
CRD42021242898
.
Contact: xiaodong.sun@wfmc.edu.cn, ningning.hou@wfmc.edu.cn.
Mortality Risk of Antidiabetic Agents for Type 2 Diabetes With COVID-19: A Systematic Review and Meta-Analysis
Frontiers in Endocrinology, doi:10.3389/fendo.2021.708494
Aims: We conducted a systematic review and meta-analysis to assess various antidiabetic agents' association with mortality in patients with type 2 diabetes (T2DM) who have coronavirus disease 2019 . Methods: We performed comprehensive literature retrieval from the date of inception until February 2, 2021, in medical databases (PubMed, Web of Science, Embase, and Cochrane Library), regarding mortality outcomes in patients with T2DM who have COVID-19. Pooled OR and 95% CI data were used to assess relationships between antidiabetic agents and mortality. Results: Eighteen studies with 17,338 patients were included in the meta-analysis. Metformin (pooled OR, 0.69; P=0.001) and sulfonylurea (pooled OR, 0.80; P=0.016) were associated with lower mortality risk in patients with T2DM who had COVID-19. However, patients with T2DM who had COVID-19 and received insulin exhibited greater mortality (pooled OR, 2.20; P=0.002). Mortality did not significantly differ (pooled OR, 0.72; P=0.057) between DPP-4 inhibitor users and non-users. Conclusions: Metformin and sulfonylurea could be associated with reduced mortality risk in patients with T2DM who have COVID-19. Furthermore, insulin use could be associated with greater mortality, while DPP-4 inhibitor use could not be. The effects of antidiabetic agents in patients with T2DM who have COVID-19 require further exploration. Systematic Review Registration: PROSPERO (identifier, CRD42021242898).
AUTHOR CONTRIBUTIONS CK, YZ, and FH: Conceptualization, methodology, and writingoriginal draft preparation. TY and QX: Data curation and investigation. XS and NH: Supervision, writingreviewing and editing, and funding acquisition. All authors contributed to the article and approved the submitted version. Conflict of Interest: The authors declare that the research was conducted in the absence of any commercial or financial relationships that could be construed as a potential conflict of interest. Publisher's Note: All claims expressed in this article are solely those of the authors and do not necessarily represent those of their affiliated organizations, or those of the publisher, the editors and the reviewers. Any product that may be evaluated in this article, or claim that may be made by its manufacturer, is not guaranteed or endorsed by the publisher.
References
Martini, Piccinni, Pedrini, Maggioni, CoViD-19 and Chronic Diseases: Current Knowledge, Future Steps and the MaCroScopio Project