Meta analysis and trial sequential analysis of 5 vitamin D RCTs, showing significantly lower mortality and ICU admission with treatment. Only a small subset of the 28 RCTs are included. Note that
Nogués
uses randomization by ward, was censored by the Lancet, and was later reworded as an observational trial. The groups are relatively well matched, with only baseline vitamin D levels (median 13 vs. 12) showing a significant difference (matching is better than many trials that use the term randomized for their randomization without censorship). For more details see
Nogués
.
9 meta analyses show significant improvements with vitamin D treatment for mortality
Argano, D'Ecclesiis, Hariyanto, Hosseini, Nikniaz, Shah, Xie
, mechanical ventilation
Hariyanto, Shah, Xie
, ICU admission
Hariyanto, Hosseini, Shah, Tentolouris, Xie
, hospitalization
Argano
, severity
D'Ecclesiis, Nikniaz, Varikasuvu, Xie
, and cases
Varikasuvu
.
Currently there are
116 vitamin D treatment for COVID-19 studies
, showing 36% lower mortality
[27‑43%]
, 16% lower ventilation
[-8‑35%]
, 47% lower ICU admission
[29‑61%]
, 20% lower hospitalization
[8‑29%]
, and 16% fewer cases
[7‑23%]
.
risk of death,

51.0% lower

, OR 0.49, p < 0.001
, RR approximated with OR.
risk of ICU admission,

72.0% lower

, OR 0.28, p < 0.001
, RR approximated with OR.
Effect extraction follows pre-specified rules prioritizing more serious outcomes. Submit updates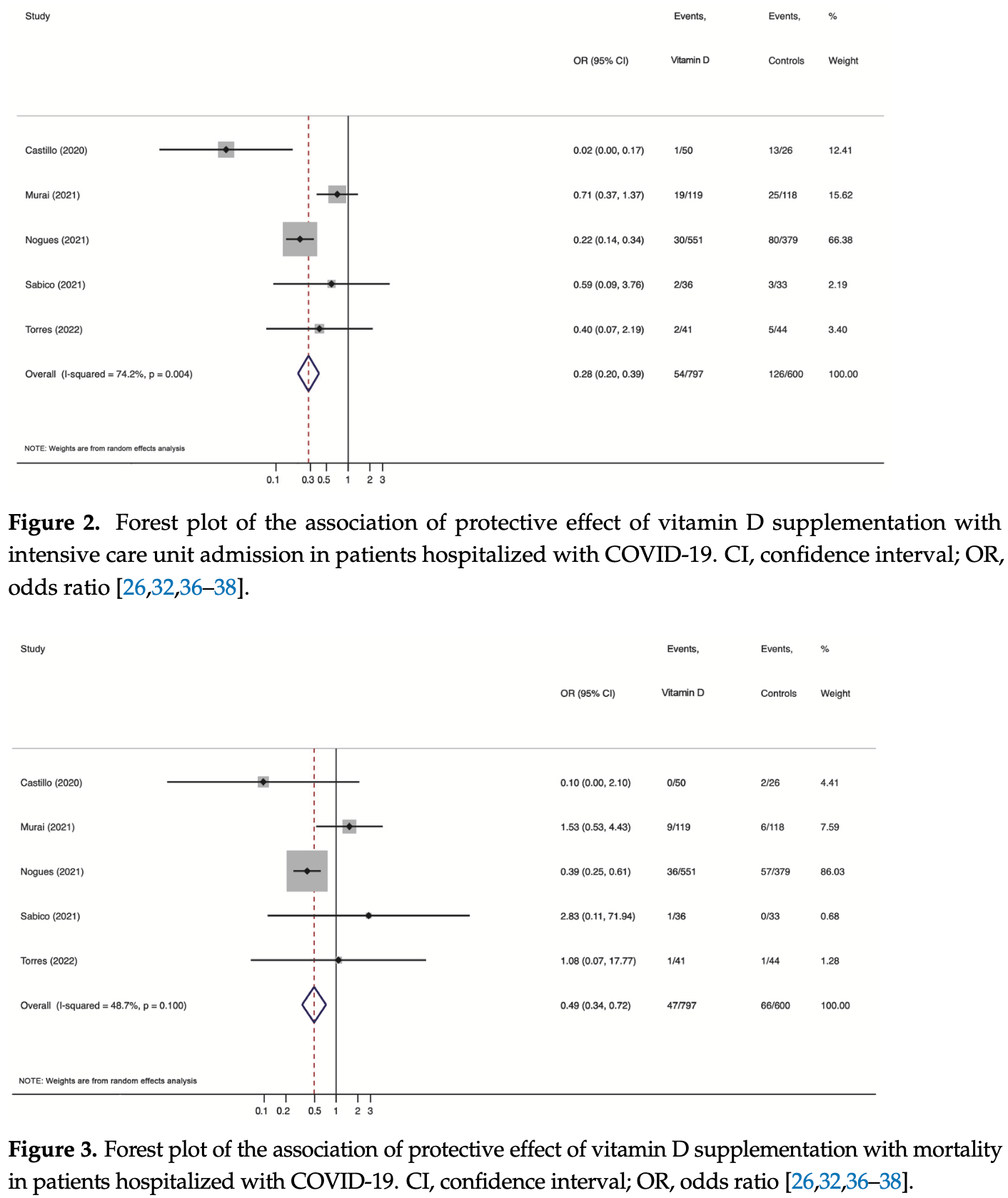 Argano et al., 16 Jan 2023, peer-reviewed, 6 authors.
Contact: chargano@yahoo.it (corresponding author).
Protective Effect of Vitamin D Supplementation on COVID-19-Related Intensive Care Hospitalization and Mortality: Definitive Evidence from Meta-Analysis and Trial Sequential Analysis
Pharmaceuticals, doi:10.3390/ph16010130
Background: The COVID-19 pandemic represents one of the world's most important challenges for global public healthcare. Various studies have found an association between severe vitamin D deficiency and COVID-19-related outcomes. Vitamin D plays a crucial role in immune function and inflammation. Recent data have suggested a protective role of vitamin D in COVID-19related health outcomes. The purpose of this meta-analysis and trial sequential analysis (TSA) was to better explain the strength of the association between the protective role of vitamin D supplementation and the risk of mortality and admission to intensive care units (ICUs) in patients with COVID-19. Methods: We searched four databases on 20 September 2022. Two reviewers screened the randomized clinical trials (RCTs) and assessed the risk of bias, independently and in duplicate. The pre-specified outcomes of interest were mortality and ICU admission. Results: We identified 78 bibliographic citations. After the reviewers' screening, only five RCTs were found to be suitable for our analysis. We performed meta-analyses and then TSAs. Vitamin D administration results in a decreased risk of death and ICU admission (standardized mean difference (95% CI): 0.49 (0.34-0.72) and 0.28 (0.20-0.39), respectively). The TSA of the protective role of vitamin D and ICU admission showed that, since the pooling of the studies reached a definite sample size, the positive association is conclusive. The TSA of the protective role of vitamin D in mortality risk showed that the z-curve was inside the alpha boundaries, indicating that the positive results need further studies. Discussion: The results of the meta-analyses and respective TSAs suggest a definitive association between the protective role of vitamin D and ICU hospitalization.
Funding: The ENFARMA S.R.L. company contributed only to publication costs and did not influence in any way the conception and writing of the manuscript. Institutional Review Board Statement: Not applicable. Informed Consent Statement: Not applicable.
References
Amento, Bhalla, Kurnick, Kradin, Clemens et al., 1 Alpha,25-Dihydroxyvitamin D3 Induces Maturation of the Human Monocyte Cell Line U937, and, in Association with a Factor from Human T Lymphocytes, Augments Production of the Monokine, Mononuclear Cell Factor, J. Clin. Investig
Azkur, Akdis, Azkur, Sokolowska, Van De Veen et al., Immune Response to SARS-CoV-2 and Mechanisms of Immunopathological Changes in COVID-19, Allergy
Gibertoni, Reno, Rucci, Fantini, Buscaroli et al., COVID-19 Incidence and Mortality in Non-Dialysis Chronic Kidney Disease Patients, PLoS ONE
Herold, Jurinovic, Arnreich, Lipworth, Hellmuth et al., Elevated Levels of IL-6 and CRP Predict the Need for Mechanical Ventilation in COVID-19, J. Allergy Clin. Immunol
Lakkireddy, Gadiga, Malathi, Karra, Raju et al., None
Nogues, Ovejero, Pineda-Moncusí, Bouillon, Arenas et al., Calcifediol Treatment and COVID-19-Related Outcomes, J. Clin. Endocrinol. Metab
Tsa-Ctu, None