OpenSAFELY retrospective 75,048 outpatients in the UK, using the clone-censor-weight approach to address
immortal time bias
, showing no significant difference in combined mortality/hospitalization with molnupiravir treatment.
Concerns have been raised that the mutagenic mechanism of action may create dangerous variants or cause cancer Hadj Hassine, Huntsman, Swanstrom, Waters, Zibat. Multiple analyses have identifed variants potentially created by molnupiravir Fountain-Jones, Sanderson, .
risk of death/hospitalization,

9.0% higher

, HR 1.09, p = 0.28
, treatment 3,072, control 65,568.
Effect extraction follows pre-specified rules prioritizing more serious outcomes. Submit updates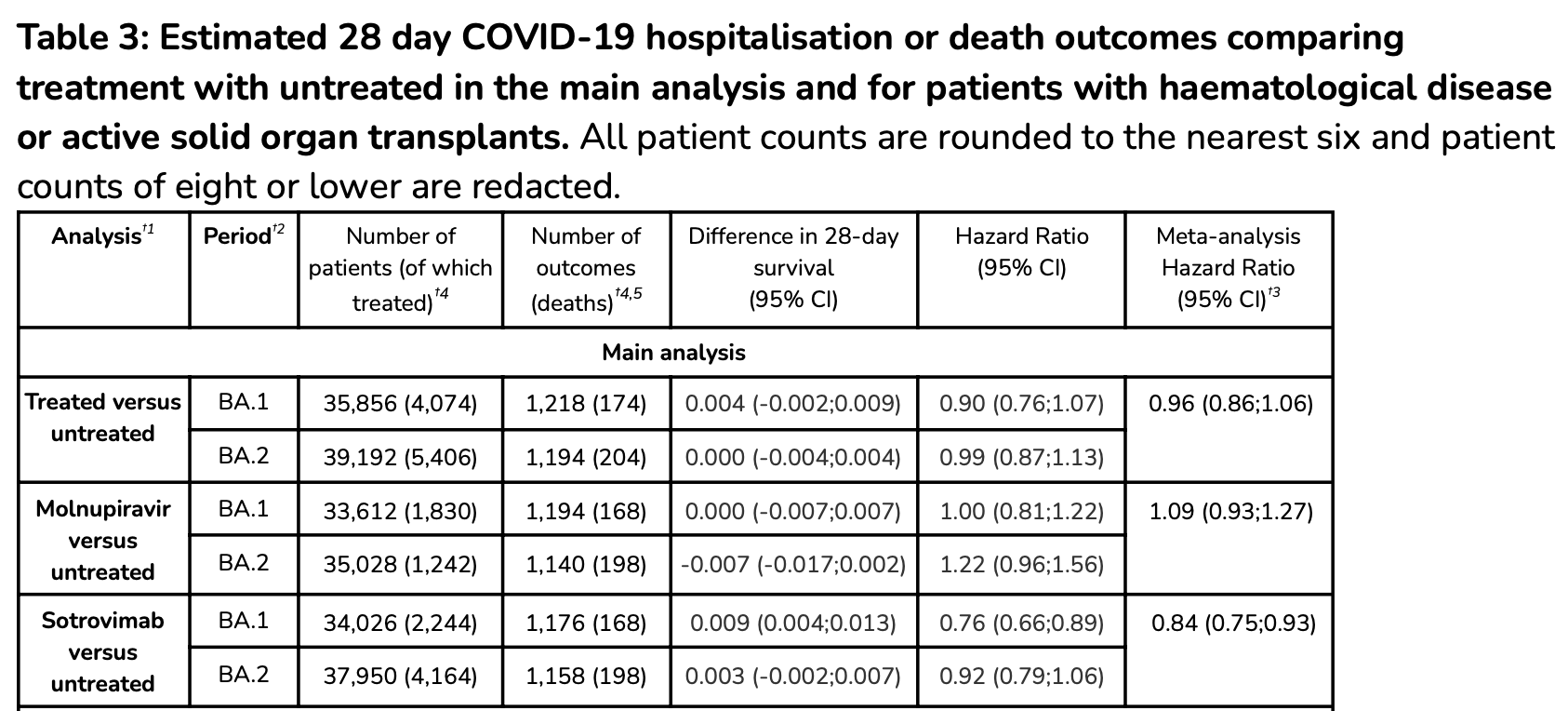 Tazare et al., 16 May 2023, retrospective, United Kingdom, preprint, 31 authors, study period 16 December, 2021 - 21 May, 2022.
Effectiveness of Sotrovimab and Molnupiravir in community settings in England across the Omicron BA.1 and BA.2 sublineages: emulated target trials using the OpenSAFELY platform
doi:10.1101/2023.05.12.23289914
Background The effectiveness of COVID-19 monoclonal antibody and antiviral therapies against severe COVID-19 outcomes is unclear. Initial benefit was shown in unvaccinated patients and before the Omicron variant emerged. We used the OpenSAFELY platform to emulate target trials to estimate the effectiveness of sotrovimab or molnupiravir, versus no treatment. Methods With the approval of NHS England, we derived population-based cohorts of non-hospitalised high-risk individuals in England testing positive for SARS-CoV-2 during periods of dominance of the BA.1 (16/12/2021-10/02/2022) and BA.2 (11/02/2022-21/05/2022) Omicron sublineages. We used the clone-censor-weight approach to estimate the effect of treatment with sotrovimab or molnupiravir initiated within 5 days after positive test versus no treatment. Hazard ratios (HR) for COVID-19 hospitalisation or death within 28 days were estimated using weighted Cox models. Results Of the 35,856 [BA.1 period] and 39,192 [BA.2 period] patients, 1,830 [BA.1] and 1,242 [BA.2] were treated with molnupiravir and 2,244 [BA.1] and 4,164 [BA.2] with sotrovimab. The estimated HRs for molnupiravir versus untreated were 1.00 (95%CI: 0.81;1.22) [BA.1] and 1.22 (0.96;1.56) [BA.2]; corresponding HRs for sotrovimab versus untreated were 0.76 (0.66;0.89) [BA.1] and 0.92 (0.79;1.06) [BA.2]. Interpretation Compared with no treatment, sotrovimab was associated with reduced risk of adverse outcomes after COVID-19 in the BA.1 period, but there was weaker evidence of benefit in the BA2 period. Molnupiravir was not associated with reduced risk in either period.
Authors' contributors The study was conceptualised by LAT, IJD, JACS, JT, LN, BZ, SJWE, BG and BMK; data was curated by LN, JT, BZ, ACAG, HJC, RH, RMS, CB, JC, JP, FH and SH; and formally analysed by LN and JT; funding was acquired by BG; the investigation was done by LN and JT; to the methodology was contributed by JT, LN, JACS, LAT, IJD, BZ, WJH, AS, CM, C; project administration was done by JT, LN, AJW, BMK, LAT and IJD; resources were provided by AM, AJW, BG, BMK and LAT; software was developed by LN, JT, ACAG, HJC, RH and RMS; the project was supervised by IJD and LAT; the study was validated by JT, LN, BZ, WJH, ACAG, HJC and RH; the results were visualised by JT and LN; the original draft was written by JT, LN and LAT; all authors were involved in draft revisions and approving the final draft for submission; all authors had full access to the OpenSAFELY platform and accept responsibility for the decision to submit for publication. The corresponding author attests that all listed authors meet authorship criteria and that no others meeting the criteria have been omitted. Bennett Institute for Applied Data Science developers and principal investigators (WJH, RMS, AJW and BG) holding contracts with NHS England have access to the OpenSAFELY pseudonymised data tables as needed to develop the OpenSAFELY tools; these tools in turn enable researchers with OpenSAFELY Data Access Agreements to write and execute code for data management and data analysis (LN and JT) without direct..
References
England, Coronavirus, Interim clinical commissioning policy: Treatments for non-hospitalised patients with COVID-19
Fda, FDA updates Sotrovimab emergency use authorization
Nice, NICE recommends 3 treatments for COVID-19 in final draft guidance
Who, Therapeutics and COVID-19: Living guideline