C57BL/6 mouse study showing intranasal administration of vitamin D decreased inflammation following intranasal inactivated SARS-CoV-2. Authors suggest a promising potential of intranasal vitamin D to control pulmonary inflammation associated with SARS-CoV-2.
12 preclinical studies support the efficacy of vitamin D for COVID-19: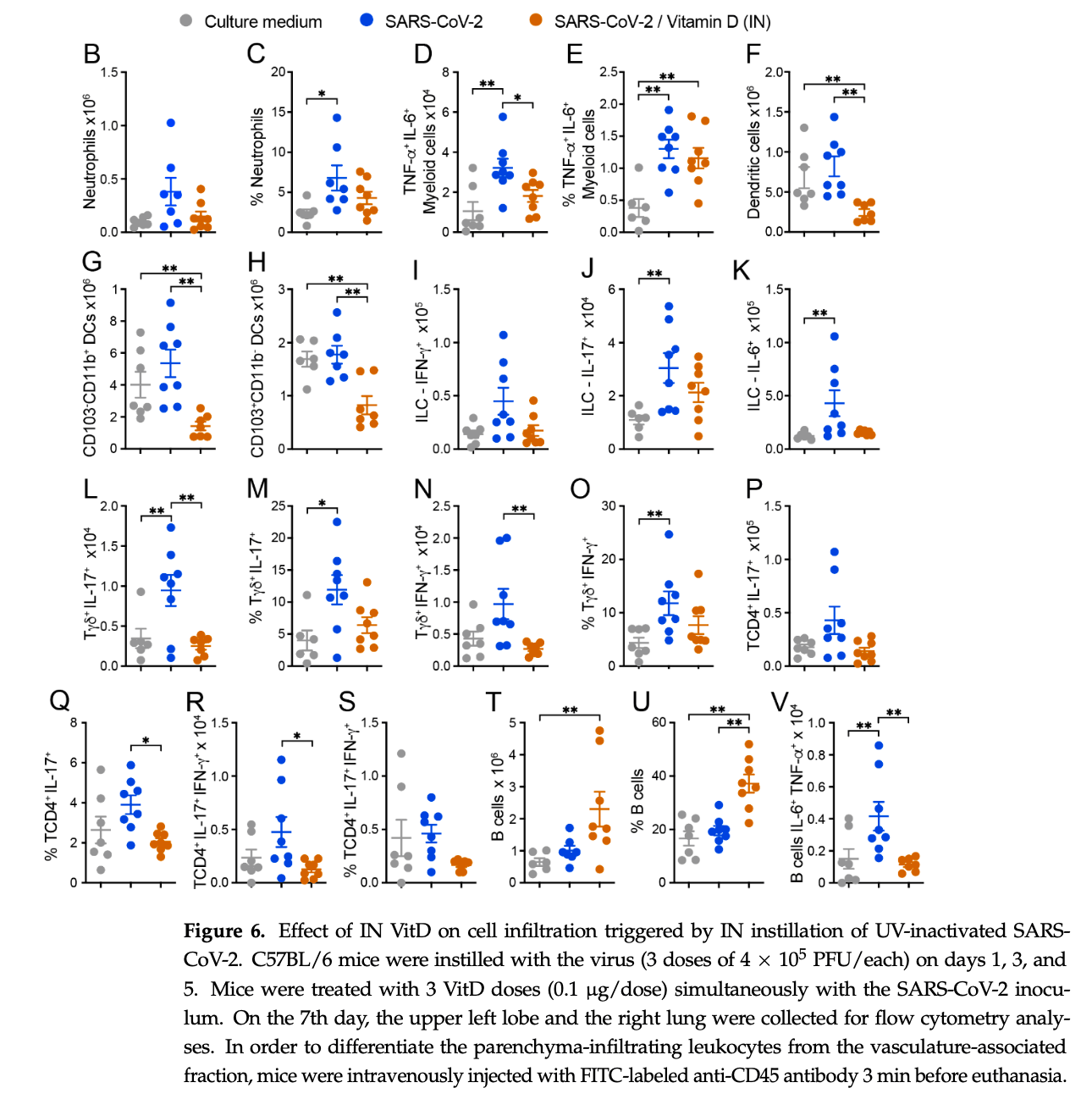 Fernandes de Souza et al., 6 Apr 2023, USA, peer-reviewed, 13 authors.
Contact: wdansouza@hotmail.com (corresponding author), denisefonseca@usp.br.
Lung Inflammation Induced by Inactivated SARS-CoV-2 in C57BL/6 Female Mice Is Controlled by Intranasal Instillation of Vitamin D
Cells, doi:10.3390/cells12071092
The COVID-19 pandemic was triggered by the coronavirus SARS-CoV-2, whose peak occurred in the years 2020 and 2021. The main target of this virus is the lung, and the infection is associated with an accentuated inflammatory process involving mainly the innate arm of the immune system. Here, we described the induction of a pulmonary inflammatory process triggered by the intranasal (IN) instillation of UV-inactivated SARS-CoV-2 in C57BL/6 female mice, and then the evaluation of the ability of vitamin D (VitD) to control this process. The assays used to estimate the severity of lung involvement included the total and differential number of cells in the bronchoalveolar lavage fluid (BALF), histopathological analysis, quantification of T cell subsets, and inflammatory mediators by RT-PCR, cytokine quantification in lung homogenates, and flow cytometric analysis of cells recovered from lung parenchyma. The IN instillation of inactivated SARS-CoV-2 triggered a pulmonary inflammatory process, consisting of various cell types and mediators, resembling the typical inflammation found in transgenic mice infected with SARS-CoV-2. This inflammatory process was significantly decreased by the IN delivery of VitD, but not by its IP administration, suggesting that this hormone could have a therapeutic potential in COVID-19 if locally applied. To our knowledge, the local delivery of VitD to downmodulate lung inflammation in COVID-19 is an original proposition.
Supplementary Materials: The following supporting information can be downloaded at: https:// www.mdpi.com/article/10.3390/cells12071092/s1. Conflicts of Interest: The authors declare that the research was conducted in the absence of any commercial or financial relationships that could be construed as a potential conflict of interest.
References
Hansdottir, Monick, Vitamin D Effects on Lung Immunity and Respiratory Diseases
Kieffer, Topical Vitamin D Analogs, Dermatol. Nurs
Kobusiak-Prokopowicz, Fułek, Fułek, Kaaz, Mysiak et al., Pulmonary, and Neuropsychiatric Short-and Long-Term Complications of COVID-19, Cells
Meizlish, Pine, Bishai, Goshua, Nadelmann et al., A Neutrophil Activation Signature Predicts Critical Illness and Mortality in COVID-19, Blood Adv
Serré, Mathyssen, Ajime, Heigl, Verlinden et al., Local Nebulization of 1α,25(OH)2D3 Attenuates LPS-Induced Acute Lung Inflammation, Respir. Res
Şimşek Yavuz, Komşuo Glu Çelikyurt, ˙I. An Update of Anti-Viral Treatment of COVID-19, Turk. J. Med. Sci