In Vitro
study showing that vitamin D reduced SARS-CoV-2 replication in adult nasal epithelial cells via increased type I interferon expression. Administration of vitamin D by systemic supplementation or direct nasal delivery may be beneficial for COVID-19. Results were age-dependent, with lower viral replication and treatment effect in pediatric epithelial cells.
12 preclinical studies support the efficacy of vitamin D for COVID-19: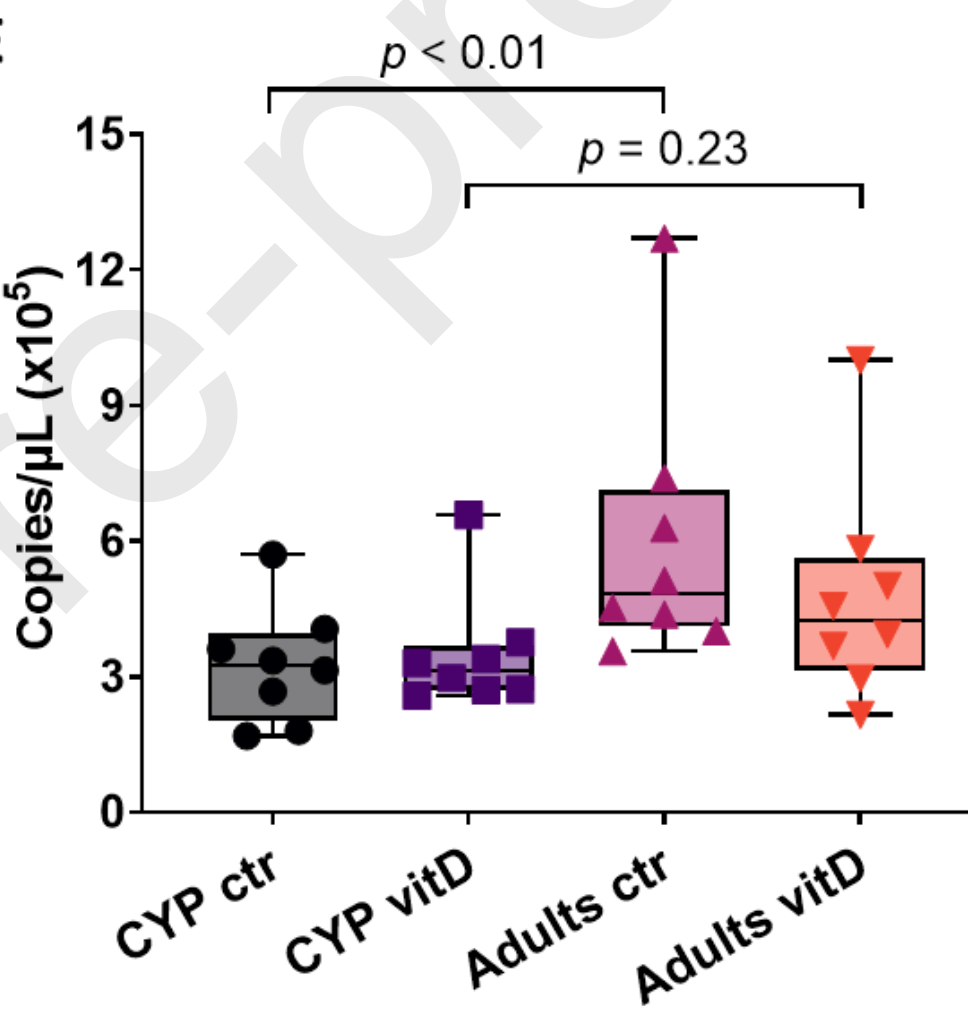 Sposito et al., 11 Aug 2023, peer-reviewed, 10 authors.
In Vitro studies are an important part of preclinical research, however results may be very different in vivo.
Journal Pre-proofs Article Age differential CD13 and interferon expression in airway epithelia affect SARS-CoV-2 infection -effects of vitamin D
doi:10.1016/j.mucimm.2023.08.002
This is a PDF file of an article that has undergone enhancements after acceptance, such as the addition of a cover page and metadata, and formatting for readability, but it is not yet the definitive version of record. This version will undergo additional copyediting, typesetting and review before it is published in its final form, but we are providing this version to give early visibility of the article. Please note that, during the production process, errors may be discovered which could affect the content, and all legal disclaimers that apply to the journal pertain.
CONTRIBUTORS CMH, PSM and FS designed the study. FS performed most experiments, including cell culture, transfections, luciferase experiments, protein Co-IPs, Western blots, ChIP, PCRs, and analysed data. SN performed the NanoString experiments. SHP, CAWD, JD, GB, and NJL performed the SARS-CoV-2 infections. AC contributed to the gene expression and DNA methylation data analysis. FS, CMH, and PSM wrote the manuscript. All authors read, edited, and approved the final version of the manuscript. DECLARATION OF COMPETING INTERESTS The authors have no competing interests to declare. AKNOWLEDGMENTS
References
Ho, Most, Perl, Diaz, Casazza et al., Incidence and Risk Factors for Severe Outcomes in Pediatric Patients With COVID-19