Vitamin D and lumisterol novel metabolites can inhibit SARS-CoV-2 replication machinery enzymes
Vitamin D and lumisterol novel metabolites can inhibit SARS-CoV-2 replication machinery enzymes
,
Endocrinology and Metabolism, doi:10.1152/ajpendo.00174.2021
,
In Silico analysis showing that vitamin D and lumisterol metabolites may inhibit SARS-CoV-2 Mpro and RdRP.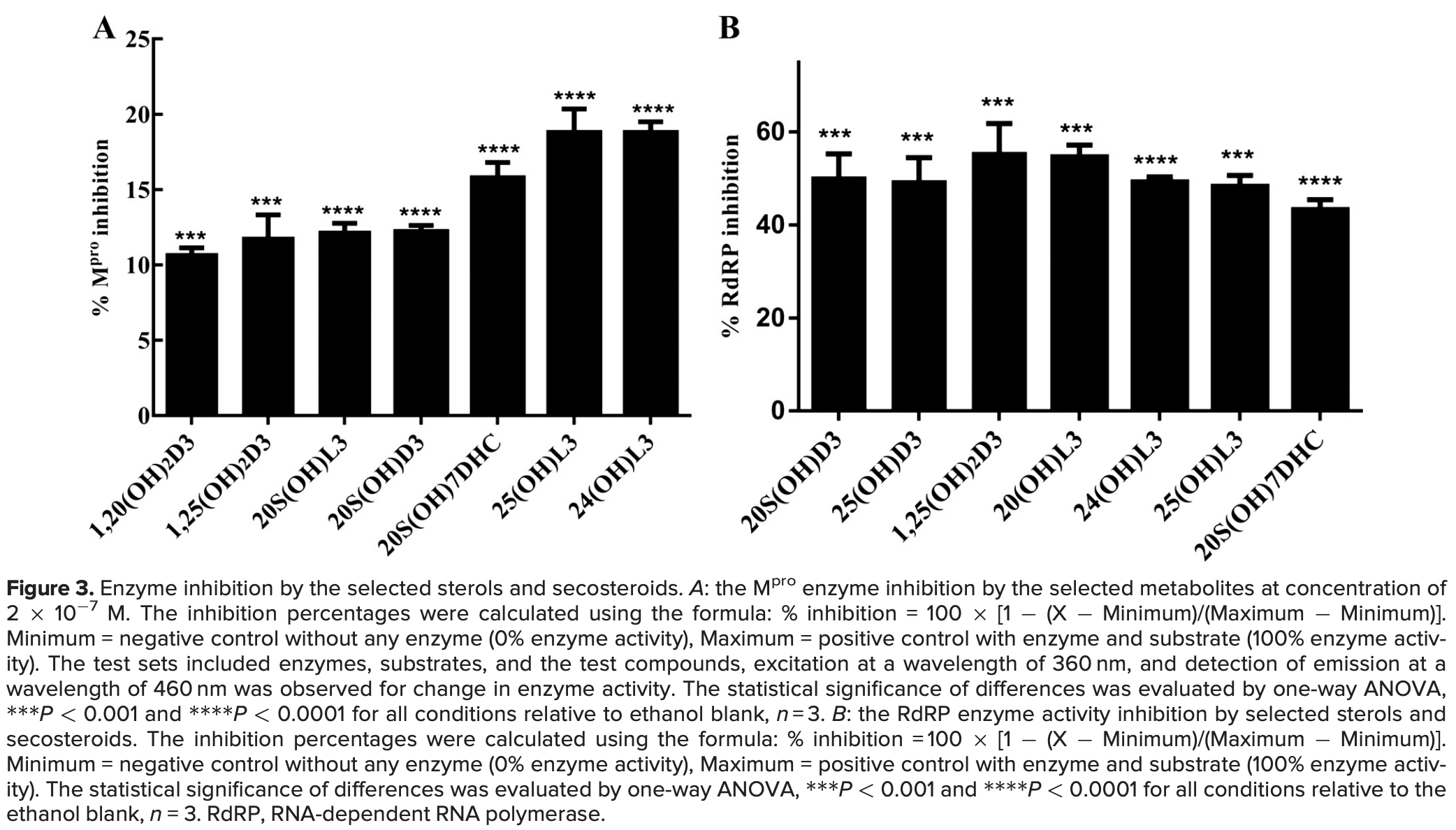 Qayyum et al., 27 Jul 2021, peer-reviewed, 7 authors.
In Silico studies are an important part of preclinical research, however results may be very different in vivo.
Abstract: Am J Physiol Endocrinol Metab 321: E246–E251, 2021. First published June 28, 2021; doi:10.1152/ajpendo.00174.2021 RAPID REPORT Translational Physiology Vitamin D and lumisterol novel metabolites can inhibit SARS-CoV-2 replication machinery enzymes Shariq Qayyum,1 Taj Mohammad,2 Radomir M. Slominski,1 Chander Raman,1 and Andrzej T. Slominski1,4 Md Imtaiyaz Hassan,2 Robert C. Tuckey,3 1 Department of Dermatology, University of Alabama at Birmingham, Birmingham, Alabama; 2Centre for Interdisciplinary Research in Basic Sciences, Jamia Millia Islamia, New Delhi, India; 3School of Molecular Sciences, The University of Western Australia, Perth, Western Australia, Australia; and 4Pathology and Laboratory Medicine Service, VA Medical Center, Birmingham, Alabama Abstract Vitamin D deficiency significantly correlates with the severity of SARS-CoV-2 infection. Molecular docking-based virtual screening studies predict that novel vitamin D and related lumisterol hydroxymetabolites are able to bind to the active sites of two SARSCoV-2 transcription machinery enzymes with high affinity. These enzymes are the main protease (Mpro) and RNA-dependent RNA polymerase (RdRP), which play important roles in viral replication and establishing infection. Based on predicted binding affinities and specific interactions, we identified 10 vitamin D3 (D3) and lumisterol (L3) analogs as likely binding partners of SARSCoV-2 Mpro and RdRP and, therefore, tested their ability to inhibit these enzymes. Activity measurements demonstrated that 25 (OH)L3, 24(OH)L3, and 20(OH)7DHC are the most effective of the hydroxymetabolites tested at inhibiting the activity of SARSCoV-2 Mpro causing 10%–19% inhibition. These same derivatives as well as other hydroxylumisterols and hydroxyvitamin D3 metabolites inhibited RdRP by 50%–60%. Thus, inhibition of these enzymes by vitamin D and lumisterol metabolites may provide a novel approach to hindering the SARS-CoV-2 infection. NEW & NOTEWORTHY Active forms of vitamin D and lumisterol can inhibit SARS-CoV-2 replication machinery enzymes, which indicates that novel vitamin D and lumisterol metabolites are candidates for antiviral drug research. COVID-19; lumisterol; RNA-dependent RNA polymerase; SARS-CoV-2 main protease; vitamin D metabolites
Please send us corrections, updates, or comments. Vaccines and treatments are complementary. All practical, effective, and safe means should be used based on risk/benefit analysis. No treatment, vaccine, or intervention is 100% available and effective for all current and future variants. We do not provide medical advice. Before taking any medication, consult a qualified physician who can provide personalized advice and details of risks and benefits based on your medical history and situation.
FLCCC
and
WCH
provide treatment protocols.
Submit