In Vitro
study showing calcitriol downregulated ACE2 and TMPRSS2 (involved in SARS-CoV-2 entry), renin (involved in blood pressure regulation), and ACE1/ACE2 ratio in cultured human placental cells. Authors suggest calcitriol could potentially reduce susceptibility to SARS-CoV-2 infection, mitigate COVID-19 severity through blood pressure modulation, and decrease the ACE1/ACE2 ratio associated with poor COVID-19 outcomes.
14 preclinical studies support the efficacy of vitamin D for COVID-19: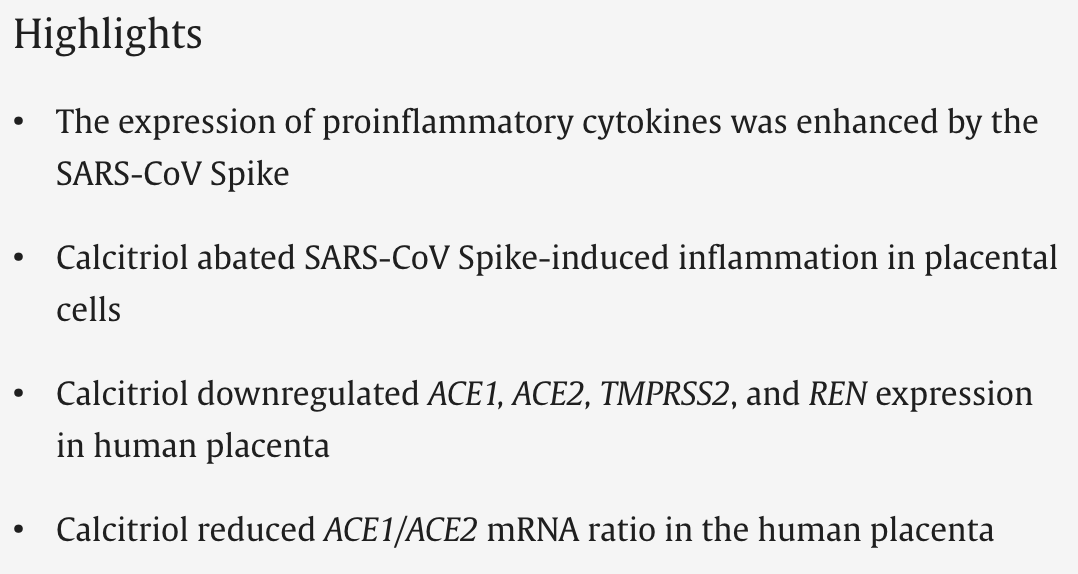 Vargas-Castro et al., 7 Nov 2023, preprint, 6 authors.
Contact: lorenza.diazn@incmnsz.mx (corresponding author), lorenza.diazn@incmnsz.mx (corresponding author), rrvvcc14@gmail.com, janice.garciaq@incmnsz.mx, euclides.avilac@incmnsz.mx, fernando.larreag@incmnsz.mx, nut.aolmos@gmail.com.
In Vitro studies are an important part of preclinical research, however results may be very different in vivo.
Calcitriol Downregulates ACE1/ACE2, Renin and TMPRSS2 Gene Expression in the Human Placenta
doi:10.20944/preprints202311.0402.v1
Angiotensin-converting enzyme (ACE)1, ACE2, and renin are components of the renin-angiotensin system (RAS), which regulates blood pressure. ACE2 also serves as a receptor for SARS-CoV-2 and together with the transmembrane serine protease 2 (TMPRSS-2), mediates viral cell-endocytosis. As the placenta expresses all these factors, it acts as a target for SARS-CoV-2 and also as a source of blood pressure modulators. An ACE1/ACE2 ratio imbalance can lead to RAS dysregulation and a bad prognosis in COVID-19 patients. Calcitriol, the vitamin D active metabolite, negatively regulates RAS, reduces inflammation, and enhances antiviral immunity, thereby playing a protective role against COVID-19 severity. Placental calcitriol has been inversely correlated with maternal blood pressure; however, its regulatory role in RAS components and SARS-CoV-2 receptors within the fetomaternal unit has been barely explored. Therefore, we investigated the effects of calcitriol on placental RAS components. Calcitriol downregulated ACE1, ACE2, TMPRSS-2, and renin gene expression in cultured syncytiotrophoblasts and the extravillous trophoblast cell line HTR-8/SVneo. The ACE1/ACE2 ratio was also downregulated by calcitriol. Similar results were obtained in syncytiotrophoblasts treated with calcidiol, the precursor of calcitriol. Altogether, these results support that vitamin D is essential in restricting SARS-CoV-2 placental infection while helping to regulate maternal blood pressure during pregnancy.
Funding: This study was supported by the Annual Acquisition Program from the Departamento de Biología de la Reproducción Dr. Carlos Gual Castro, Instituto Nacional de Ciencias Médicas y Nutrición Salvador Zubirán, REF 2221 to L.D. The funders had no role in the study design, analysis and interpretation of the data, writing of the manuscript or the decision to submit the article for publication. Institutional Review Board Statement: Not applicable. Informed Consent Statement: Not applicable Conflicts of Interest: The authors declare no conflict of interest.
References
Kliman, Nestler, Sermasi, Sanger, Strauss, 3rd. Purification, characterization, and in vitro differentiation of cytotrophoblasts from human term placentae, Endocrinology
Lin, Ferguson, White, Wang, Vessella et al., Prostate-localized and androgen-regulated expression of the membrane-bound serine protease TMPRSS2, Cancer Res
Lind, Lithell, Skarfors, Wide, Ljunghall, Reduction of blood pressure by treatment with alphacalcidol. A double-blind, placebo-controlled study in subjects with impaired glucose tolerance, Acta Med Scand
Shook, Bordt, Meinsohn, Pepin, De Guzman et al., Placental Expression of ACE2 and TMPRSS2 in Maternal Severe Acute Respiratory Syndrome Coronavirus 2 Infection: Are Placental Defenses Mediated by Fetal Sex?, J Infect Dis