Review of the mechanisms of action and clinical evidence supporting the use of melatonin for severe COVID-19.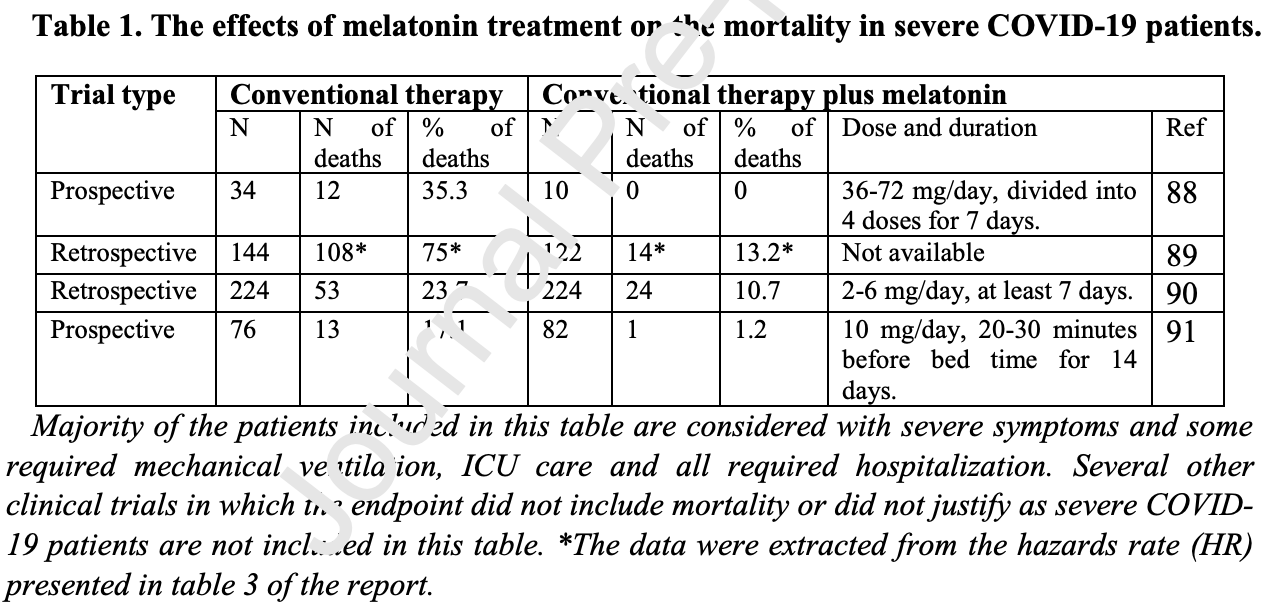 Tan et al., 31 Jan 2022, peer-reviewed, 2 authors.
Mechanisms and clinical evidence to support melatonin's use in severe COVID-19 patients to lower mortality
Life Sciences, doi:10.1016/j.lfs.2022.120368
The fear of SARS-CoV-2 infection is due to its high mortality related to seasonal flu. To date, few medicines have been developed to significantly reduce the mortality of the severe COVID-19 patients, especially those requiring tracheal intubation. The severity and mortality of SARS-CoV-2 infection not only depend on the viral virulence, but are primarily determined by the cytokine storm and the destructive inflammation driven by the host immune reaction. Thus, to target the host immune response might be a better strategy to combat this pandemic. Melatonin is a molecule with multiple activities on a virus infection. These include that it downregulates the overreaction of innate immune response to suppress inflammation, promotes the adaptive immune reaction to enhance antibody formation, inhibits the entrance of the virus into the cell as well as limits its replication. These render it a potentially excellent candidate for treatment of the severe COVID-19 cases. Several clinical trials have confirmed that melatonin when added to the conventional therapy significantly reduces the mortality of the severe COVID-19 patients. The cost of melatonin is a small fraction of those medications approved by FDA for emergency use to treat COVID-19. Because of its self-administered, low cost and high safety margin, melatonin could be made available to every country in the world at an affordable cost. We recommend melatonin be used to treat severe COVID-19 patients with the intent of reducing mortality. If successful, it would make the SARS-CoV-2 pandemic less fearful and help to return life back to normalcy.
References
Authorizes, Pfizer oral COVID-19 treatment, first for at-home use
El-Sokkary, Omar, Hassanein, Cuzzocrea, Reiter, Melatonin reduces oxidative damage and increases survival of mice infected with Schistosoma mansoni, Free Radic, Biol. Med
Regeneron, New, Government Agreement to Purchase Additional Doses of REGEN-COVTM (casirivimab and imdevimab) Antibody Cocktail
Tan, Chen, Poeggeler, Manchester, Reiter, Melatonin: a potent, endogenous hydroxyl radical scavenger, Endocr. J