Review of the effects of COVID-19 on inflammatory markers, and the effects on those markers of standard treatments vs. vitamin D, melatonin, and meditation, showing comparable or superior effects with the non-standard treatments. The standard treatments in this study were remdesivir and tocilizumab. We note that standard treatments vary widely around the world, for example vitamin D is a standard treatment in many locations.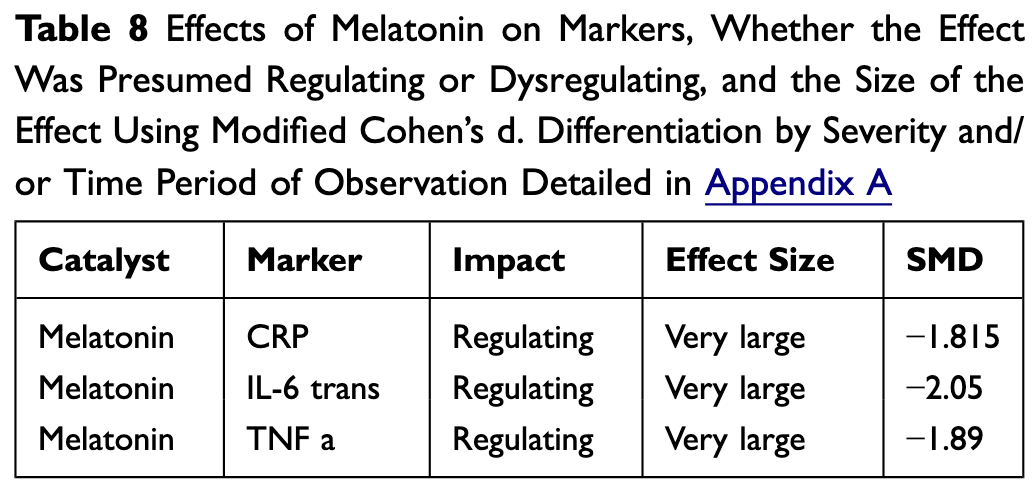 Castle et al., 22 Sep 2021, peer-reviewed, 8 authors.
Implications for Systemic Approaches to COVID-19: Effect Sizes of Remdesivir, Tocilizumab, Melatonin, Vitamin D3, and Meditation
Journal of Inflammation Research, doi:10.2147/jir.s323356
Introduction: COVID-19 poses a chronic threat to inflammatory systems, reinforcing the need for efficient anti-inflammatory strategies. The purpose of this review and analysis was to determine the efficacy of various interventions upon the inflammatory markers most affected by COVID-19. The focus was on the markers associated with COVID-19, not the etiology of the virus itself. Methods: Based on 27 reviewed papers, information was extracted on the effects of COVID-19 upon inflammatory markers, then the effects of standard treatments (Remdesivir, Tocilizumab) and adjunctive interventions (vitamin D 3 , melatonin, and meditation) were extracted for those markers. These data were used to approximate effect sizes for the disease or interventions via standardized mean differences (SMD). Results: The data that were available indicated that adjunctive interventions affected 68.4% of the inflammatory markers impacted by COVID-19, while standard pharmaceutical medication affected 26.3%. Discussion: Nonstandard adjunctive care appeared to have comparable or superior effects in comparison to Remdesivir and Tocilizumab on the inflammatory markers most impacted by COVID-19. Alongside standards of care, melatonin, vitamin D 3 , and meditation should be considered for treatment of SARS-COV-2 infection and COVID-19 disease.
Disclosure The authors report no conflicts of interest for this work. Video abstract Point your SmartPhone at the code above. If you have a QR code reader the video abstract will appear. Or use: https://youtu.be/2i2QG5lT0JI Journal of Inflammation Research Dovepress
References
Amiri-Dashatan, Koushki, Ghorbani, Naderi, Increased inflammatory markers correlate with liver damage and predict severe COVID-19: a systematic review and meta-analysis, Gastroenterol Hepatol Bed Bench
Celinski, Konturek, Slomka, Effects of treatment with melatonin and tryptophan on liver enzymes, parameters of fat metabolism and plasma levels of cytokines in patients with non-alcoholic fatty liver disease-14 months follow up, J Physiol Pharmacol
Cichoz-Lach, Celinski, Konturek, Konturek, Slomka, The effects of L-tryptophan and melatonin on selected biochemical parameters in patients with steatohepatitis, J Physiol Pharmacol
Faraone, Interpreting estimates of treatment effects, P T
Leijte, Wagemaker, Van Kraaij, Mortality and re-admission after hospitalization with COVID-19, Ned Tijdschr Geneeskd