Review of the potential benefits of fluvoxamine for COVID-19 treatment and minimizing long COVID symptoms.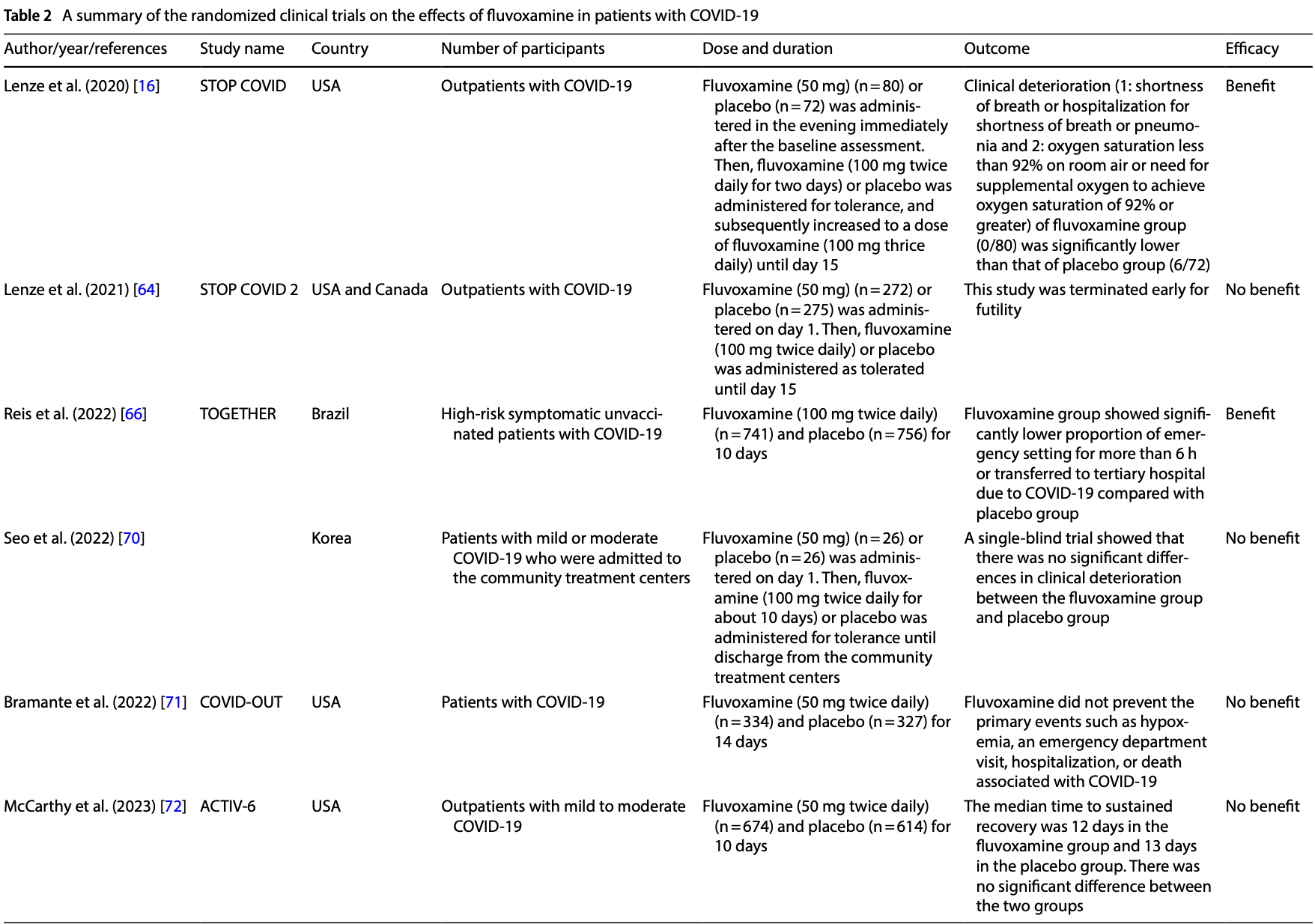 Hashimoto et al., 21 Mar 2023, peer-reviewed, 1 author.
Contact: hashimoto@faculty.chiba-u.jp.
Overview of the potential use of fluvoxamine for COVID-19 and long COVID
Discover Mental Health, doi:10.1007/s44192-023-00036-3
Coronavirus disease 2019 (COVID-19) has presented a serious worldwide threat to public health since its emergence in late 2019. From a safety point of view, drug repurposing has received particular attention. Several clinical studies have demonstrated that the use of fluvoxamine, a selective serotonin reuptake inhibitor with potent sigma-1 receptor agonism, in the early-stage of infection might be associated with the prevention of clinical deterioration in individuals with SARS-CoV-2 infection, although several reports have shown that a low dose of fluvoxamine may be ineffective. There is increasing evidence that SARS-CoV-2 can cross the blood-brain barrier, resulting in a number of psychiatric and neurologic symptoms in COVID-19 survivors. Importantly, about half of COVID-19 survivors experience a variety of longterm sequelae, including psychiatric and neurologic symptoms, known as long COVID. In this priority review, the author presents an overview of the potential use of fluvoxamine in the treatment of COVID-19 and long COVID.
Author contributions KH did the reference search and wrote the manuscript. The author read and approved the final manuscript. Declarations Competing interests Dr. Hashimoto is the inventor of filed patent applications on "The use of R-Ketamine in the treatment of psychiatric diseases", "(S)-norketamine and salt thereof as pharmaceutical", "R-Ketamine and derivative thereof as prophylactic or therapeutic agent for neurodegeneration disease or recognition function disorder", "Preventive or therapeutic agent and pharmaceutical composition for inflammatory diseases or bone diseases", and "R-Ketamine and its derivatives as a preventive or therapeutic agent for a neurodevelopmental disorder" by the Chiba University. Dr. Hashimoto has also received speakers' honoraria, consultant fee, or research support from Abbott, Boehringer-Ingelheim, Daiichi-Sankyo, Meiji Seika Pharma, Seikagaku Corporation, Dainippon-Sumitomo, Taisho, Otsuka, Murakami Farm and Perception Neuroscience. Open Access This article is licensed under a Creative Commons Attribution 4.0 International License, which permits use, sharing, adaptation, distribution and reproduction in any medium or format, as long as you give appropriate credit to the original author(s) and the source, provide a link to the Creative Commons licence, and indicate if changes were made. The images or other third party material in this article are included in the article's Creative Commons..
References
Lenze, Fluvoxamine for early treatment of Covid-19 (Stop Covid 2