Analysis of interactions between viral and human proteins for SARS-CoV-2, SARS-CoV-1, and MERS-CoV and genetic screening to identify host factors that enhance or inhibit viral infection.Authors predict indomethacin will have antiviral activity for SARS-CoV-2 and perform a retrospective study of patients in the USA that started treatment within 21 days after COVID-19 infection - 103 with indomethacin, and 103 using a celecoxib, a clinically similar drug without predicted antiviral activity. There were fewer hospital visits and hospitalizations with indomethacin, without statistical significance.
risk of hospitalization,

66.7% lower

, RR 0.33, p = 0.34
, treatment 1 of 103 (1.0%), control 3 of 103 (2.9%), NNT 51, RSS and PSM, propensity score matching.
risk of progression,

57.1% lower

, RR 0.43, p = 0.21
, treatment 3 of 103 (2.9%), control 7 of 103 (6.8%), NNT 26, RSS and PSM, propensity score matching.
Effect extraction follows pre-specified rules prioritizing more serious outcomes. Submit updates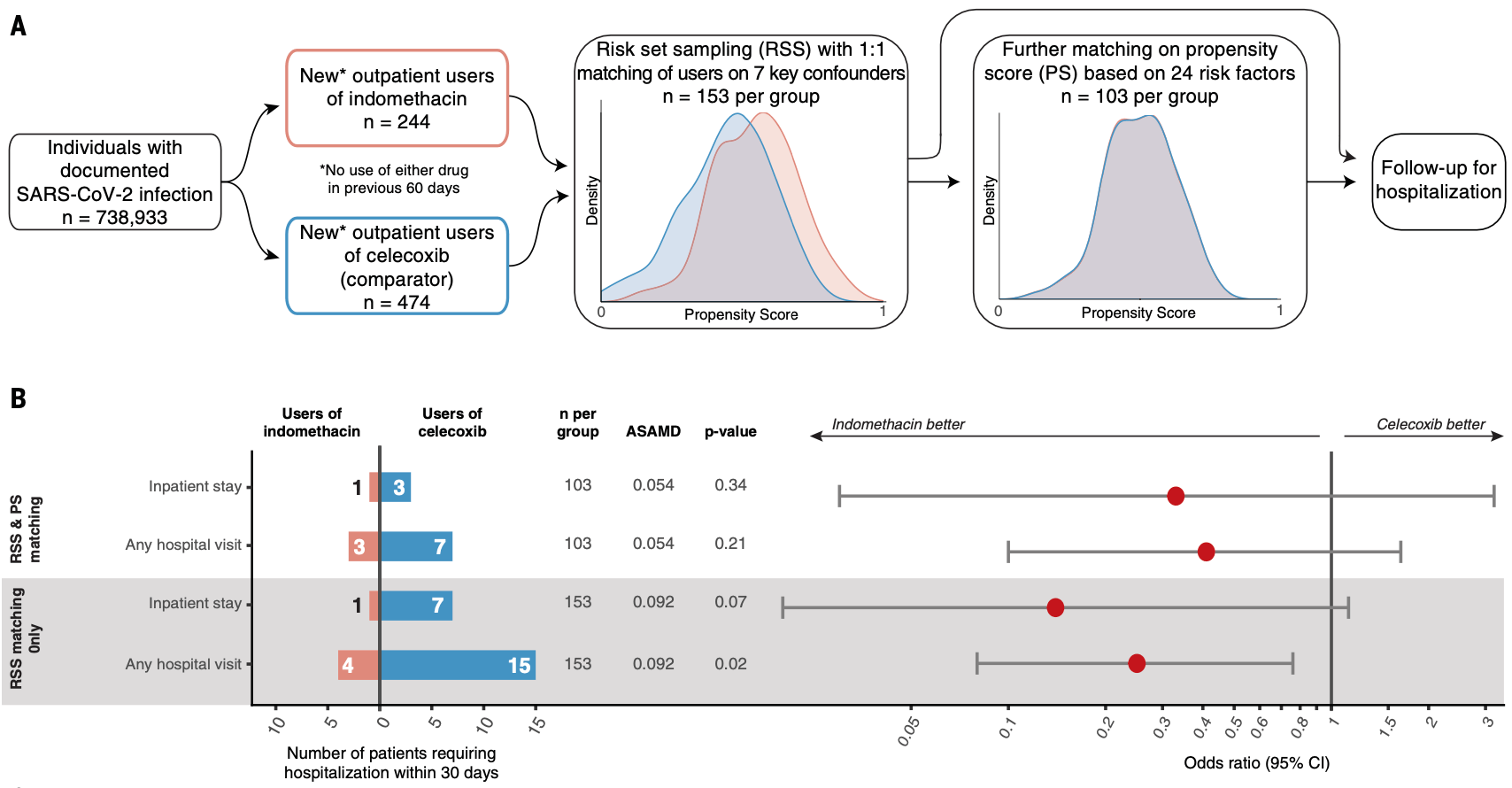 Gordon et al., 4 Dec 2020, retrospective, USA, peer-reviewed, 311 authors, this trial compares with another treatment - results may be better when compared to placebo.
Contact: pbeltrao@ebi.ac.uk, marco.vignuzzi@pasteur.fr, cbasler@gsu.edu, verba@msg.ucsf, oren.rosenberg@ucsf.edu, a.peden@sheffield.ac.uk, robert.grosse@pharmakol.uni-freiburg.de, jeremy.rassen@aetion.com, garcia-sastre@mssm.edu, nevan.krogan@ucsf.edu, verba@msg.ucsf.edu, rosenberg@ucsf.edu, adolfo.garcia-sastre@mssm.edu.