Analysis of interactions between viral and human proteins for SARS-CoV-2, SARS-CoV-1, and MERS-CoV and genetic screening to identify host factors that enhance or inhibit viral infection.Authors predict indomethacin will have antiviral activity for SARS-CoV-2 and perform a retrospective study of patients in the USA that started treatment within 21 days after COVID-19 infection - 103 with indomethacin, and 103 using a celecoxib, a clinically similar drug without predicted antiviral activity. There were fewer hospital visits and hospitalizations with indomethacin, without statistical significance.
risk of hospitalization,

66.7% lower

, RR 0.33, p = 0.34
, treatment 1 of 103 (1.0%), control 3 of 103 (2.9%), NNT 51, RSS and PSM, propensity score matching.
risk of progression,

57.1% lower

, RR 0.43, p = 0.21
, treatment 3 of 103 (2.9%), control 7 of 103 (6.8%), NNT 26, RSS and PSM, propensity score matching.
Effect extraction follows pre-specified rules prioritizing more serious outcomes. Submit updates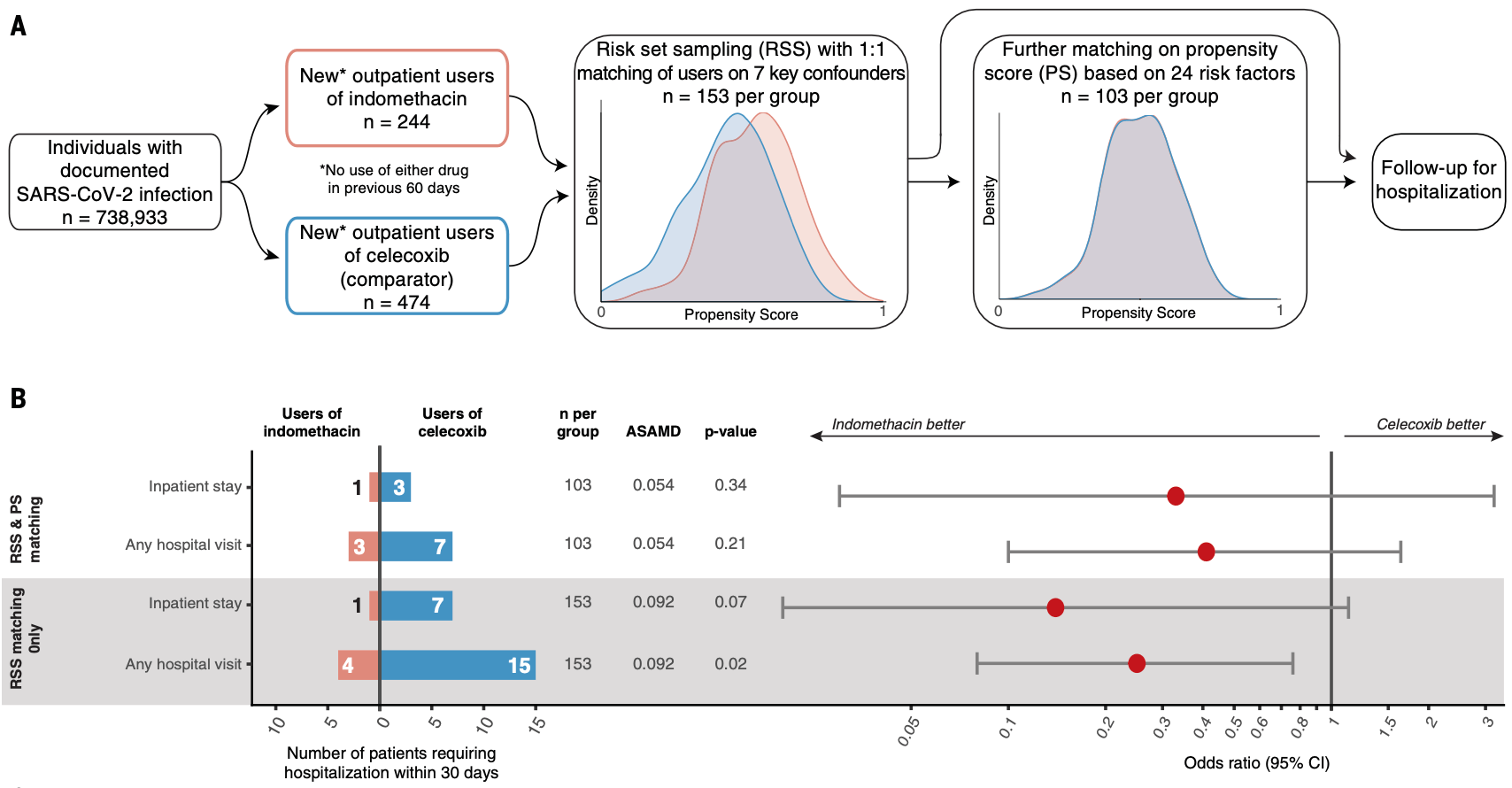 Gordon et al., 4 Dec 2020, retrospective, USA, peer-reviewed, 311 authors, this trial compares with another treatment - results may be better when compared to placebo.
Contact: pbeltrao@ebi.ac.uk, marco.vignuzzi@pasteur.fr, cbasler@gsu.edu, verba@msg.ucsf, oren.rosenberg@ucsf.edu, a.peden@sheffield.ac.uk, robert.grosse@pharmakol.uni-freiburg.de, jeremy.rassen@aetion.com, garcia-sastre@mssm.edu, nevan.krogan@ucsf.edu, verba@msg.ucsf.edu, rosenberg@ucsf.edu, adolfo.garcia-sastre@mssm.edu.
Comparative host-coronavirus protein interaction networks reveal pan-viral disease mechanisms
Science, doi:10.1126/science.abe9403
The emergence of three lethal coronaviruses in <20 years and the urgency of the COVID-19 pandemic have prompted efforts to develop new therapeutic strategies, including by repurposing existing agents. After performing a comparative analysis of the three pathogenic human coronaviruses severe acute respiratory syndrome coronavirus 1 (SARS-CoV-1), SARS-CoV-2, and Middle East respiratory syndrome coronavirus (MERS-CoV), we identified shared biology and host-directed drug targets to prioritize therapeutics with potential for rapid deployment against current and future coronavirus outbreaks. RATIONALE: Expanding on our recent SARS-CoV-2 interactome, we mapped the virus-host protein-protein interactions for SARS-CoV-1 and MERS-CoV and assessed the cellular localization of each viral protein across the three strains. We conducted two genetic screens of SARS-CoV-2 interactors to prioritize functionally-relevant host factors and structurally characterized one virus-host interaction. We then tested the clinical relevance of three more host factors by assessing risk in genetic cohorts or observing effectiveness of host factor-targeting drugs in realworld evidence. RESULTS: Quantitative comparison of the 389 interactors of SARS-CoV-2, 366 of SARS-CoV-1, and 296 of MERS-CoV highlighted interactions with host processes that are conserved across all three viruses, including where nonorthologous proteins from different virus strains seem to fill similar roles. We also localized each individually-expressed viral protein by microscopy and then raised and validated antisera against 14 SARS-CoV-2 proteins to determine their localization during infection. On the basis of two independent genetic perturbation screens, we identified 73 host factors that, when depleted, caused significant changes in SARS-CoV-2 replication. From this list of potential drug targets, we validated the biological and clinical relevance of Tom70, IL17RA, PGES-2, and SigmaR1. A 3-Å cryo-electron microscopy structure of Tom70, a mitochondrial import receptor, in complex with SARS-CoV-2 ORF9b, provides insight into how ORF9b may modulate the host immune response. Using curated genome-wide association study data, we found that individuals with genotypes corresponding to higher soluble IL17RA levels in plasma are at decreased risk of COVID-19 hospitalization. To demonstrate the value of our data for drug repurposing, we identified SARS-CoV-2 patients who were prescribed drugs against prioritized targets and asked how they fared compared with carefully matched patients treated with clinically similar drugs that do not inhibit SARS-CoV-2. Both indomethacin, an inhibitor of host factor PGES-2, and typical antipsychotics, selected for their interaction with sigma receptors, showed effectiveness against COVID-19 compared with celecoxib and atypical antipsychotics, respectively. CONCLUSION: By employing an integrative and collaborative approach, we identified conserved mechanisms across three..
resources and reagents should be directed to and will be fulfilled by N.J.K. (nevan.krogan@ucsf.edu). The MS proteomics data have been deposited to the ProteomeXchange Consortium via the PRIDE partner repository with the dataset identifier PXD021588 (100) . An interactive version of PPI data can be found at https://kroganlab. ucsf.edu/network-maps. Atomic coordinates and the cryo-EM map of the reported Tom70-ORF9b structure have been deposited in the Protein Data Bank under accession code 7KDT and in the Electron Microscopy Data Bank under accession code EMD-22829. Expression vectors used in this study are readily available from the authors for biomedical researchers and educators in the nonprofit sector. The Aetion Evidence Platform used for the clinical analysis is available under license from Aetion, New York, NY. To protect patient privacy, data used in real-world analyses are available for inspection by qualified researchers under confidentiality and third-party agreements with Aetion and/or HealthVerity. This work is licensed under a Creative Commons Attribution 4.0 International (CC BY 4.0) license, which permits unrestricted use, distribution, and reproduction in any medium, provided the original work is properly cited. To view a copy of this license, visit https://creativecommons.org/licenses/by/4.0/. This license does not apply to figures/photos/artwork or other content included in the article that is credited to a third party; obtain authorization from the rights..
References
Amici, Indomethacin has a potent antiviral activity against SARS coronavirus, Antivir. Ther
Armstrong, Hickey, Diekhans, Deran, Fang et al., Progressive alignment with Cactus: A multiple-genome aligner for the thousand-genome era, bioRxiv
Be, Br, Du, Ba, Lo et al., The QCRG Structural Biology Consortium has received support from: Quantitative Biosciences Institute
Durairaj, Akdel, De Ridder, Van Dijk, Geometricus Represents Protein Structures as Shape-mers Derived from Moment Invariants, bioRxiv
Glennon, Sigma receptor ligands and the use thereof, U.S. Patent
Honko, Storm, Bean, Vasquez, Downs et al., Rapid Quantification and Neutralization Assays for Novel Coronavirus SARS-CoV-2
Nigms, -S. ; R, CRIP (Center for Research for Influenza Pathogenesis), a NIAID supported Center of Excellence for Influenza Research and Surveillance (CEIRS, contract no
Shannon, Cytoscape: A software environment for integrated models of biomolecular interaction networks
Stoner, Maures, Conant, Methods and systems for guide RNA design and use, U.S. Patent
Was, supported by the National Science Foundation
Yamada, Komoto, Watanabe, Ohmiya, Takusagawa, Crystal structure and possible catalytic mechanism of microsomal prostaglandin E synthase type 2 (mPGES-2)