Mechanisms of action of fluvoxamine for COVID-19: a historical review
et al., Molecular Psychiatry,
Review of the potential mechanisms of action of fluvoxamine for COVID-19.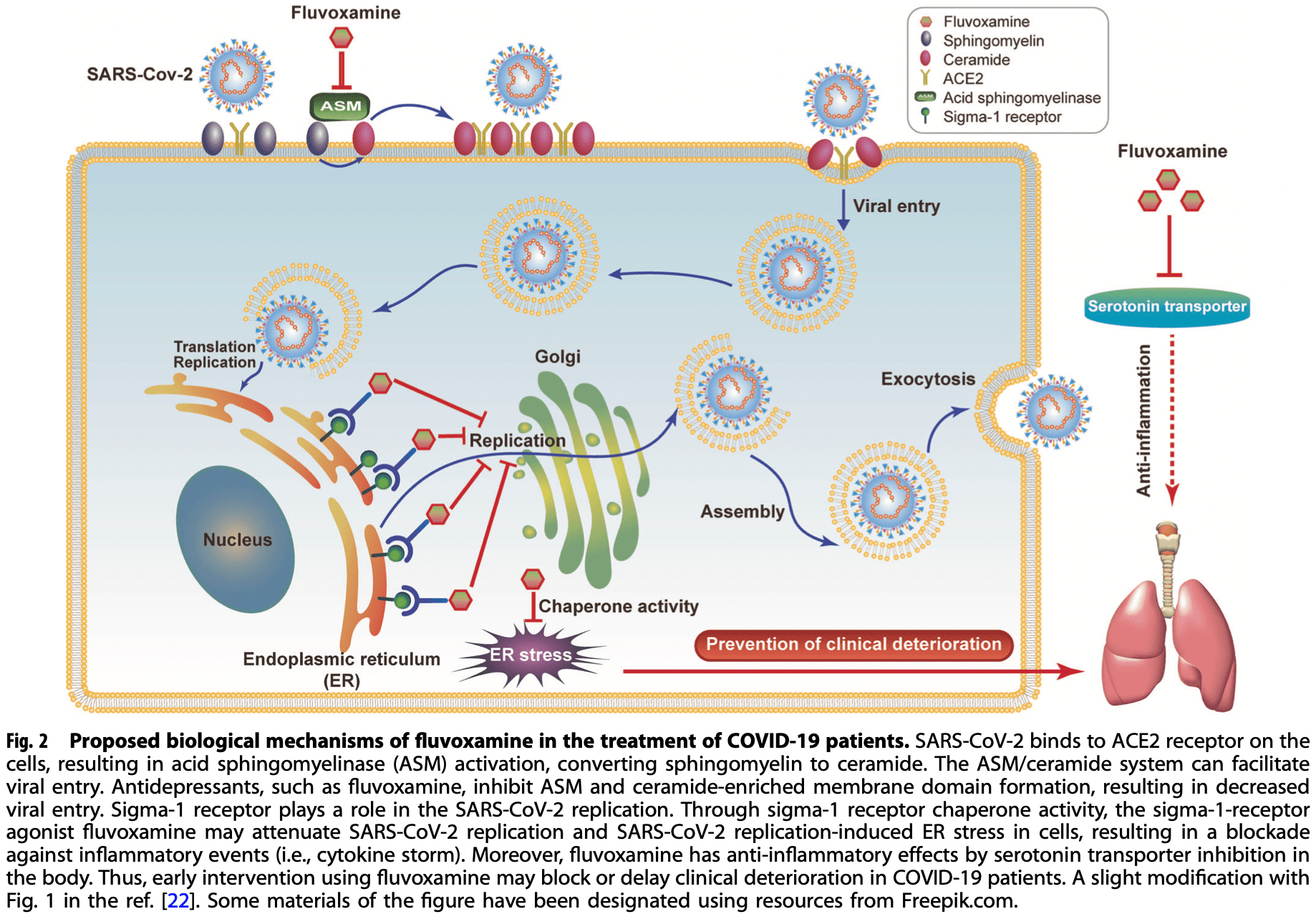 Hashimoto et al., 7 Jan 2022, peer-reviewed, 3 authors.
Abstract: Molecular Psychiatry www.nature.com/mp EXPERT REVIEW Mechanisms of action of fluvoxamine for COVID-19: a historical review Yaeko Hashimoto1,2, Takuji Suzuki1 and Kenji Hashimoto 2✉ © The Author(s), under exclusive licence to Springer Nature Limited 2021 1234567890();,: The ongoing coronavirus disease 2019 (COVID-19) pandemic caused by the novel severe acute respiratory syndrome coronavirus 2 (SARS-CoV-2) accelerates the discovery of prophylactic and therapeutic drugs for persons infected with the virus. Drug repurposing for the COVID-19 pandemic has received particular attention. Increasing clinical data suggest that antidepressant use in early-stage subjects with COVID-19 might be associated with a reduced risk of intubation or death. Among the antidepressants, fluvoxamine is the most attractive drug for mild to moderate subjects with COVID-19. In this article, we review the mechanisms of action (i.e., serotonin transporter, sigma-1 receptor, and acid sphingomyelinase) of fluvoxamine for COVID-19. Furthermore, we discuss a possible link between maternal COVID-19 infection and a risk for neuropsychiatric disorders (i.e., autism spectrum disorder and schizophrenia) in offspring. Molecular Psychiatry; https://doi.org/10.1038/s41380-021-01432-3
Please send us corrections, updates, or comments. Vaccines and treatments are complementary. All practical, effective, and safe means should be used based on risk/benefit analysis. No treatment, vaccine, or intervention is 100% available and effective for all current and future variants. We do not provide medical advice. Before taking any medication, consult a qualified physician who can provide personalized advice and details of risks and benefits based on your medical history and situation.
FLCCC
and
WCH
provide treatment protocols.
Submit