Epidemiology, outcomes, and utilization of intensive care unit resources for critically ill COVID-19 patients in Libya: A prospective multi-center cohort study
Prospective study of 465 COVID-19 ICU patients in Libya showing no significant differences with treatment.
[Gérard, Zhou]
show significantly increased risk of acute kidney injury with remdesivir. This study is excluded in the after exclusion results of meta analysis: unadjusted results with no group details.
risk of death,

10.9% higher

, RR 1.11, p = 0.65
, treatment 14 of 21 (66.7%), control 267 of 444 (60.1%).
Effect extraction follows pre-specified rules prioritizing more serious outcomes. Submit updates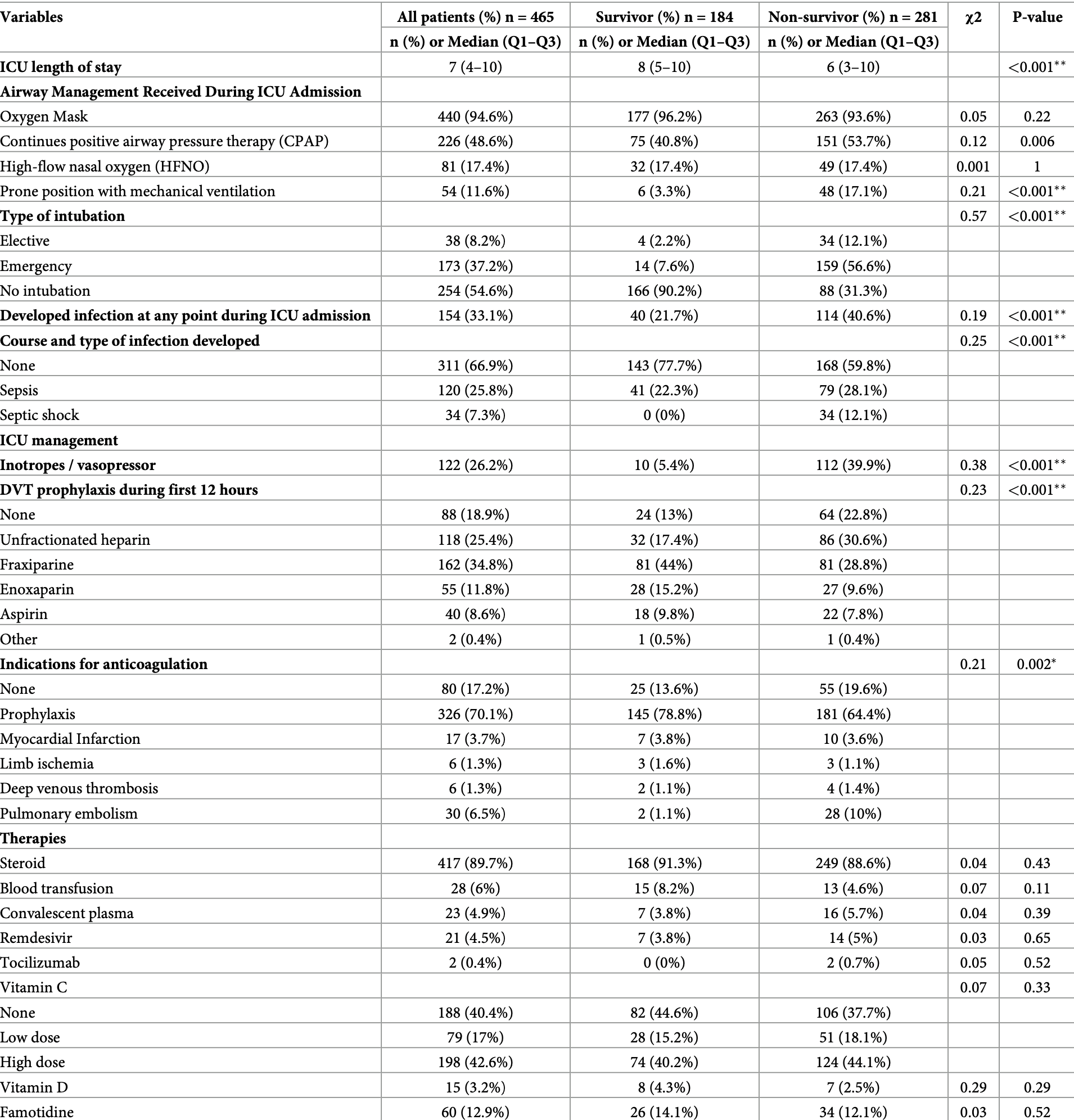 Elhadi et al., 30 Apr 2021, prospective, Libya, peer-reviewed, 21 authors, study period 29 May, 2020 - 30 December, 2020.
Abstract: PLOS ONE RESEARCH ARTICLE Epidemiology, outcomes, and utilization of intensive care unit resources for critically ill COVID-19 patients in Libya: A prospective multi-center cohort study a1111111111 a1111111111 a1111111111 a1111111111 a1111111111 Muhammed Elhadi ID1*, Ahmed Alsoufi1, Abdurraouf Abusalama2, Akram Alkaseek3, Saedah Abdeewi4, Mohammed Yahya5, Alsnosy Mohammed5, Mohammed Abdelkabir4, Mohammed Huwaysh6, Emad Amkhatirah5, Kamel Alshorbaji7, Samer Khel8, Marwa Gamra9, Abdulmueti Alhadi10,11, Taha Abubaker12, Mohamed Anaiba7, Mohammed Elmugassabi7, Muhannud Binnawara13, Ala Khaled1, Ahmed Zaid1, Ahmed Msherghi1 1 Faculty of Medicine University of Tripoli, Tripoli, Libya, 2 Almwasfat Isolation Hospital, Tripoli, Libya, 3 Gharyan Hospital, Gharyan, Libya, 4 Sebha Medical Center, Sebha, Libya, 5 Almarj Teaching Hospital, Almarj, Libya, 6 Alshahid Attia Alkasah General Hospital, Alkufra, Libya, 7 Misurata Medical Center, Misurata, Libya, 8 Soq Altholatha Isolation Center, Tripoli, Libya, 9 Emeitiga Military Hospital, Tripoli, Libya, 10 Sorman Isolation Center, Sorman, Libya, 11 Faculty of Medicine, University of Zawia, Az Zawiyah, Libya, 12 Benghazi Medical Center, Benghazi, Libya, 13 Tripoli Central Hospital, Tripoli, Libya OPEN ACCESS Citation: Elhadi M, Alsoufi A, Abusalama A, Alkaseek A, Abdeewi S, Yahya M, et al. (2021) Epidemiology, outcomes, and utilization of intensive care unit resources for critically ill COVID19 patients in Libya: A prospective multi-center cohort study. PLoS ONE 16(4): e0251085. https:// doi.org/10.1371/journal.pone.0251085 Editor: Aleksandar R. Zivkovic, Heidelberg University Hospital, GERMANY Received: March 11, 2021 Accepted: April 19, 2021 Published: April 30, 2021 Copyright: © 2021 Elhadi et al. This is an open access article distributed under the terms of the Creative Commons Attribution License, which permits unrestricted use, distribution, and reproduction in any medium, provided the original author and source are credited. Data Availability Statement: All relevant data are within the manuscript. The complete dataset is not publicly available out of consideration for patient confidentiality. Data contain potentially identifying and sensitive patient information cannot be shared publicly without permission from the hospitals participating in the study. Because of the clinical dataset's granularity, it is impossible to adequately anonymize it to avoid reidentification of participants without jeopardizing study participants confidentiality. If the requisite ethical approvals and * Muhammed.elhadi.uot@gmail.com Abstract Background The coronavirus disease (COVID-19) pandemic has severely affected African countries, specifically the countries, such as Libya, that are in constant conflict. Clinical and laboratory information, including mortality and associated risk factors in relation to hospital settings and available resources, about critically ill patients with COVID-19 in Africa is not available. This study aimed to determine the mortality and morbidity of COVID-19 patients in intensive care units (ICU) following 60 days after ICU admission, and explore the factors that influence in-ICU mortality rate. Methods This is a multicenter prospective observational study among COVID-19 critical care patients in 11 ICUs in Libya from May 29th to December 30th 2020. Basic demographic data, clinical characteristics, laboratory values, admission Sequential Organ Failure Assessment (SOFA) score, quick..
elhadi
Please send us corrections, updates, or comments. Vaccines and treatments are complementary. All practical, effective, and safe means should be used based on risk/benefit analysis. No treatment, vaccine, or intervention is 100% available and effective for all current and future variants. We do not provide medical advice. Before taking any medication, consult a qualified physician who can provide personalized advice and details of risks and benefits based on your medical history and situation.
FLCCC
and
WCH
provide treatment protocols.
Submit