Prospective study of 465 COVID-19 ICU patients in Libya showing no significant differences with treatment.
Cholecalciferol was used in this study. Meta analysis shows that late stage treatment with
calcitriol / calcifediol
(or paricalcitol, alfacalcidol, etc.) is more effective than
cholecalciferol
:
65%
[41‑79%]
lower risk vs.
38%
[25‑49%]
lower risk. Cholecalciferol requires two hydroxylation steps to become activated - first in the liver to calcifediol, then in the kidney to calcitriol. Calcitriol, paricalcitol, and alfacalcidol are active vitamin D analogs that do not require conversion. This allows them to have more rapid onset of action compared to cholecalciferol. The time delay for cholecalciferol to increase serum calcifediol levels can be 2-3 days, and the delay for converting calcifediol to active calcitriol can be up to 7 days.
This is the
32nd of 116 COVID-19 controlled studies
for vitamin D, which collectively show efficacy with
p<0.0000000001 (1 in 38 sextillion)
.
28 studies are RCTs
, which show efficacy with
p=0.0000081
. This study is excluded in the after exclusion results of meta analysis: unadjusted results with no group details.
risk of death,

23.4% lower

, RR 0.77, p = 0.29
, treatment 7 of 15 (46.7%), control 274 of 450 (60.9%), NNT 7.0.
Effect extraction follows pre-specified rules prioritizing more serious outcomes. Submit updates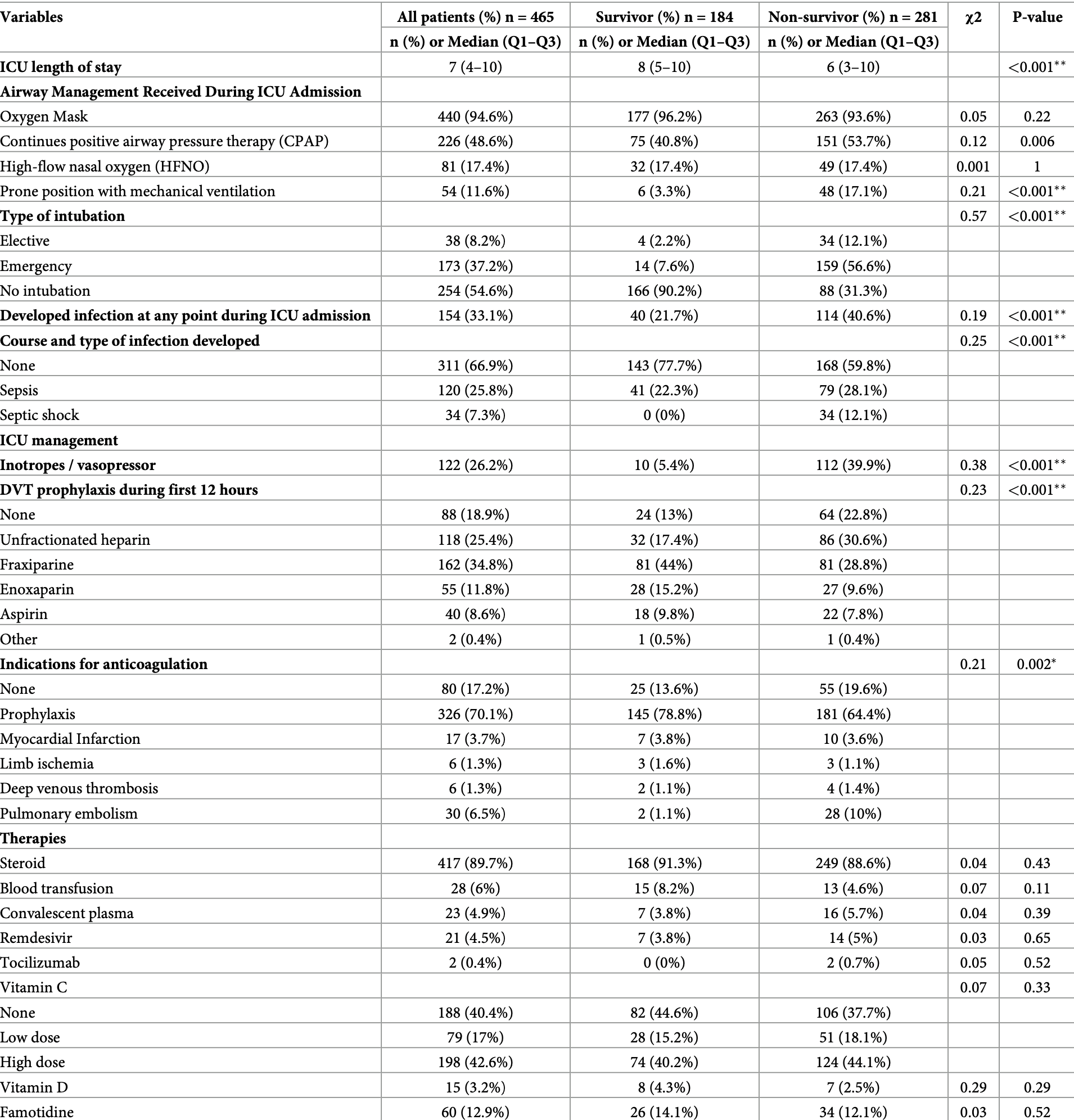 Elhadi et al., 30 Apr 2021, prospective, Libya, peer-reviewed, 21 authors, study period 29 May, 2020 - 30 December, 2020, dosage not specified.
Epidemiology, outcomes, and utilization of intensive care unit resources for critically ill COVID-19 patients in Libya: A prospective multi-center cohort study
PLOS ONE, doi:10.1371/journal.pone.0251085
Background The coronavirus disease (COVID-19) pandemic has severely affected African countries, specifically the countries, such as Libya, that are in constant conflict. Clinical and laboratory information, including mortality and associated risk factors in relation to hospital settings and available resources, about critically ill patients with COVID-19 in Africa is not available. This study aimed to determine the mortality and morbidity of COVID-19 patients in intensive care units (ICU) following 60 days after ICU admission, and explore the factors that influence in-ICU mortality rate. Methods This is a multicenter prospective observational study among COVID-19 critical care patients in 11 ICUs in Libya from May 29th to December 30th 2020. Basic demographic data, clinical characteristics, laboratory values, admission Sequential Organ Failure Assessment (SOFA) score, quick SOFA, and clinical management were analyzed. Result We included 465 consecutive COVID-19 critically ill patients. The majority (67.1%) of the patients were older than 60 years, with a median (IQR) age of 69 (56.5-75); 240 (51.6%) were male. At 60 days of follow-up, 184 (39.6%) were discharged alive, while 281 (60.4%) died in the intensive care unit. The median (IQR) ICU length of stay was 7 days (4-10) and
Author Contributions Conceptualization: Muhammed Elhadi. Data curation:
References
Chew, Lee, Ghimiray, Tan, Chua, Characteristics and Outcomes of COVID-19 Patients with Respiratory Failure Admitted to a "Pandemic Ready" Intensive Care Unit-Lessons from Singapore, Annals of the Academy of Medicine
Investigators, An African, Multi-Centre Evaluation of Patient Care and Clinical Outcomes for Patients with COVID-19 Infection Admitted to High-Care or Intensive Care Units, The Lancet