RCT 50 COVID+ outpatients in Pakistan, 25 treated with curcumin, quercetin, and vitamin D, showing significantly faster viral clearance, significantly improved CRP, and faster resolution of acute symptoms (
p
=0.154). 168mg curcumin, 260mg quercetin and 360IU cholecalciferol.This is the
14th of 28 COVID-19 RCTs
for vitamin D, which collectively show efficacy with
p=0.0000081
.This is the
78th of 116 COVID-19 controlled studies
for vitamin D, which collectively show efficacy with
p<0.0000000001 (1 in 38 sextillion)
. This study is excluded in the after exclusion results of meta analysis: based on dosages and previous research, combined treatments may contribute more to the effect seen.
risk of no recovery,

33.3% lower

, RR 0.67, p = 0.15
, treatment 10 of 25 (40.0%), control 15 of 25 (60.0%), NNT 5.0.
relative CRP reduction,

39.1% better

, RR 0.61, p = 0.006
, treatment 25, control 25.
risk of no viral clearance,

50.0% lower

, RR 0.50, p = 0.009
, treatment 10 of 25 (40.0%), control 20 of 25 (80.0%), NNT 2.5.
Effect extraction follows pre-specified rules prioritizing more serious outcomes. Submit updates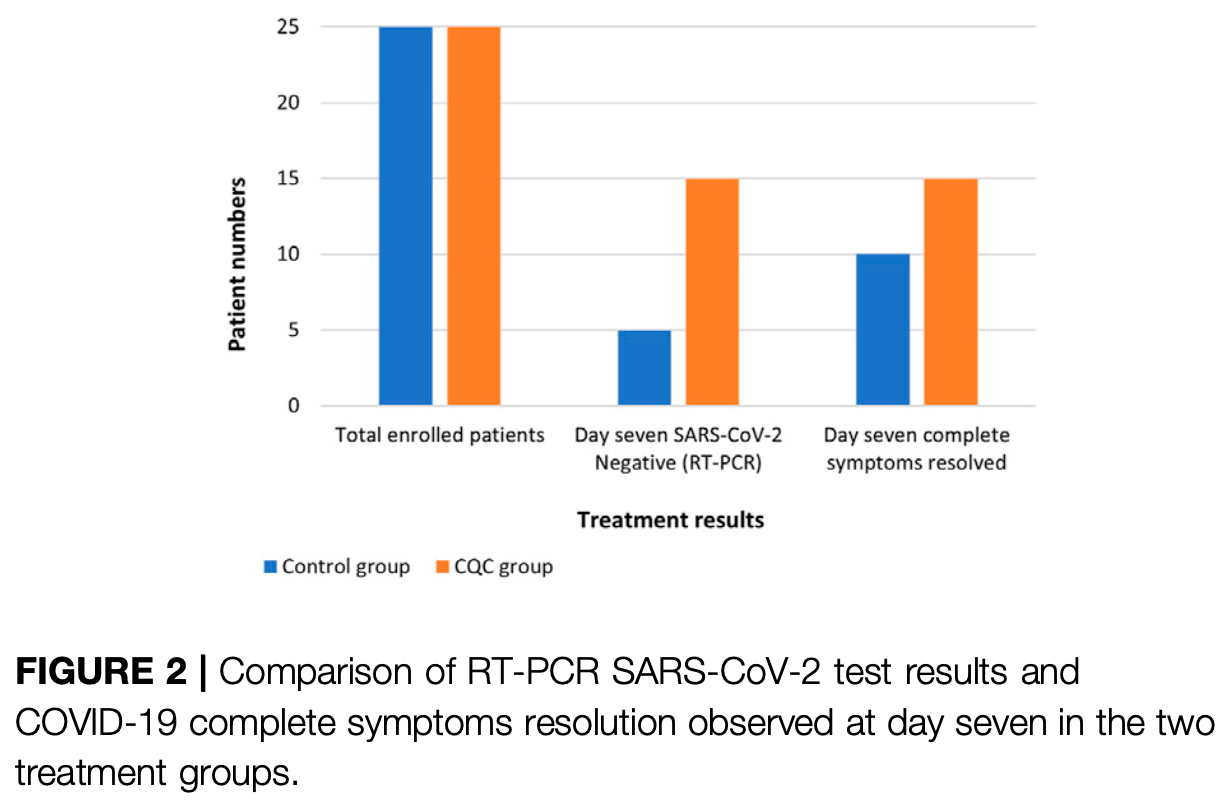 Khan et al., 1 May 2022, Randomized Controlled Trial, Pakistan, peer-reviewed, 7 authors, study period 2 September, 2021 - 28 November, 2021, dosage 360IU days 1-14, this trial uses multiple treatments in the treatment arm (combined with curcumin and quercetin) - results of individual treatments may vary, trial
NCT05130671
(history)
.
Contact: amjadkhan@lumhs.edu.pk.
Oral Co-Supplementation of Curcumin, Quercetin, and Vitamin D3 as an Adjuvant Therapy for Mild to Moderate Symptoms of COVID-19—Results From a Pilot Open-Label, Randomized Controlled Trial
Frontiers in Pharmacology, doi:10.3389/fphar.2022.898062
Background: Curcumin, quercetin, and vitamin D3 (cholecalciferol) are common natural ingredients of human nutrition and reportedly exhibit promising anti-inflammatory, immunomodulatory, broad-spectrum antiviral, and antioxidant activities. Objective: The present study aimed to investigate the possible therapeutic benefits of a single oral formulation containing supplements curcumin, quercetin, and cholecalciferol (combinedly referred to here as CQC) as an adjuvant therapy for early-stage of symptomatic coronavirus disease 2019 in a pilot open-label, randomized controlled trial conducted at
ETHICS STATEMENT The study was approved by the Institutional Review Board (IRB) of King Edward Medical University, Lahore, with approval No. 785/RC/KEMU. The patients/participants provided their written informed consent to participate in this study. AUTHOR CONTRIBUTIONS AK contributed to the study design, data interpretation, writing of the manuscript, and literature search; SI, SM, and SA contributed to the study design, data collection, data interpretation, and literature search; DP-F and MH critically reviewed and edited the manuscript; and SL helped in data analysis and revision of the manuscript. All authors approved the final manuscript. Conflict of Interest: The authors declare that the research was conducted in the absence of any commercial or financial relationships that could be construed as a potential conflict of interest. Publisher's Note: All claims expressed in this article are solely those of the authors and do not necessarily represent those of their affiliated organizations, or those of the publisher, the editors, and the reviewers. Any product that may be evaluated in this article, or claim that may be made by its manufacturer, is not guaranteed or endorsed by the publisher.
References
Bowman, Applied Smoothing Techniques for Data Analysis : The Kernel Approach with S-Plus Illustrations
Cheng, Hsu, Lin, Hsu, Ho et al., Phase I Clinical Trial of Curcumin, a Chemopreventive Agent, in Patients with High-Risk or Pre-malignant Lesions, Anticancer Res
Cleveland, Robust Locally Weighted Regression and Smoothing Scatterplots, J. Am. Stat. Assoc
Crp, mg/dl) a 34
Ferritin, median (IQR, Hematology Hemoglobin
Ldh, None, U/l) c
Majeed, Nagabhushanam, Shah, Mundkur, A Randomized, Double-Blind, Placebo-Controlled Study to Assess the Efficacy and Safety of a Nutritional Supplement (ImmuActiveTM) for COVID-19