Effect of Cholecalciferol Supplementation on the Clinical Features and Inflammatory Markers in Hospitalized COVID-19 Patients: A Randomized, Open-Label, Single-Center Study
RCT with 56 cholecalciferol and 54 control hospitalized patients with vitamin D insufficiency or deficiency in Russia, showing positive effects on immune status. The median age in the treatment group was 7 years lower and deficiency was less common, while baseline treatment group CT lung involvement and supplemental oxygen use was higher in the treatment group. Treatment increased vitamin D levels and neutrophil and lymphocyte counts, decreased CRP levels, and was associated with a decrease in CD38++CD27 transitional and CD27−CD38+ mature naive B cells and an increase in CD27−CD38− DN B cells.
risk of ICU admission,

85.9% lower

, RR 0.14, p = 0.11
, treatment 0 of 56 (0.0%), control 3 of 54 (5.6%), NNT 18, relative risk is not 0 because of continuity correction due to zero events (with reciprocal of the contrasting arm), day 9.
risk of oxygen therapy,

7.0% lower

, RR 0.93, p = 0.85
, treatment 27 of 56 (48.2%), control 28 of 54 (51.9%), NNT 27, baseline oxygen supplementation was higher in the treatment group, 38 vs. 32, day 9.
Effect extraction follows pre-specified rules prioritizing more serious outcomes. Submit updates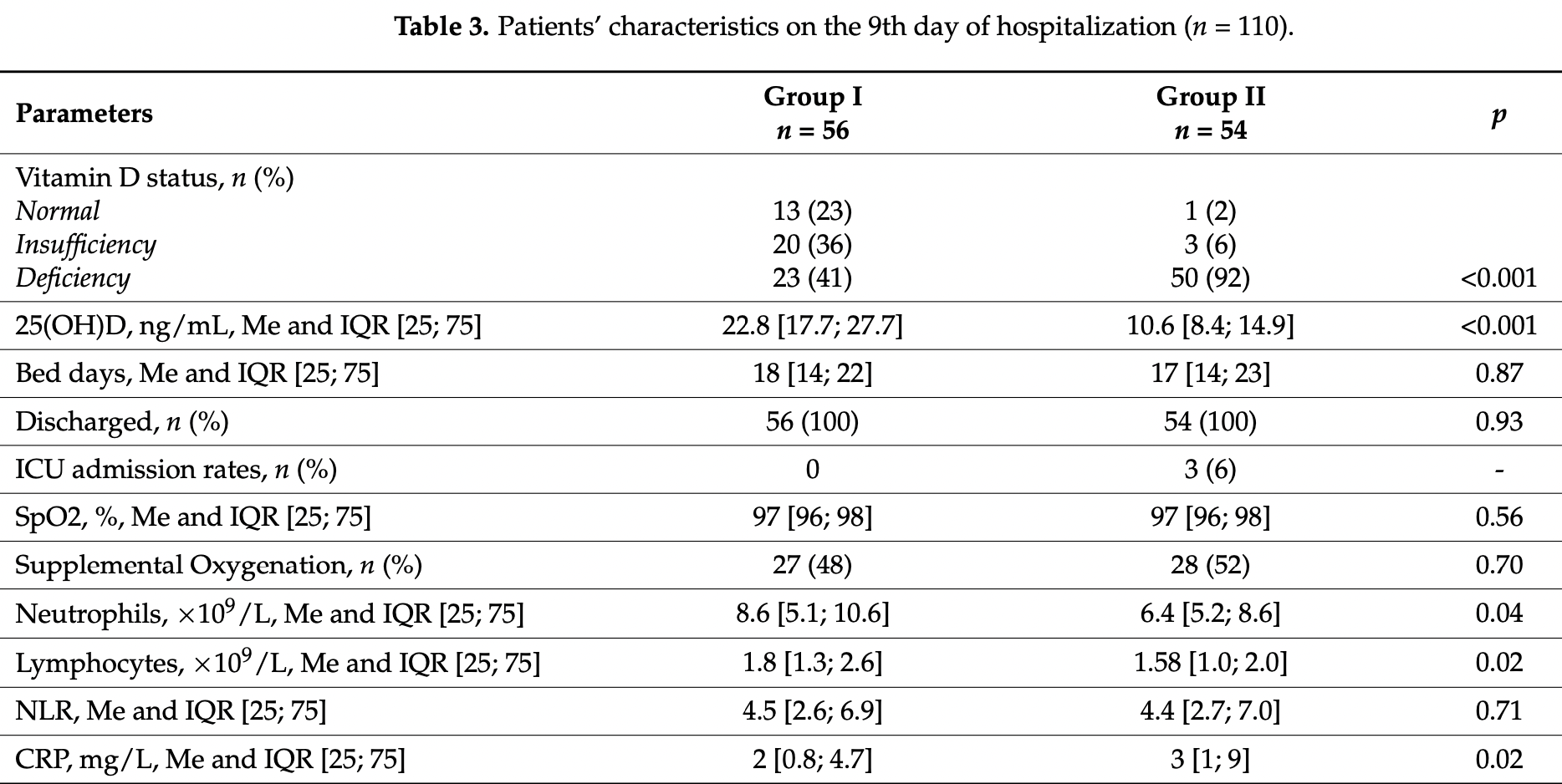 Karonova et al., 23 Jun 2022, Randomized Controlled Trial, Russia, peer-reviewed, 12 authors, study period 30 November, 2020 - 20 March, 2021, dosage 50,000IU days 1, 8, trial
NCT05166005
(history)
.
Contact: karonova@mail.ru (corresponding author), ksgolovatiuk@gmail.com, igorek1981@yandex.ru, arabicaa@gmail.com, armikhaylova@yandex.ru, akino97@bk.ru, daria.lagutina.i@yandex.ru, catherine3452@yandex.ru, olgakalinina@mail.ru, golovkin_a@mail.ru, shlyakhto_ev@almazovcentre.ru, williamgrant08@comcast.net.