Retrospective 72,105 COVID+ hospitalized patients in France, showing lower mortality with FIASMA medications.
risk of death,

20.0% lower

, HR 0.80, p < 0.001
, treatment 625 of 4,857 (12.9%), control 772 of 4,857 (15.9%), NNT 33, day 28.
risk of death,

51.0% lower

, HR 0.49, p = 0.04
, treatment 9 of 145 (6.2%), control 100 of 725 (13.8%), NNT 13, adjusted per study, fluoxetine, multivariable, day 28.
Effect extraction follows pre-specified rules prioritizing more serious outcomes. Submit updates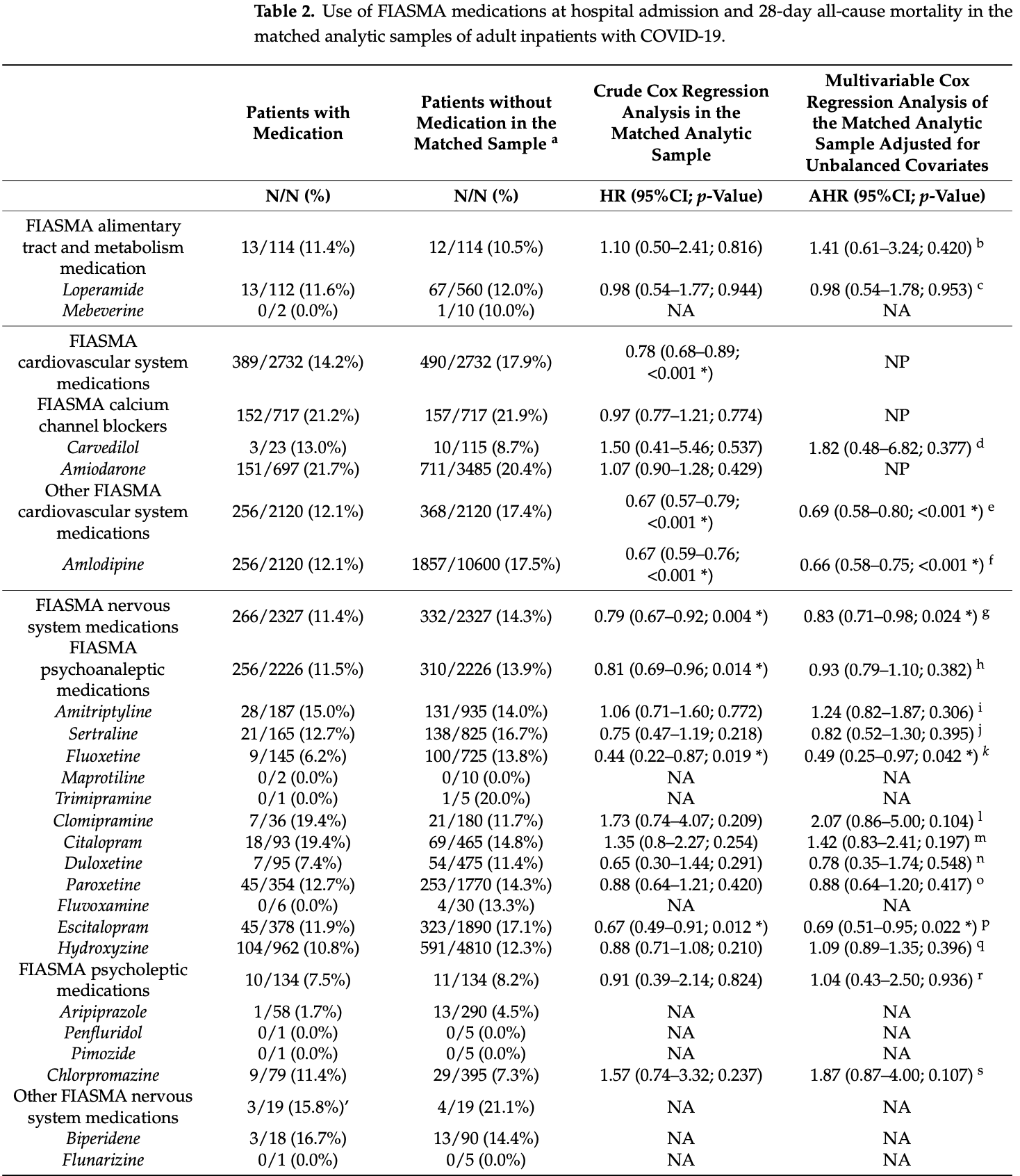 Hoertel et al., 4 Aug 2023, retrospective, France, peer-reviewed, 14 authors, study period 2 May, 2020 - 31 August, 2022.
Contact: nico.hoertel@yahoo.fr (corresponding author), katrin.becker-flegler@uni-due.de.
Medications Modulating the Acid Sphingomyelinase/Ceramide System and 28-Day Mortality among Patients with SARS-CoV-2: An Observational Study
Pharmaceuticals, doi:10.3390/ph16081107
Prior evidence indicates the potential central role of the acid sphingomyelinase (ASM)/ ceramide system in the infection of cells with SARS-CoV-2. We conducted a multicenter retrospective observational study including 72,105 adult patients with laboratory-confirmed SARS-CoV-2 infection who were admitted to 36 AP-HP (Assistance Publique-Hôpitaux de Paris) hospitals from 2 May 2020 to 31 August 2022. We examined the association between the ongoing use of medications functionally inhibiting acid sphingomyelinase (FIASMA), which reduces the infection of cells with SARS-CoV-2 in vitro, upon hospital admission with 28-day all-cause mortality in a 1:1 ratio matched analytic sample based on clinical characteristics, disease severity and other medications (N = 9714). The univariate Cox regression model of the matched analytic sample showed that FIASMA medication use at admission was associated with significantly lower risks of 28-day mortality (HR = 0.80; 95% CI = 0.72-0.88; p < 0.001). In this multicenter observational study, the use of FIASMA medications was significantly and substantially associated with reduced 28-day mortality among adult patients hospitalized with COVID-19. These findings support the continuation of these medications during the treatment of SARS-CoV-2 infections. Randomized clinical trials (RCTs) are needed to confirm these results, starting with the molecules with the greatest effect size in the study, e.g., fluoxetine, escitalopram, and amlodipine.
References
Gulbins, Palmada, Reichel, Lüth, Böhmer et al., Acid Sphingomyelinase-Ceramide System Mediates Effects of Antidepressant Drugs, Nat. Med
Hoertel, Boulware, Sánchez-Rico, Burgun, Limosin, Prevalence of Contraindications to Nirmatrelvir-Ritonavir among Hospitalized Patients With COVID-19 at Risk for Progression to Severe Disease, JAMA Netw. Open
Hoertel, Chevance, Limosin, Inclusion and Exclusion Criteria and Psychological Research
Hoertel, Sánchez-Rico, Gulbins, Kornhuber, Carpinteiro et al., Association between FIASMA Psychotropic Medications and Reduced Risk of Intubation or Death in Individuals with Psychiatric Disorders Hospitalized for Severe COVID-19: An Observational Multicenter Study, Transl. Psychiatry
Oskotsky, Marić, Tang, Oskotsky, Wong et al., Mortality Risk Among Patients With COVID-19 Prescribed Selective Serotonin Reuptake Inhibitor Antidepressants, JAMA Netw. Open
Terry, Grambsch, Modeling Survival Data: Extending the Cox Model