Retrospective 350 COVID-19 hospitalized patients in Belgium, showing lower mortality with existing long-term FIASMA treatment, not quite reaching statistical significance for all FIASMA medications, but reaching statistical significance for amlodipine.
risk of death,

41.3% lower

, RR 0.59, p = 0.06
, treatment 93, control 257, odds ratio converted to relative risk, multivariable logistic regression, control prevalance approximated with overall prevalence.
Effect extraction follows pre-specified rules prioritizing more serious outcomes. Submit updates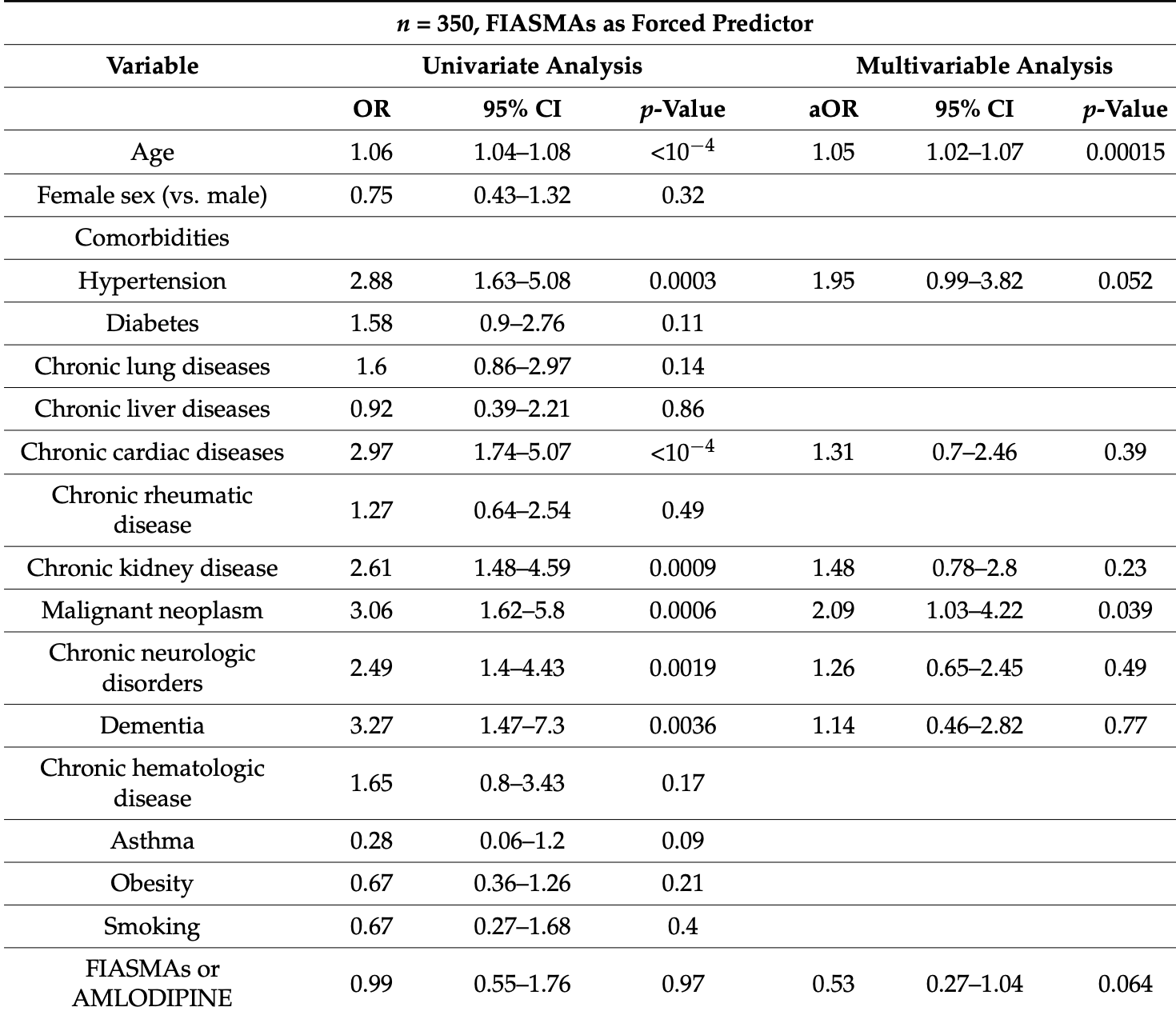 Darquennes et al., 7 Mar 2021, retrospective, Belgium, peer-reviewed, 4 authors.
Association between Functional Inhibitors of Acid Sphingomyelinase (FIASMAs) and Reduced Risk of Death in COVID-19 Patients: A Retrospective Cohort Study
Pharmaceuticals, doi:10.3390/ph14030226
Given the current scarcity of curative treatment of COVID-19, the search for an effective treatment modality among all available medications has become a priority. This study aimed at investigating the role of functional inhibitors of acid sphingomyelinase (FIASMAs) on in-hospital COVID-19 mortality. In this retrospective cohort study, we included adult in-patients with laboratoryconfirmed COVID-19 between 1 March 2020 and 31 August 2020 with definite outcomes (discharged hospital or deceased) from Erasme Hospital (Brussels, Belgium). We used univariate and multivariate logistic regression models to explore the risk factors associated with in-hospital mortality. We included 350 patients (205 males, 145 females) with a mean age of 63.24 years (SD = 17.4, range: 21-96 years). Seventy-two patients died in the hospital and 278 were discharged. The four most common comorbidities were hypertension (184, 52.6%), chronic cardiac disease (110, 31.4%), obesity (96, 27.8%) and diabetes (95, 27.1%). Ninety-three participants (26.6%) received a long-term prescription for FIASMAs. Among these, 60 (64.5%) received amlodipine. For FIASMAs status, multivariable regression showed increasing odds ratio (OR) for in-hospital deaths associated with older age (OR 1.05, 95% CI: 1.02-1.07; p = 0.00015), and higher prevalence of malignant neoplasm (OR 2.09, 95% CI: 1.03-4.22; p = 0.039). Nonsignificant decreasing OR (0.53, 95% CI: 0.27-1.04; p = 0.064) was reported for FIASMA status. For amlodipine status, multivariable regression revealed increasing OR of inhospital deaths associated with older age (OR 1.04, 95% CI: 1.02-1.07; p = 0.0009), higher prevalence of hypertension (OR 2.78, 95% CI: 1.33-5.79; p = 0.0062) and higher prevalence of malignant neoplasm (OR 2.71, 95% CI: 1.23-5.97; p = 0.013), then secondarily decreasing OR of in-hospital death associated with long-term treatment with amlodipine (OR 0.24, 95% CI: 0.09-0.62; p = 0.0031). Chronic treatment with amlodipine could be significantly associated with low mortality of COVID-19 in-patients.
The Strengthening the Reporting of Cohort Studies in Epidemiology statement guidelines were followed in the conduct and reporting of the study (see online Supplemental File, Table S1 ). Two physicians (G.D. and G.L.) were responsible for data collection. The characteristics of the sample are given in Table 1 . Particular attention was given to the prescription of FIASMAs at admission. Patients with a long-term prescription of FIASMAs at admission were noted as FIASMAs positive (F+). Chronicity was defined as duration equal to or higher than seven half-life for each FIASMA (half-life range: 35-50 min (melatonin) to 20-100 days (amiodarone)). The prescribed daily dose of each FIASMA was given using the rate of defined daily dose (DDD), defined by the World Health Organization (WHO) Collaborating Centre for Drug Statistics Methodology. In Belgium, 28 FIASMAs are available: nine psychoanaleptics-amitriptyline, clomipramine, fluoxetine, fluvoxamine, imipramine, maprotiline, nortriptyline, paroxetine, sertraline; five psycholeptics-flupentixol, hydroxyzine, melatonin, pimozide, sertindole; two antivertigo-cinnarizine, flunarizine; two antihistamines for systemic use-desloratadine, loratadine; two drugs for functional gastrointestinal disorders-alverine, mebeverine; one calcium channel blocker-amlodipine; one anticholinergic agent-biperiden; one antipropulsiveloperamide; one Class 1 and 3 antiarrhythmic drug-amiodarone; one beta blocking agentcarvedilol; one..
References
Hernández, Carvajal, Armas-De Hernández, Guerrero-Pajuelo, Armas-Padilla et al., The effects of the calcium antagonist amlodipine on blood pressure and platelet aggregation in hypertensive patients, Postgrad. Med. J
Hoertel, Sánchez-Rico, Vernet, Jannot, Neuraz et al., Observational Study of Chlorpromazine in Hospitalized Patients with COVID-19, Clin. Drug Investig
Le Corre, Loas, Repurposing functional inhibitors of acid sphingomyelinase (FIASMAs): An opportunity against SARS-CoV-2 infection, J. Clin. Pharm. Ther