Retrospective 559 COVID-19 ICU patients in Indonesia, showing higher mortality with remdesivir in unadjusted results, without statistical significance. Note that
confounding by indication
should be less significant for ICU studies compared to studies of all hospitalized patients, because all patients are in critical condition.
Gérard, Wu, Zhou
show significantly increased risk of acute kidney injury with remdesivir.
This study includes
HCQ
and remdesivir.
risk of death,

14.8% higher

, RR 1.15, p = 0.23
, treatment 33 of 43 (76.7%), control 345 of 516 (66.9%).
Effect extraction follows pre-specified rules prioritizing more serious outcomes. Submit updates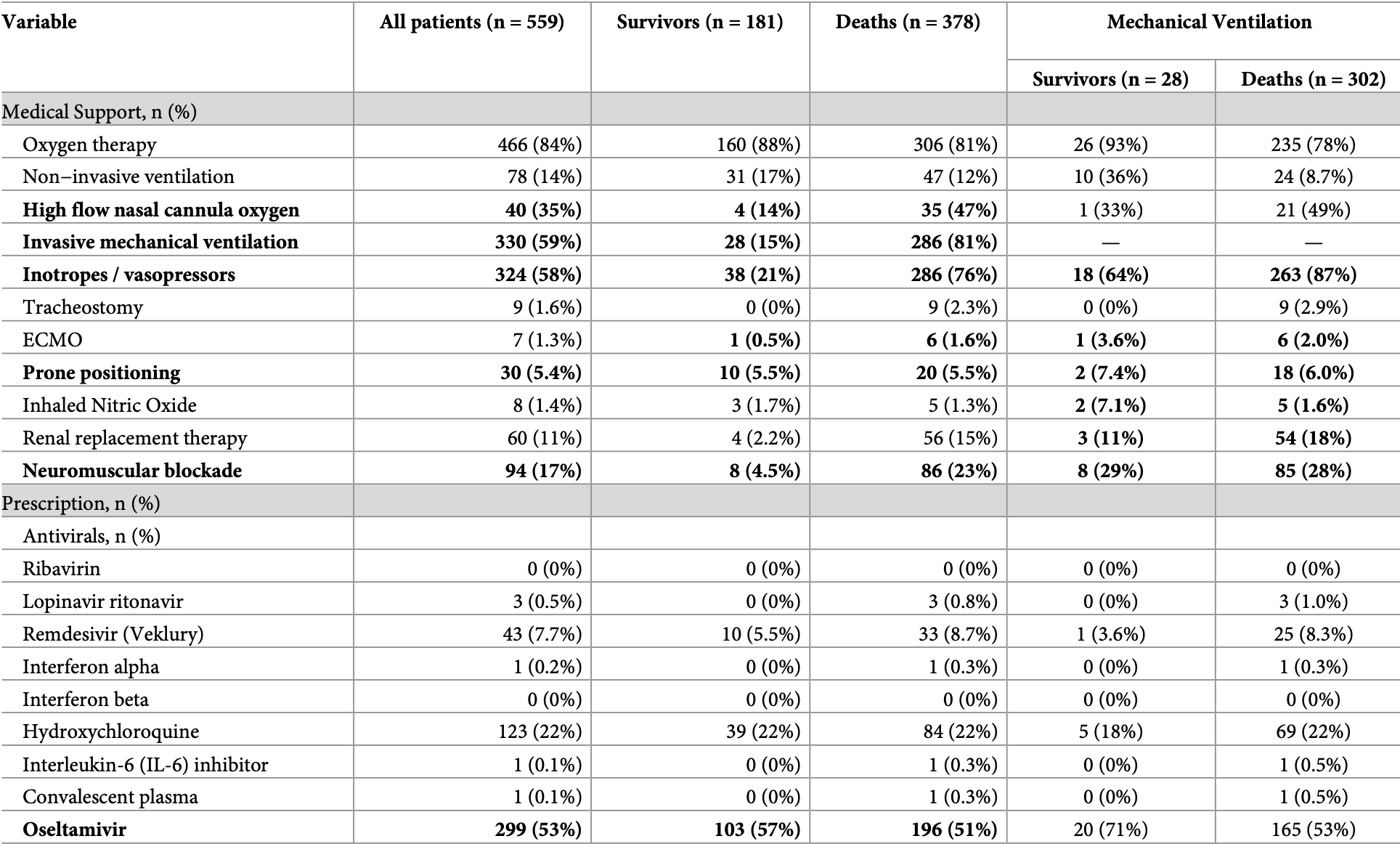 Burhan et al., 25 Sep 2023, retrospective, Indonesia, peer-reviewed, 26 authors, study period January 2020 - March 2021.
Contact: eva.marwali@pjnhk.go.id.
Characteristics and outcomes of patients with severe COVID-19 in Indonesia: Lessons from the first wave
PLOS ONE, doi:10.1371/journal.pone.0290964
Background Indonesia's national response to COVID-19 evolved rapidly throughout 2020. Understanding pandemic response and outcomes is crucial for better mitigation strategies ahead. This study describes the characteristics and outcomes of patients admitted to ICU during the early stages of the pandemic. Methods This is a multi-centre prospective observational study including patients from twelve collaborating hospitals in Indonesia. All patients were clinically suspected or laboratory-confirmed COVID-19 cases admitted to ICU between January 2020 and March 2021. The primary outcome was monthly ICU mortality. Descriptive statistics of patient characteristics and treatment were generated as secondary outcomes.
References
Anggraini, Healthcare Access and Utilization in Rural Communities of Indonesia, J Community Health Provis
Berlin, Gulick, Martinez, Severe Covid-19. Solomon CG, N Engl J Med
Erlina, Susanto, Dwi, Fathiyah, Sally Aman et al., Pedoman tatalaksana COVID-19
Harvey, Davidson, Postintensive Care Syndrome: Right Care, Right Now, Crit Care Med
Kristanto, Daerobi, Samudro, Indonesian Life Expectancy: Role of Health Infrastructure and Socio-Economic Status, Signifikan J Ilmu Ekon
Muhyiddin, Nugroho, A Year of Covid-19: A Long Road to Recovery and Acceleration of Indonesia's Development, J Perenc Pembang Indones J Dev Plan
P2p Kementerian Kesehatan, Widodo, Program%20Vaksinasi% 20COVID%2D19%20Mulai%20Dilakukan%2C%20Presiden%20Orang%20Pertama,Penerima% 20Suntikan%20
Peek, Mugford, Tiruvoipati, Wilson, Allen et al., Efficacy and economic assessment of conventional ventilatory support versus extracorporeal membrane oxygenation for severe adult respiratory failure (CESAR): a multicentre randomised controlled trial, The Lancet
Wu, Mcgoogan, Characteristics of and Important Lessons From the Coronavirus Disease 2019 (COVID-19) Outbreak in China: Summary of a Report of 72 314 Cases From the Chinese Center for Disease Control and Prevention, JAMA