In Vitro Calu-3 (human respiratory epithelial cell line) study showing that iota-carrageenan inhibits SARS-CoV-2.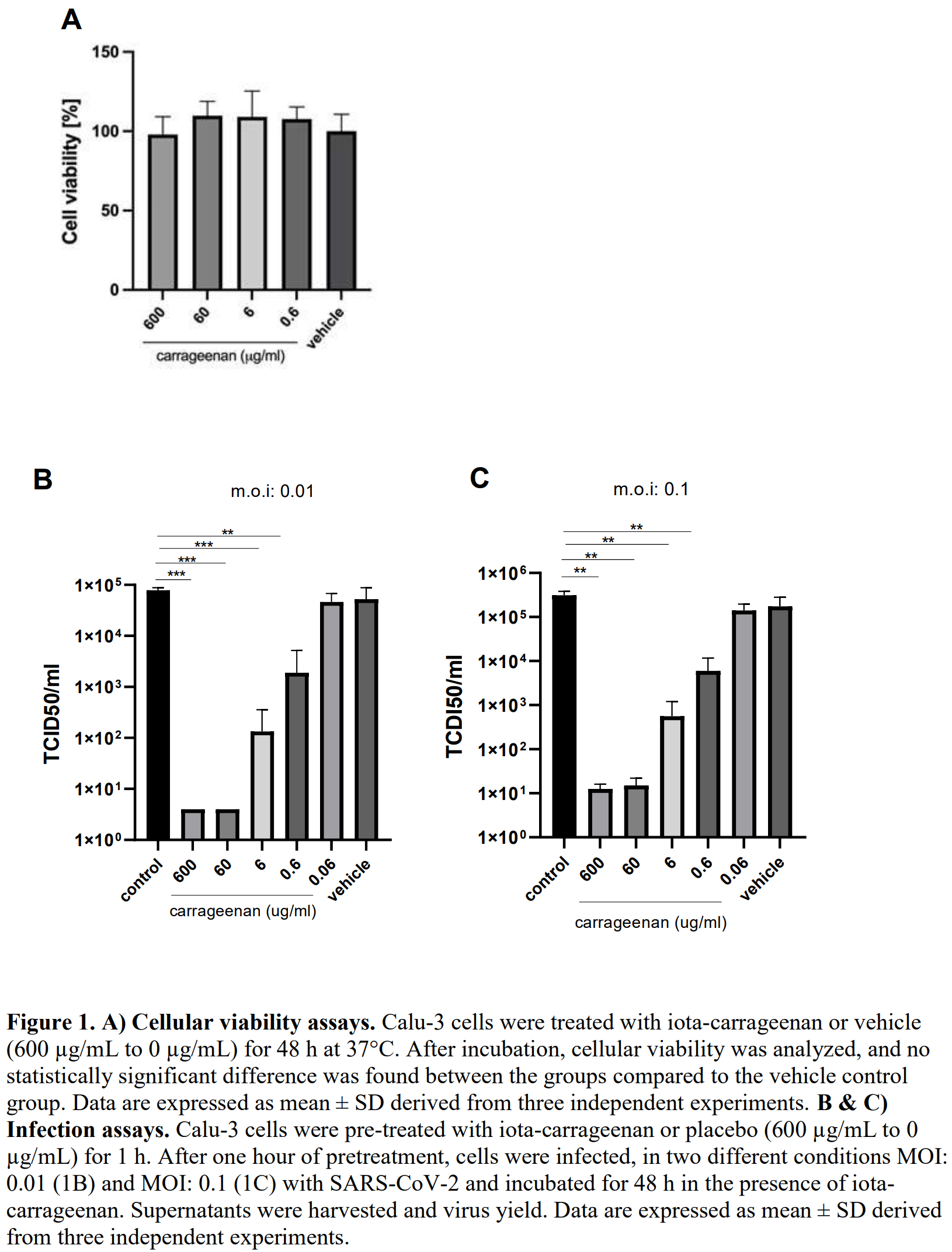 Varese et al., 27 Apr 2021, preprint, 5 authors.
In Vitro studies are an important part of preclinical research, however results may be very different in vivo.
Iota-carrageenan prevents the replication of SARS-CoV-2 on an in vitro respiratory epithelium model
doi:10.1101/2021.04.27.441512
There are, except for remdesivir, no approved antivirals for the treatment or prevention of SARS-CoV-2 infections. Iota-carrageenan formulated into a nasal spray has already been proven safe and effective in viral respiratory infections. We explored this antiviral activity in Calu-3, a human respiratory model cell line. A formula of iota-carrageenan and sodium chloride, as a nasal spray, already approved for human use, effectively inhibited SARS-CoV-2 infection in vitro, providing a more substantial reference for further clinical studies or developments.
Conflict of Interest The authors declare that the research was conducted in the absence of any commercial or financial relationships that could be construed as a potential conflict of interest. Author Contributions AC, AVD, and JMF conceptualized the study. AC, AV, CP and AVD developed the methodology. JMF wrote and prepared the original draft. AC, AVD, and CP wrote, reviewed, and edited the manuscript. AC and AVD supervised the study. All authors contributed to the article and approved the submitted version.
References
Gomaa, Elshoubaky, Antiviral Activity of Sulfated Polysaccharides Carrageenan from Some Marine Seaweeds, International Journal of Current Pharmaceutical Review and Research
Holwerda, V'kovski, Wider, Thiel, Dijkman, Identification of an Antiviral Compound from the Pandemic Response Box that Efficiently Inhibits SARS-CoV-2