Carrageenan nasal spray in virus confirmed common cold: individual patient data analysis of two randomized controlled trials
Carrageenan nasal spray in virus confirmed common cold: individual patient data analysis of two randomized..
,
Multidisciplinary Respiratory Medicine, doi:10.1186/2049-6958-9-57
,
Analysis of 2 RCTs concluding that carrageenan nasal spray reduced duration of virus-confirmed common colds, increased viral clearance, and reduced relapses.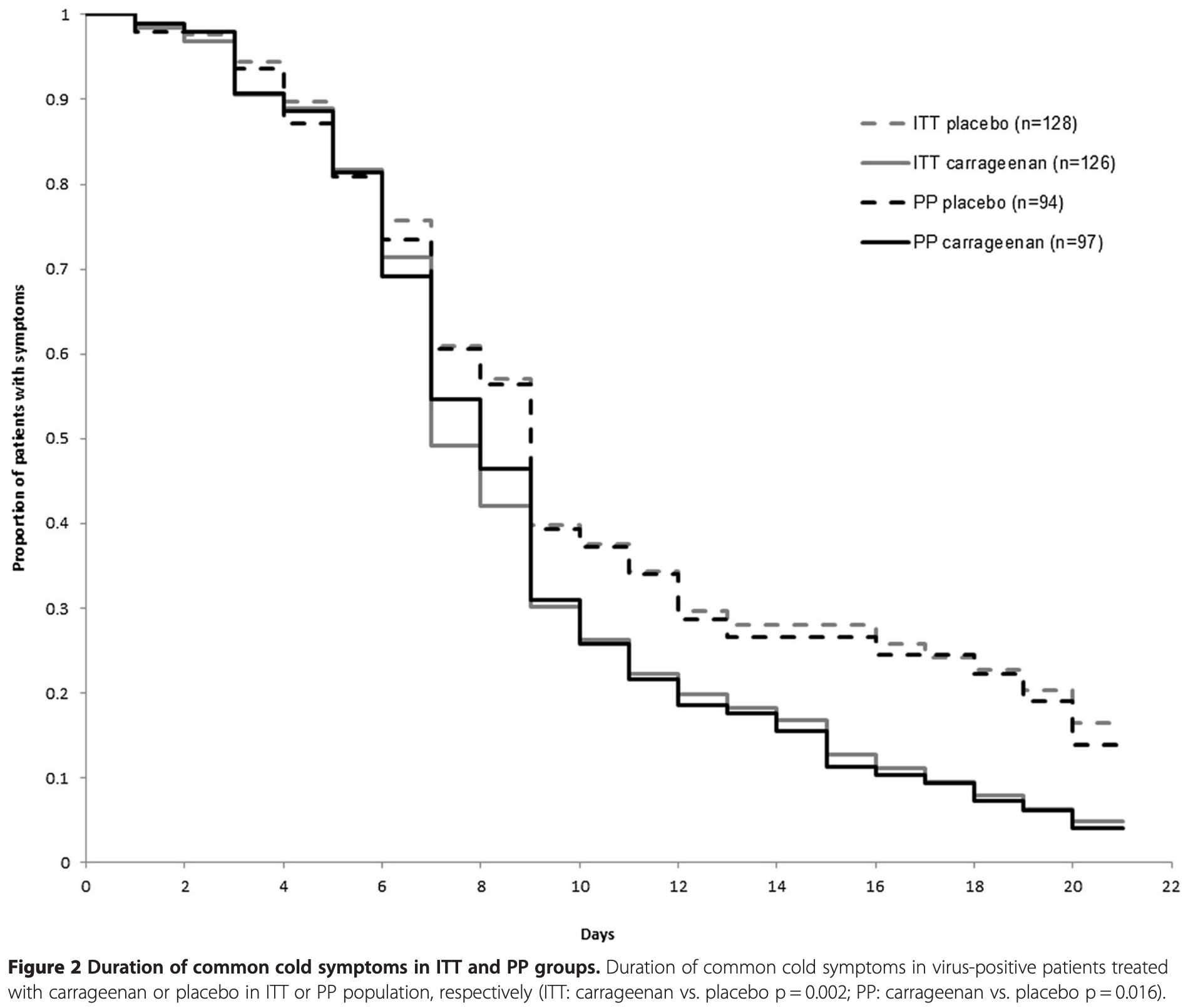 Koenighofer et al., 12 Nov 2014, peer-reviewed, 8 authors.
Abstract: Koenighofer et al. Multidisciplinary Respiratory Medicine 2014, 9:57 http://www.mrmjournal.com/content/9/1/57 ORIGINAL RESEARCH ARTICLE Open Access Carrageenan nasal spray in virus confirmed common cold: individual patient data analysis of two randomized controlled trials Martin Koenighofer2, Thomas Lion3, Angelika Bodenteich4, Eva Prieschl-Grassauer4, Andreas Grassauer4, Hermann Unger5, Christian A Mueller2 and Tamás Fazekas1* Abstract Background: Clinical trials applying iota-carrageenan nasal spray have previously shown to reduce duration of virus-confirmed common cold. The present study pooled data of two similar clinical trials to provide further evidence for the antiviral effectiveness of carrageenan. Methods: Individual patient data were analyzed from two randomized double blind placebo controlled trials assessing the therapeutic effectiveness of carrageenan nasal spray in acute common cold. Patients with virus-confirmed common cold (n = 254, verum 126, placebo 128) were included and the following parameters were appraised: duration of disease, number of patients with relapses, number of respiratory viruses and viral titers at inclusion (visit 1) compared to days 3–5 (visit 2). Results: Carrageenan treated patients showed a significant reduction in duration of disease of almost 2 days (p < 0.05) as well as significantly fewer relapses during 21 days of observation period (p < 0.05). The virus clearance between visit 1 and visit 2 was significantly more pronounced in the carrageenan group (p < 0.05). In both studies, virus-confirmed common cold was caused by three main virus subtypes: human rhinovirus (46%), human coronavirus (25%) and influenza A (14%) virus. Carrageenan nasal spray showed significant antiviral efficacy in all three virus subgroups, the highest effectiveness was observed in human corona virus-infected patients. The reduced duration of disease was 3 days (p < 0.01) and the number of relapses was three times less (p < 0.01) in carrageenan treated corona-virus-infected patients compared to control patients. Conclusions: Administration of carrageenan nasal spray in children as well as in adults suffering from virus-confirmed common cold reduced duration of disease, increased viral clearance and reduced relapses of symptoms. Carrageenan nasal spray appeared as an effective treatment of common cold in children and adults. Trial registration: Pooled data from ISRCTN52519535 and ISRCTN80148028 Keywords: Carrageenan, Common cold, Coronavirus, Respiratory disease, Rhinovirus, Influenza, Virus Background Acute viral upper respiratory tract infection, also known as common cold, is the most frequently observed infectious disease in human beings. Children get four to eight upper respiratory infections per year and adults suffer from two to four episodes per year [1]. In the majority of cases common cold is caused by respiratory viruses such as rhinovirus, coronavirus, parainfluenza, influenza, * Correspondence: tamas.fazekas@aon.at 1 St. Anna Children's Hospital, Kinderspitalgasse 6, 1090 Vienna, Austria Full list of author information is available at the end of the article respiratory syncytial virus, adenovirus, enterovirus and metapneumovirus [2-4]. Although common cold is a self-limiting disease, the symptoms such as runny nose, nasal congestion, sneezing, cough, sore throat, malaise and fever are troublesome, leading to more than 20 million doctor visits and 40 million lost school and work days per year [5]. Despite..
Please send us corrections, updates, or comments. Vaccines and treatments are complementary. All practical, effective, and safe means should be used based on risk/benefit analysis. No treatment, vaccine, or intervention is 100% available and effective for all current and future variants. We do not provide medical advice. Before taking any medication, consult a qualified physician who can provide personalized advice and details of risks and benefits based on your medical history and situation.
FLCCC
and
WCH
provide treatment protocols.
Submit