Virucidal activity of nasal sprays against severe acute respiratory syndrome coronavirus-2
et al., Journal of Hospital Infection,
Virucidal activity of nasal sprays against severe acute respiratory syndrome coronavirus-2
,
Journal of Hospital Infection, doi:10.1016/j.jhin.2021.10.019 (In Vitro)
,
In Vitro
study of seven nasal sprays and two oral sprays showing 3.4x lower viral load (log viral load 5.98->5.45) with a nasal spray containing carragelose (1.2 mg/mL), kappa-carrageenan (0.4 mg/mL), and sodium chlorite.The most effective nasal spray was sodium hypochlorite (<0.08%), lithium-magnesium-sodium-silicate, showing 162x lower viral load (log 5.78->3.57), while an oral spray based on essential oils showed the greatest efficacy (anise oil, eucalyptus oil, levomenthol, myrrh extract, clove oil, peppermint oil ratanhia root extract, tormentil root extract), with >24,000x lower viral load (log 6.23->1.84).9
In Vitro
studies support the efficacy of iota-carrageenan
[Alsaidi, Bansal, Bovard, Fröba, Meister, Morokutti-Kurz, Morokutti-Kurz (B), Song, Varese]
.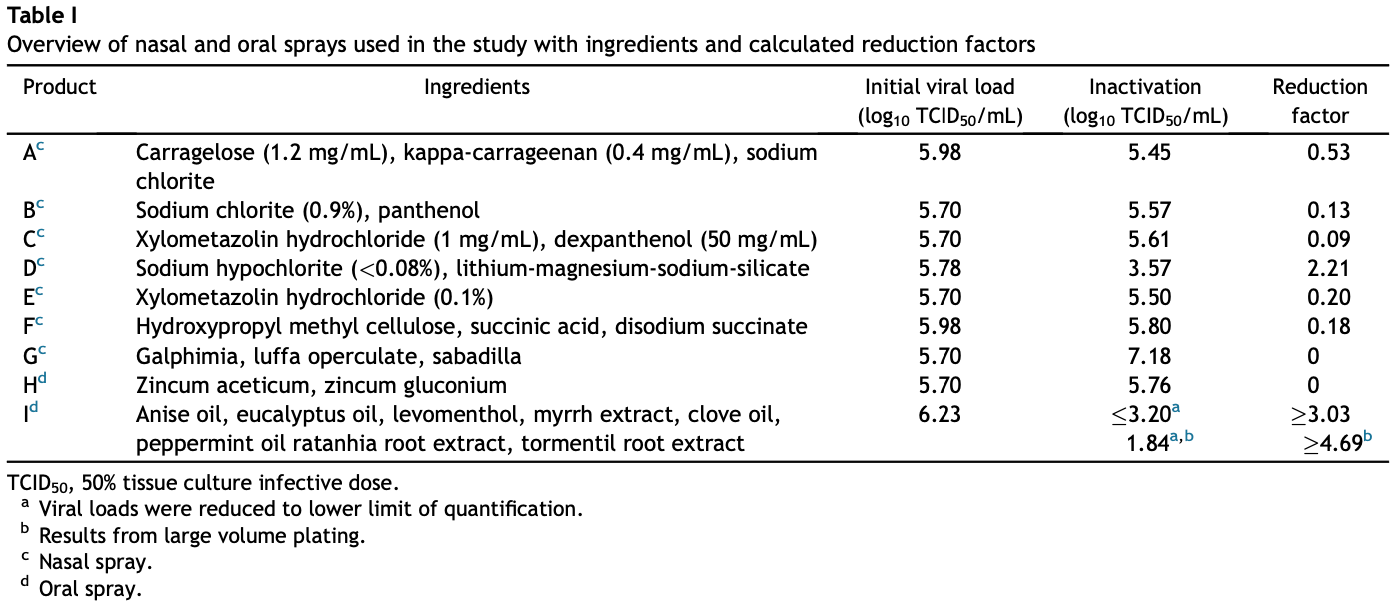 Meister et al., 28 Feb 2022, Germany, peer-reviewed, 9 authors.
Contact: eike.steinmann@ruhr-uni-bochum.de.
In Vitro studies are an important part of preclinical research, however results may be very different in vivo.
Abstract: Journal of Hospital Infection 120 (2022) 9e13 Available online at www.sciencedirect.com Journal of Hospital Infection journal homepage: www.elsevier.com/locate/jhin Short Report Virucidal activity of nasal sprays against severe acute respiratory syndrome coronavirus-2 T.L. Meister a, D. Todt a, b, Y. Brüggemann a, J. Steinmann c, d, S. Banava e, F.H.H. Brill f, J. Steinmann f, S. Pfaender a, E. Steinmann a, * a Department for Molecular and Medical Virology, Ruhr University Bochum, Bochum, Germany European Virus Bioinformatics Centre, Jena, Germany c Institute of Clinical Hygiene, Medical Microbiology and Infectiology, General Hospital Nürnberg, Paracelsus Medical University, Nuremberg, Germany d Institute of Medical Microbiology, University Hospital of Essen, Essen, Germany e Department of Preventive and Restorative Dental Sciences, University of California, San Francisco, CA, USA f Dr. Brill þ Partner GmbH Institute for Hygiene and Microbiology, Hamburg, Germany b A R T I C L E I N F O Article history: Received 18 June 2021 Accepted 23 October 2021 Available online 6 November 2021 Keywords: Nasal spray Oral spray Severe acute respiratory syndrome coronavirus-2 (SARSCoV-2) Oral cavity Nasopharynx Transmission Inactivation Quantitative suspension test S U M M A R Y The highest viral loads of severe acute respiratory syndrome coronavirus-2 are detectable in the oral cavity, so a potential reduction of infectious virus by nasal and oral sprays could reduce transmission. Therefore, the inactivation capacity of nine nasal and oral sprays was evaluated according to EN 14476. One nasal spray based on sodium hypochlorite and one oral spray containing essential oils reduced viral titres by two to three orders of magnitude. Although clinical data are still sparse, nasal and oral sprays display a more convenient application for elderly people or those who are unable to rinse/gargle. ª 2021 The Author(s). Published by Elsevier Ltd on behalf of The Healthcare Infection Society. This is an open access article under the CC BY-NC-ND license (http://creativecommons.org/licenses/by-nc-nd/4.0/).
Please send us corrections, updates, or comments. Vaccines and treatments are complementary. All practical, effective, and safe means should be used based on risk/benefit analysis. No treatment, vaccine, or intervention is 100% available and effective for all current and future variants. We do not provide medical advice. Before taking any medication, consult a qualified physician who can provide personalized advice and details of risks and benefits based on your medical history and situation.
FLCCC
and
WCH
provide treatment protocols.
Submit