In Silico
study identifying phytochemicals from nigella sativa (𝛼-hederin, dithymoquinone, negillicine, and negillidine) as potential SARS-CoV-2 RNA-dependent RNA polymerase inhibitors.
15 preclinical studies support the efficacy of nigella sativa for COVID-19:
12 In Silico studies
Ali, Banerjee, Bouchentouf, Duru, Esharkawy, Hardianto, Khan, Maiti, Mir, Miraz, Rizvi, Sherwani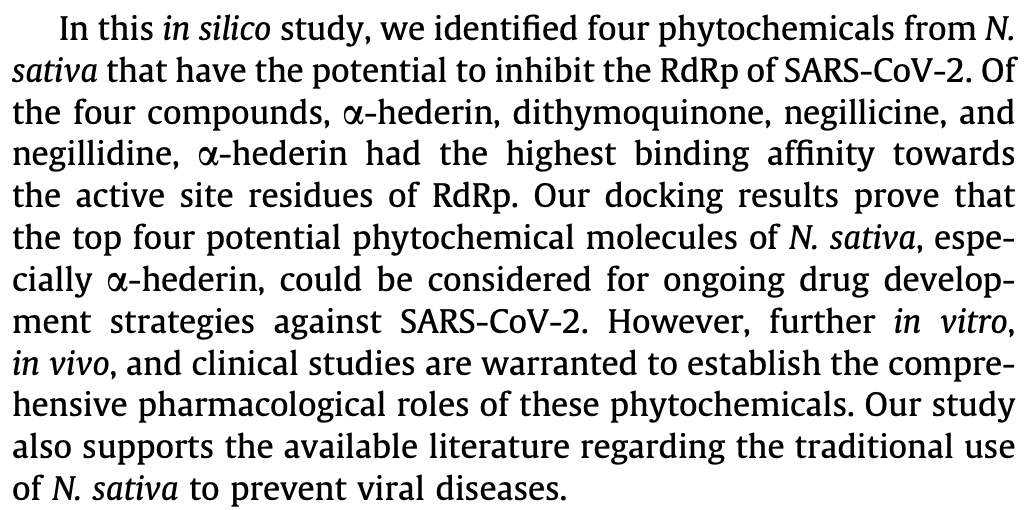 Mir et al., 8 Sep 2021, peer-reviewed, 11 authors.
In Silico studies are an important part of preclinical research, however results may be very different in vivo.
Identification of SARS-CoV-2 RNA-dependent RNA polymerase inhibitors from the major phytochemicals of Nigella sativa: An in silico approach
Saudi Journal of Biological Sciences, doi:10.1016/j.sjbs.2021.09.002
The coronavirus disease 2019 , which emerged in December 2019, continues to be a serious health concern worldwide. There is an urgent need to develop effective drugs and vaccines to control the spread of this disease. In the current study, the main phytochemical compounds of Nigella sativa were screened for their binding affinity for the active site of the RNA-dependent RNA polymerase (RdRp) enzyme of the severe acute respiratory syndrome-coronavirus-2 (SARS-CoV-2). The binding affinity was investigated using molecular docking methods, and the interaction of phytochemicals with the RdRp active site was analyzed and visualized using suitable software. Out of the nine phytochemicals of N. sativa screened in this study, a significant docking score was observed for four compounds, namely a-hederin, dithymoquinone, nigellicine, and nigellidine. Based on the findings of our study, we report that a-hederin, which was found to possess the lowest binding energy (-8.6 kcal/mol) and hence the best binding affinity, is the best inhibitor of RdRp of SARS-CoV-2, among all the compounds screened here. Our results prove that the top four potential phytochemical molecules of N. sativa, especially a-hederin, could be considered for ongoing drug development strategies against SARS-CoV-2. However, further in vitro and in vivo testing are required to confirm the findings of this study.
Declaration of Competing Interest The authors declare that they have no known competing financial interests or personal relationships that could have appeared to influence the work reported in this paper.
References
Delano, Pymol: An open-source molecular graphics tool, CCP4 Newsl on Protein Crystallogr
Molla, Azad, Hasib, Hossain, Ahammed et al., A review on antiviral effects of nigella sativa L, Pharmacol. OnLine
Patwardhan, Chavan-Gautam, Gautam, Tillu, Chopra et al., Ayurveda rasayana in prophylaxis of COVID-19, Curr. Sci
Vardhan, Sahoo, Searching inhibitors for three important proteins of COVID-19 through molecular docking studies