Ecological study in Spain, showing lower intake of vitamin D, A, B9, and zinc in regions with the highest COVID-19 incidence and mortality.Vitamin D intake was associated with lower prevalence, incidence, and a combined incidence+mortality index. Vitamin A intake was correlated with lower incidence, ∆incidence, and combined incidence+mortality, while not reaching statistical significance (p = 0.09, 0.07, 0.06). Vitamin B9, B12, and zinc were associated with lower ∆incidence.Authors analyze 10 vitamins and minerals endorsed by the European Food Safety Authority (EFSA) as having sufficient evidence for a causal relationship between intake and optimal immune system function: vitamins D, A, C, B6, B9, B12, zinc, copper, iron, and selenium.The intake of all 10 showed an inverse correlation with ∆incidence and combined incidence+mortality (statistically significant only as shown).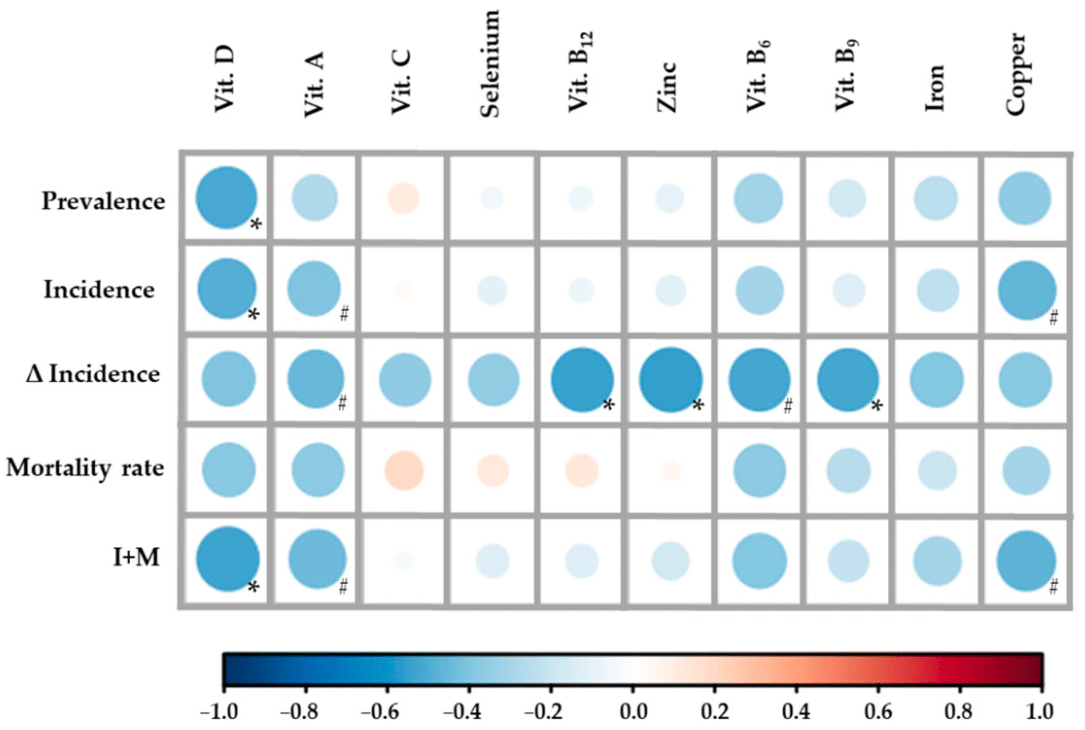 Galmés et al., 27 May 2022, Spain, peer-reviewed, 3 authors.
Contact: s.galmes@uib.cat.
Suboptimal Consumption of Relevant Immune System Micronutrients Is Associated with a Worse Impact of COVID-19 in Spanish Populations
Nutrients, doi:10.3390/nu14112254
Coronavirus disease 2019 (COVID-19) has caused a global health crisis and the factors behind its differential impact on COVID-19 among populations are still being known. Geographical differences in nutrient profile could be a relevant factor, especially considering that scientific evidence supports that 10 micronutrients are essential for proper immune system function. This study aims to evaluate these micronutrient intakes in the territories of Spain and to analyze their relationship with epidemiological indicators of COVID-19 from the first two waves of COVID-19, when neither specific vaccines nor drugs had yet come into play. Results showed that vitamin D, A, B9, and zinc intakes were particularly insufficient in Spain. The joint intake of these four micronutrients was lower in regions with the highest COVID-19 incidence and mortality, and of particular importance, was the insufficient intake of vitamin D. A pattern of food consumption associated with lower COVID-19 impact was observed. In conclusion, the results show the relevance of the optimal consumption of foods rich in essential nutrients for the immune system. Therefore, this assessment could serve to launch specific dietary recommendations to strengthen the immune system in Spanish territories to better face potential new COVID-19 variants and/or further infectious diseases.
Author Contributions: Conceptualization, methodology, data curation, and writing-original draft preparation were done by S.G., F.S. and A.P.; writing-review and editing-and supervision were performed by F.S. and A.P.; project administration and funding acquisition were carried out by A.P. All authors have read and agreed to the published version of the manuscript. Conflicts of Interest: The authors declare no conflict of interest.
References
Alipio, Vitamin D Supplementation Could Possibly Improve Clinical Outcomes of Patients Infected with Coronavirus, SSRN Electron. J
Estudio, Cuarta ronda estudio nacional de sero-epidemiología de la infección por SARS-COV-2 en España
Kańtoch, Litwińska, Szkoda, Siennicka, Importance of vitamin A deficiency in pathology and immunology of viral infections, Rocz. Panstw. Zakl. Hig
Sthda-Home, None