Bioinformatics and network pharmacology analysis identifying potential mechanisms of action of vitamin A for COVID-19.
6 preclinical studies support the efficacy of vitamin A for COVID-19: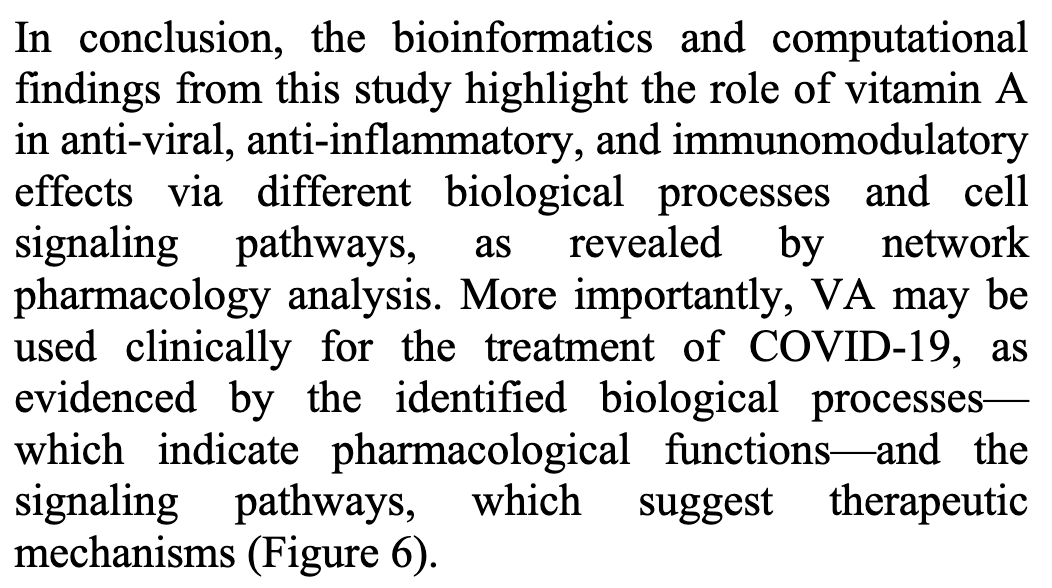 Li et al., 15 Aug 2020, peer-reviewed, 7 authors.
In Silico studies are an important part of preclinical research, however results may be very different in vivo.
Revealing the targets and mechanisms of vitamin A in the treatment of COVID-19
Severe acute respiratory syndrome coronavirus 2 (SARS-CoV-2) causes coronavirus disease 2019 (COVID-19), an epidemic disease characterized by rapid infection and a high death toll. The clinical diagnosis of patients with COVID-19 has risen sharply, especially in Western countries. Globally, an effective treatment for COVID-19 is still limited. Vitamin A (VA) exhibits pharmacological activity in the management of pneumonia. Thus, we reason that VA may potentially serve as an anti-SARS-CoV-2 regimen. In this study, bioinformatics analysis and computation assays using a network pharmacology method were conducted to explore and uncover the therapeutic targets and mechanisms of VA for treating COVID-19. We identified candidate targets, pharmacological functions, and therapeutic pathways of VA against SARS-CoV-2. Bioinformatics findings indicate that the mechanisms of action of VA against SARS-CoV-2 include enrichment of immunoreaction, inhibition of inflammatory reaction, and biological processes related to reactive oxygen species. Furthermore, seven core targets of VA against COVID-19, including MAPK1, IL10, EGFR, ICAM1, MAPK14, CAT, and PRKCB were identified. With this bioinformatics-based report, we reveal, for the first time, the anti-SARS-CoV-2 functions and mechanisms of VA and suggest that VA may act as a potent treatment option for COVID-19, a deadly global epidemic.
Abbreviations CAT: Catalase; EGFR: Epidermal growth factor receptor; ICAM1: Intercellular Adhesion Molecule 1; IL10: Interleukin 10; KEGG: Kyoto Encyclopedia of Genes and Genomes; MAPK1: Mitogen-Activated Protein Kinase 1; MAPK14: Mitogen-activated protein kinase 14; OMIM: Online Mendelian Inheritance in Man; PRKCB: Protein kinase C beta type; TCMSP: The traditional Chinese medicine systems pharmacology database and analysis platform. CONFLICTS OF INTEREST The authors declare that they have no conflicts of interest. AGING SUPPLEMENTARY MATERIALS Supplementary Tables Please browse Full Text version to see the data of Supplementary Table 1 . 1 . Gene ontology analysis (biological process) using the identified seven core targets of VA against SARS-CoV-2. Supplementary Table 2 . KEGG pathway enrichment analysis using the identified seven core targets of VA against SARS-CoV-2. Supplementary Table ID
References
Dang Dai, Ke, Zhi, None
Hu, Li, Zou, Effect of vitamin a as an adjuvant therapy for pneumonia in children: a meta analysis
Li, Guo, Li, Qin, Huang, Therapeutic targets and signaling mechanisms of vitamin C activity against sepsis: a bioinformatics study, Brief Bioinform
Spinas, Saggini, Kritas, Cerulli, Caraffa et al., Can vitamin a mediate immunity and inflammation?, J Biol Regul Homeost Agents