Mouse study showing the combination of lactoferrin and diphenhydramine resulted in slower weight loss, improved survival, and faster weight recovery in SARS-CoV-2 infected animals compared to controls. The study authors propose the lactoferrin/diphenhydramine combination as a promising, safe, cost-effective therapeutic candidate against SARS-CoV-2 and future coronaviruses, warranting further clinical investigation to determine efficacy for COVID-19 patients. The components target different viral life cycle mechanisms and have established safety records. In addition to lactoferrin and diphenhydramine, the study tested two highly specific sigma receptor ligands - CM398 (sigma-2 specific) and AZ66 (sigma-1 and sigma-2), with CM398 showing improved results.
12 preclinical studies support the efficacy of lactoferrin for COVID-19: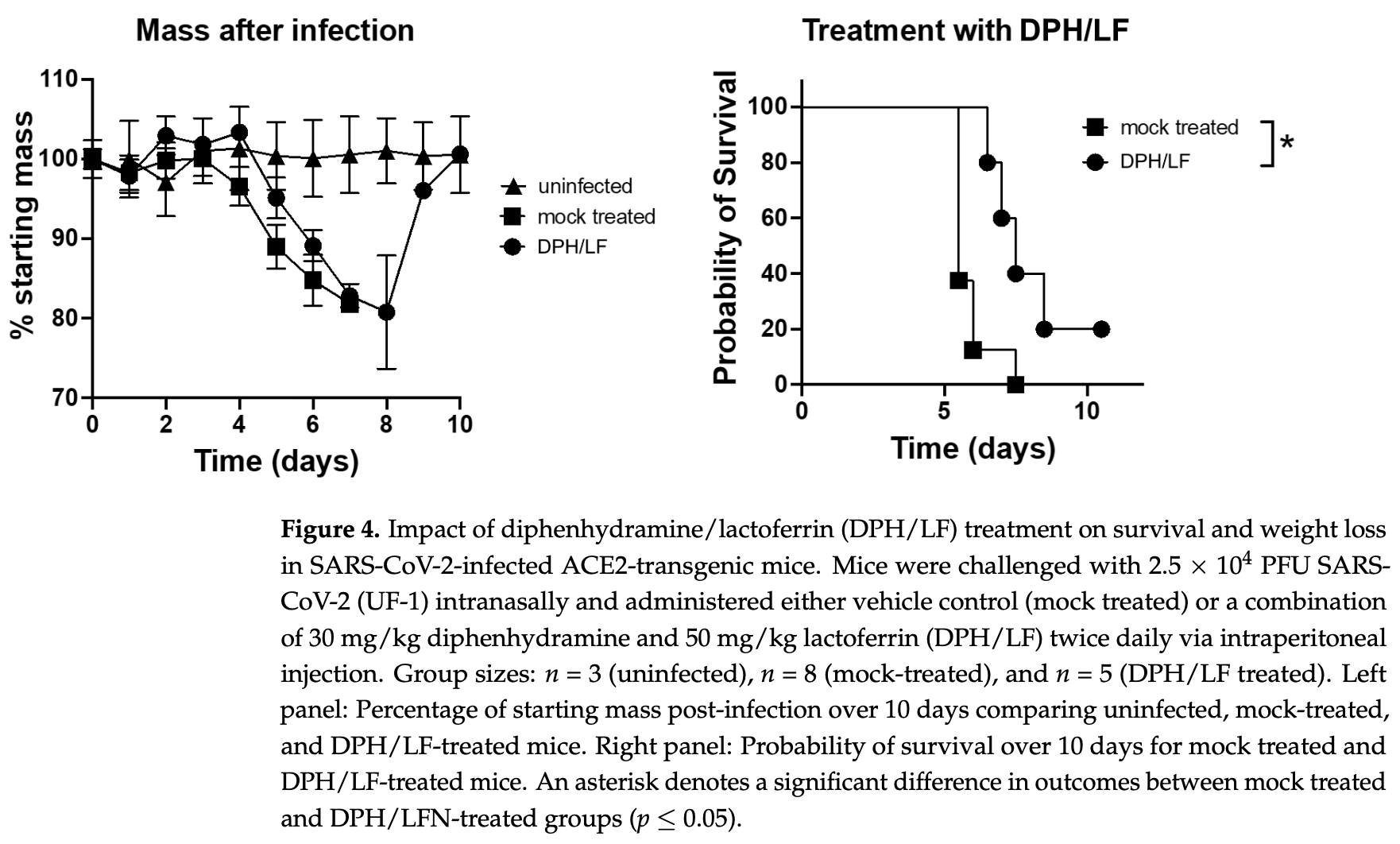 Berkowitz et al., 29 Oct 2023, USA, peer-reviewed, 6 authors.
Contact: mhnorris@ufl.edu (corresponding author), reedberkowitz@ufl.edu, ostroda@pathology.ufl.edu.
Sigma Receptor Ligands Prevent COVID Mortality In Vivo: Implications for Future Therapeutics
International Journal of Molecular Sciences, doi:10.3390/ijms242115718
The emergence of lethal coronaviruses follows a periodic pattern which suggests a recurring cycle of outbreaks. It remains uncertain as to when the next lethal coronavirus will emerge, though its eventual emergence appears to be inevitable. New mutations in evolving SARS-CoV-2 variants have provided resistance to current antiviral drugs, monoclonal antibodies, and vaccines, reducing their therapeutic efficacy. This underscores the urgent need to investigate alternative therapeutic approaches. Sigma receptors have been unexpectedly linked to the SARS-CoV-2 life cycle due to the direct antiviral effect of their ligands. Coronavirus-induced cell stress facilitates the formation of an ER-derived complex conducive to its replication. Sigma receptor ligands are believed to prevent the formation of this complex. Repurposing FDA-approved drugs for COVID-19 offers a timely and cost-efficient strategy to find treatments with established safety profiles. Notably, diphenhydramine, a sigma receptor ligand, is thought to counteract the virus by inhibiting the creation of ER-derived replication vesicles. Furthermore, lactoferrin, a well-characterized immunomodulatory protein, has shown antiviral efficacy against SARS-CoV-2 both in laboratory settings and in living organisms. In the present study, we aimed to explore the impact of sigma receptor ligands on SARS-CoV-2-induced mortality in ACE2-transgenic mice. We assessed the effects of an investigational antiviral drug combination comprising a sigma receptor ligand and an immunomodulatory protein. Mice treated with sigma-2 receptor ligands or diphenhydramine and lactoferrin exhibited improved survival rates and rapid rebound in mass following the SARS-CoV-2 challenge compared to mock-treated animals. Clinical translation of these findings may support the discovery of new treatment and research strategies for SARS-CoV-2.
Institutional Review Board Statement: The studies and SOPs were approved by the University of Florida Institutional Biosafety Committee under protocol BIO5594. They were carried out in the University of Florida Environmental Health and Safety inspected and approved BSL3 and ABSL3 facilities. Ethical approval for the animal studies and procedures in this work were approved by the University of Florida IACUC under protocol #202111322. Humane endpoints and euthanasia guidelines according to the American Veterinary Medical Association were adhered to throughout the study. Informed Consent
References
Csr Mers Outbreaks, None
Hu, Lewandowski, Tan, Zhang, Morgan et al., Naturally Occurring Mutations of SARS-CoV-2 Main Protease Confer Drug Resistance to Nirmatrelvir
Jochmans, Liu, Donckers, Stoycheva, Boland et al., The Substitutions L50F, E166A and L167F in SARS-CoV-2 3CLpro Are Selected by a Protease Inhibitor In Vitro and Confer Resistance to Nirmatrelvir
Sicari, Zabbo, Diphenhydramine, None