Retrospective survey based study in Italy with 82 patients treated with lactoferrin, and 39 control patients, showing significantly faster viral clearance with treatment. There was no significant difference in recovery time overall, however the treatment group had significantly more moderate condition patients (39% versus 8%), and improved recovery was seen with treatment as age increased. Median dose for asymptomatic patients was 400mg/day, for paucisymptomatic patients 600mg/day, and for moderate condition patients 1000mg three times a day.
risk of hospitalization,

75.6% lower

, RR 0.24, p = 0.32
, treatment 0 of 82 (0.0%), control 1 of 39 (2.6%), NNT 39, relative risk is not 0 because of continuity correction due to zero events (with reciprocal of the contrasting arm).
recovery time,

40.0% higher

, relative time 1.40, p = 0.50
, treatment 82, control 39, excluded in exclusion analyses: excessive unadjusted differences between groups.
time to viral-,

39.4% lower

, relative time 0.61, p = 0.02
, treatment 82, control 39, inverted to make RR<1 favor treatment, Cox regression, primary outcome.
Effect extraction follows pre-specified rules prioritizing more serious outcomes. Submit updates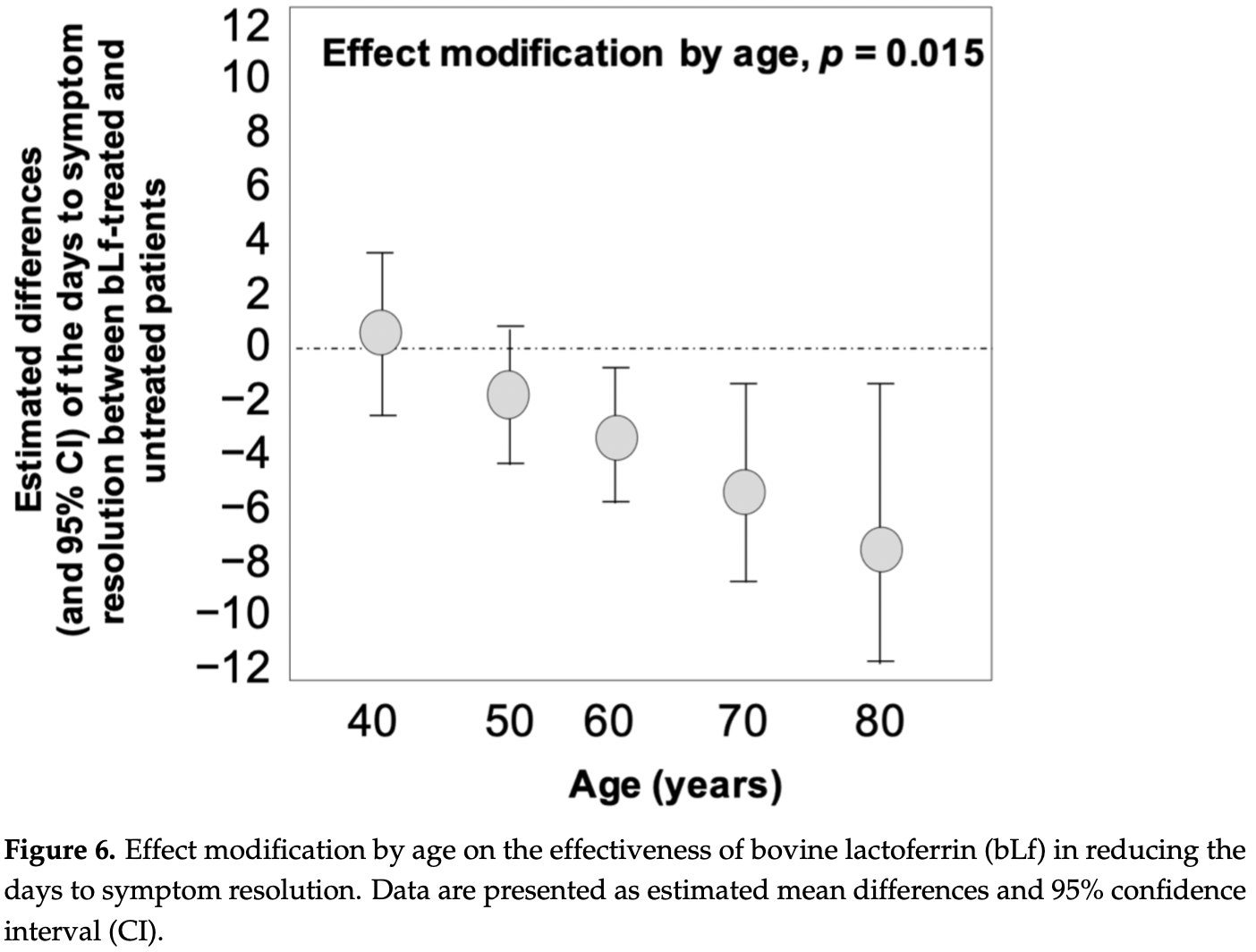 Rosa et al., 21 Sep 2021, retrospective, Italy, peer-reviewed, 8 authors, study period October 2020 - March 2021.
Ambulatory COVID-19 Patients Treated with Lactoferrin as a Supplementary Antiviral Agent: A Preliminary Study
Journal of Clinical Medicine, doi:10.3390/jcm10184276
SARS-CoV-2, an enveloped, single-stranded RNA virus causing COVID-19, exerts morbidity and mortality especially in elderly, obese individuals and those suffering from chronic conditions. In addition to the availability of vaccines and the limited efficacy of the first dose of vaccine against SARS-CoV-2 variants, there is an urgent requirement for the discovery and development of supplementary antiviral agents. Lactoferrin (Lf), a pleiotropic cationic glycoprotein of innate immunity, has been proposed as a safe treatment combined with other therapies in COVID-19 patients. Here, we present a small retrospective study on asymptomatic, paucisymptomatic, and moderate symptomatic COVID-19 Lf-treated versus Lf-untreated patients. The time required to achieve SARS-CoV-2 RNA negativization in Lf-treated patients (n = 82) was significantly lower (p < 0.001) compared to that observed in Lf-untreated ones (n = 39) (15 versus 24 days). A link among reduction in symptoms, age, and Lf treatment was found. The Lf antiviral activity could be explained through the interaction with SARS-CoV-2 spike, the binding with heparan sulfate proteoglycans of cells, and the anti-inflammatory activity associated with the restoration of iron homeostasis disorders, which favor viral infection/replication. Lf could be an important supplementary treatment in counteracting SARS-CoV-2 infection, as it is also safe and well-tolerated by all treated patients.
Conflicts of Interest: The authors declare no conflict of interest.
References
Bektas, Schurman, Sen, Ferrucci, Aging, inflammation and the environment, Exp. Gerontol
Campione, Cosio, Rosa, Lanna, Di Girolamo et al., Lactoferrin as protective natural barrier of respiratory and intestinal mucosa against coronavirus infection and inflammation, Int. J. Mol. Sci
Clausen, Sandoval, Spliid, Pihl, Perrett et al., SARS-CoV-2 Infection depends on cellular heparan sulfate and ACE2, Cell
Cutone, Rosa, Lepanto, Scotti, Berlutti et al., Lactoferrin Efficiently Counteracts the Inflammation-Induced Changes of the Iron Homeostasis System in Macrophages, Front. Immunol
Fda, GRN 000465 Cow's Milk-Derived Lactoferrin
Nai, Lorè, Pagani, De Lorenzo, Di Modica et al., Hepcidin levels predict Covid-19 severity and mortality in a cohort of hospitalized Italian patients, Am. J. Hematol