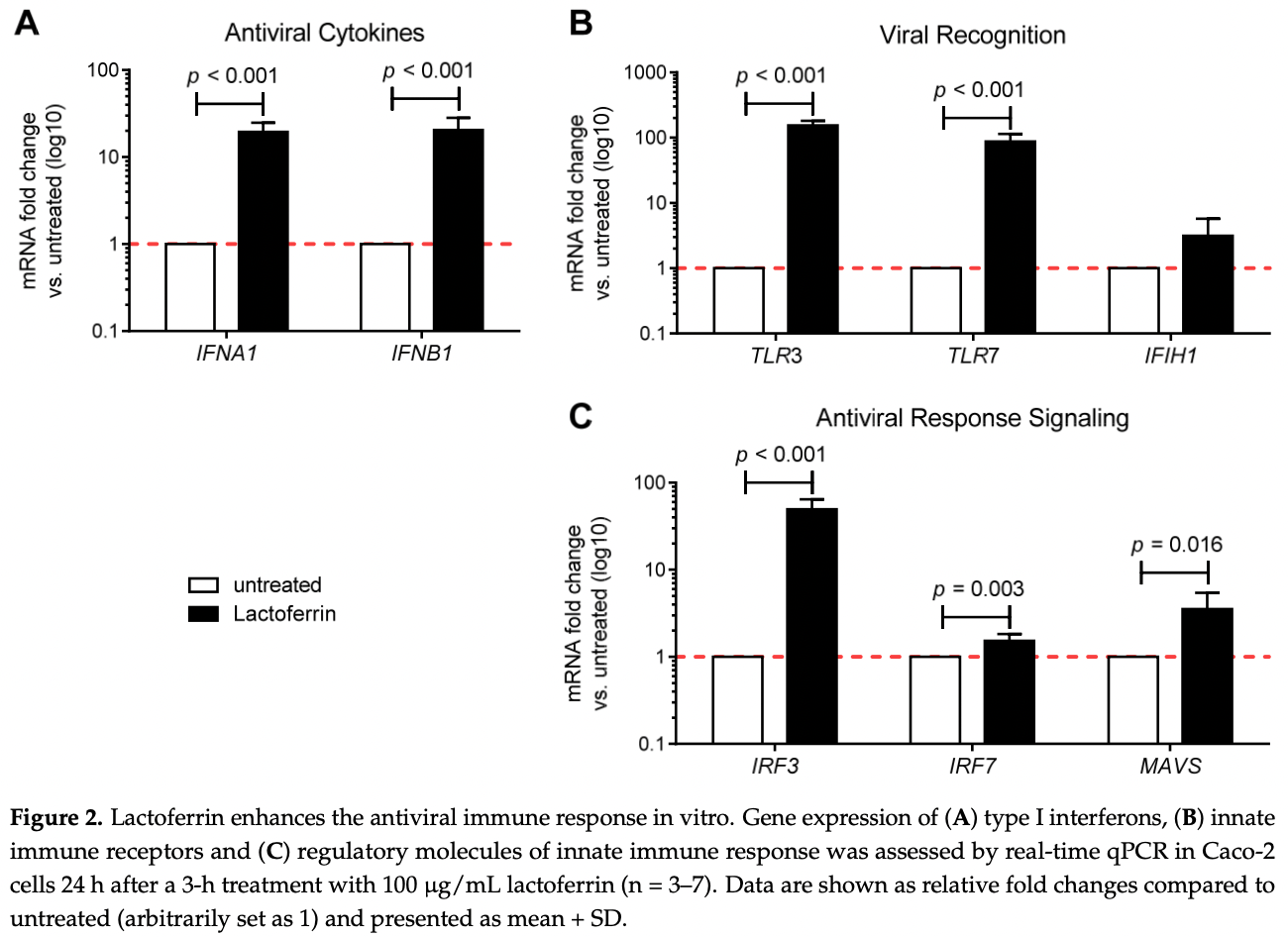 Salaris et al., 23 Jan 2021, peer-reviewed, 9 authors.
Contact: paola.brun.1@unipd.it (corresponding author), claudio.salaris@studenti.unipd.it, alice.bertolini@studenti.unipd.it, ignazio.castagliuolo@unipd.it, melania.scarpa@iov.veneto.it, marina.elli@aat-taa.eu, simone.guglielmetti@unimi.it, fabrizio.pregliasco@unimi.it, corrado.blandizzi@med.unipi.it.
In Vitro studies are an important part of preclinical research, however results may be very different in vivo.
Protective Effects of Lactoferrin against SARS-CoV-2 Infection In Vitro
Nutrients, doi:10.3390/nu13020328
SARS-CoV-2 is a newly emerging virus that currently lacks curative treatments. Lactoferrin (LF) is a naturally occurring non-toxic glycoprotein with broad-spectrum antiviral, immunomodulatory and anti-inflammatory effects. In this study, we assessed the potential of LF in the prevention of SARS-CoV-2 infection in vitro. Antiviral immune response gene expression was analyzed by qRT-PCR in uninfected Caco-2 intestinal epithelial cells treated with LF. An infection assay for SARS-CoV-2 was performed in Caco-2 cells treated or not with LF. SARS-CoV-2 titer was determined by qRT-PCR, plaque assay and immunostaining. Inflammatory and anti-inflammatory cytokine production was determined by qRT-PCR. LF significantly induced the expression of IFNA1, IFNB1, TLR3, TLR7, IRF3, IRF7 and MAVS genes. Furthermore, LF partially inhibited SARS-CoV-2 infection and replication in Caco-2 intestinal epithelial cells. Our in vitro data support LF as an immune modulator of the antiviral immune response with moderate effects against SARS-CoV-2 infection.
Conflicts of Interest: The authors declare no conflict of interest.
References
Campione, Cosio, Rosa, Lanna, Di Girolamo et al., Lactoferrin as Protective Natural Barrier of Respiratory and Intestinal Mucosa against Coronavirus Infection and Inflammation, Int. J. Mol. Sci
Glanville, Treatments and Vaccines for COVID-19: Authorised Medicines
Machnicki, Zimecki, Zagulski, Lactoferrin Regulates the Release of Tumour Necrosis Factor Alpha and Interleukin 6 in Vivo, Int. J. Exp. Pathol